Intel Performance Midrange
In recent months we have said in CPU recommendations that Intel and AMD enjoyed parity in the price ranges and processor speeds where they competed. Of course, AMD did not compete at the top speeds. We normally added that Intel still enjoyed a significant overclocking advantage if that was an important feature for you.
Things were shaken up quite a bit with the introduction of the new Intel Core i7 Socket 1366 CPU. Phenom did not compete nearly as well against the Core i7, but Phenom II is now leveling that playing field - in the upper midrange to low high-end where Phenom II now has competing speeds. In addition, the Phenom II 45nm finally removes the last real impediment to choosing AMD in this price range as it overclocks very well indeed and gives Intel a run for the money - clock for clock.
That makes choosing between the Intel Core i7 system below or the AMD Phenom II system on the next page a more difficult decision than it has been in quite a while. Both systems contain parts that have been chosen for their excellent overclocking abilities, and both motherboards can deliver the 3.8GHz+ overclocks that Core i7 and Phenom II are capable of reaching.
Intel Performance Midrange PC
Hardware
Component
Price
Processor
Intel i7 920 Nehalem Socket 1366
(2.66GHzx4 4x256KB L2, 8MB L3 Cache)
$295
Cooling
Vigor Monsoon III LT for Socket 1366
$60
Video
EVGA 01G-P3-1282-AR GeForce GTX 280 SuperClocked Edition 1GB
$320
Motherboard
GIGABYTE GA-EX58-UD3R LGA 1366 Intel X58 ATX
$185
Memory
G.SKILL 6GB (3 x 2GB) DDR3-1333 (PC3 10666) Triple Channel Kit
$145
Hard Drive
Seagate Barracuda 7200.11 ST31000333AS 1TB
$110
Optical Drive
LG BD/HD DVD / 16x DVD+/- RW GGC-H20LK
$99
Audio
ASUS Xonar DX 7.1
$90
Case
Antec Nine Hundred Black Steel ATX Mid Tower
$100
Power Supply
SILVERSTONE ST70F 700W SLI Ready CrossFire Ready 80 PLUS Certified Modular Active PFC
$100
Display
ASUS VW246H Black 24" 2ms(GTG) HDMI Widescreen LCD Monitor (1920x1080)
$290
Speakers
Logitech G51 155 watts RMS 5.1 Surround Sound Speakers - Retail
$90
Input
Microsoft CA9-00001 Black PS/2 Standard Keyboard and Optical USB/PS2 Mouse - OEM
$16
Operating System
Microsoft Vista Home Premium OEM
$99
Bottom Line
$1999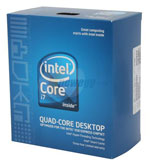 The i7 920 is the lowest priced Intel Core i7 you can currently buy - the other two choices are in the $600 to $1000 price range. Don't assume, however, that the 920 is not a powerful processor. The i7 920 is capable of reaching the performance levels of the top i7 CPUs, because it has also proved to be a dynamite overclocker for those who care about that, and that are also willing to provide decent cooling to the i7 920.
You start with a processor that is 30% faster in some parameters than a Core 2 Quad, and then you find you can also overclock this 2.66GHz CPU to 3.8GHz to 4GHz with careful tweaking and better cooling. As you saw in our Phenom II Launch review, the 920 reached as high as 3.8GHz at stock voltage and 4.0 GHz when overvolted to 1.35V. That is a 50% overclock. You will certainly be very happy with Core i7 base performance, but if you are interested in overclocking you will be ecstatic with this new CPU.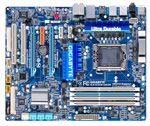 The Gigabyte GA-EX58-UD3R has the distinction of being the lowest priced X58 chipset motherboard you can currently buy. Others will soon join that $200+/- club shortly providing more X58 value choices. You probably also noticed that Gigabyte is trying to get as much mileage as possible from their UD3R designation. It seems reasonable to hold on to a good name as much as possible. AnandTech is in the process of testing this value Gigabyte board, and more info will come your way soon. Early user reports are very favorable, including great reports on overclocking. That was enough positive news to choose this Gigabyte for the Performance Midrange Intel System.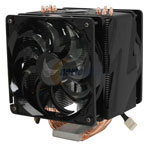 Several well-known coolers offer optional adapters for the Intel Socket 1366, but the cooler choice to mate with the Gigabyte X58 board is the Vigor Monsoon III LT. The last time a Vigor Monsoon was reviewed it was an effective but loud TEC (Thermo Electric Cooling) design. This Monsoon is a standard vertical heat-pipe air cooler, with effective and quiet push-pull cooling. The Monsoon appears a good match to the OC capabilities of the i7 920.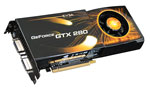 At present, most of the editors at AnandTech prefer the performance of GPU solutions from AMD/ATI these days… that is, except when running Intel Core i7. The X58 chipset/Core i7 works best with an NVIDIA video card and drivers. AMD is aware of the issue and is working to provide improved drivers for the i7 platforms, but for now the choice for i7 system video card is the (deep breath…) EVGA 01G-P3-1282-AR GeForce GTX 280 SuperClocked Edition 1GB. This EVGA card comes factory overclocked to a core clock of 621MHz and an effective memory clock of 2268MHz. This video card really is not the equal in performance of the 4870 X2 used in the AMD Performance Midrange system, but the stability and trouble-free operation makes up for the small performance loss - at least for today.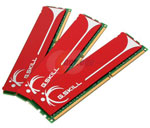 The Intel i7 system includes the G.Skill triple-channel DDR3-1333 6GB memory kit. To be blunt, most of the 1333 3x2GB triple-channel kits use the same memory chips, although there are sometimes differences in the SPD chip on the DIMM. We chose the G.Skill on the basis of best price for a 6GB triple-channel DDR3-1333 kit from a known brand. You can select from a number of quality memory suppliers, but make sure to include their warranty and customer service reputation in your decision.
The case receives an upgrade with the selection of the well-regarded Antec Nine Hundred that bottom mounts the power supply and provides plenty of internal storage. Cooling is provided by 120mm fans and a massive 200mm top exhaust fan.
The power supply is the well-regarded Silverstone ST70F 700W SLI/CrossFire Ready 80 PLUS Certified modular PSU. The Silverstone 700W has made almost everyone's top performance list for a PSU and it is a good buy at its regular selling price. At the current selling price of $100, it is an outstanding value. The Silverstone is a modular power supply with the flexibility offered by custom cable selection and arrangement.
The ASUS Xonar DX 7.1 is one of the top-performing audio cards on the market today. It is a great upgrade to the onboard sound if you want better sound quality. Game compatibility is excellent, but most game creators assume everyone has a Creative Labs sound card.
If your main reason for having a powerful i7 computer is gaming, you may prefer the Creative 7.1 Sound Blaster X-FI Titanium at the same price that we used in the AMD Performance Midrange system. In our opinion the sound quality is better on the ASUS or an HT sound card, but game compatibility will never be a question with a Creative Labs sound card.
The speakers have been upgraded to the Logitech G51 155 watts RMS 5.1 surround sound speakers. They are selling for $90 after a $40 rebate, which is a great value on these well-regarded powered speakers.
The LCD display resolution is the same 1080p HD resolution chosen for the Value Midrange systems. The size of the monitor increased to 24" so everything on screen is just a little larger. The ASUS VW246H 24" provides the preferred HDMI input, as well as DVI and an analog VGA port. Panel speed is rated at an incredible 2ms, but we have found most current LCD panels perform similarly and the speed rating does not really guarantee very much. The ASUS monitor provides a sharp image, good colors, and fast panel speed at a very good price of $290. For more information on what matters in a monitor and how to read LCD specifications, take a look at our Holiday 2008 Display Guide.
The remaining components are the same as our Value Midrange systems. The hard drive remains a 1TB Seagate. The optical drive is the LG BD. The Microsoft OEM keyboard and optical mouse provides input, and Vista Home Premium OEM runs the system. For more information on these components, refer to page 3.