Dell Adamo Unveiled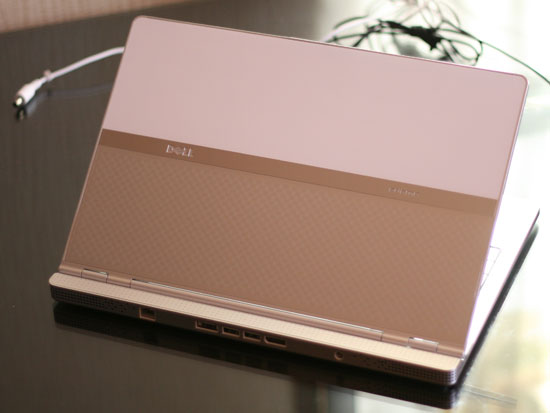 Today Dell officially confirmed that they will be releasing a new ultrathin laptop called the Adamo. The Adamo is a sleek laptop with an aluminum chassis, with a strikingly similar appearance the HP Voodoo Envy 133. Dell has not revealed any final specifications, and we are unable to discuss what we saw in the current version, but we did get a chance to handle and use the current Adamo prototype.
Dell has been rumored to be working on the Adamo for a while now, and they've been refining the design during that time. Since the launch of Apple's new MacBook lineup, a lot of people have been impressed by the quality of the aluminum construction, and the Adamo we used definitely looks and feels like a high quality notebook. As a side note, we asked about the possibility of using this sort of chassis Dell's other notebooks. Dell indicated that the amount of time and energy required to produce such a chassis is simply too long to do on a mass scale (not to mention the cost), so it will likely remain in smaller volume products. Dell simply ships far too many laptops to be able to produce that many chassis in a timely fashion.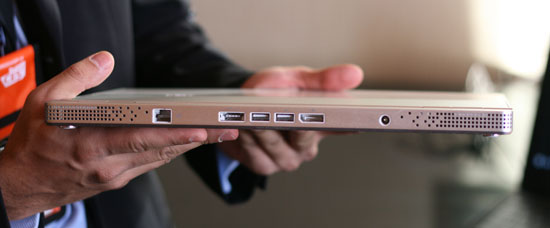 Dell was kind enough to let us take some photographs of the current Adamo prototype; again, keep in mind that things could change slightly before the product actually ships. The current plans are for two base models, one black and the other white/silver. While they both look incredibly stylish, we have to admit that we are partial to the white notebook, since Black has a nasty habit of showing every single fingerprint/smudge, even with a brushed aluminum surface.
While this appears to be an upper end product, Dell has always done exceptionally well in the realm of mass production, so there's a reasonable chance that the Adamo could end up being more affordable than the competition. We hope so, as there's a lot of demand for a light ultrathin notebook that can still pack more power than the current netbooks. Final pricing and details will have to wait until Dell is closer to shipping the Adamo, which should be sometime later this spring.