Just last month, pricing was much different. Today, those looking for a quality gaming experience can look forward to some great deals. While the low end and midrange has remained pretty fixed in price, cards over $200 have come down quite a bit. This has made some comparisons difficult, but the bottom line is great prices for consumers.
Rather than looking at individual manufacturers, we are going to look at different AMD and NVIDIA SKUs. After we've chosen our recommendation at a specific price, we will look at four of the top PC hardware retailers (newegg, ZipZoomFly, TigerDirect, and Buy.com) and find the best deals on the recommended parts on those sites. These parts might not always be from the same manufacturer, but it will be what we consider the best deal at that retailer. While we feel good about our recommendations, it is important to shop around yourself, as these prices are changing incredibly fast.
To illustrate that point, we had planned on publishing this earlier today, but after looking at the prices one more time we noticed that a lot of changes are taking place every day. From yesterday to today some prices have moved $10 to $20, mostly through the addition of larger rebates. This changed a few of our recommendations and we had to rewrite a bit. The important point to take away is that while we try to keep our recommendations as general as possible, a lot of what matters is price at the time of purchase. And that can fluctuate like crazy. Since Thanksgiving we've seen prices move more than $50 in some cases, and everything is getting more and more competitive and aggressive. Now really is the time to buy.
On each page we will make at least one recommendation based price, performance and features including rebates (both instant and mail-in). This is a little different from our usual recommendations we make based on the general positioning of a card. We normally do this because price fluctuations and overclocking make nailing down a definitive best option very difficult (if not impossible). Today, we are looking at ... well, today. While the general sentiments we discuss remain relevant, the actual recommendations are based on the absolute best price you can achieve today and we even give some leeway to overclocking in a couple cases.
Although we will recommend cards from all four of our selected retailers, we will highlight the one we think is the best deal among the four as well. As some people tend to have a preference for different retailers, we are still allowing for options, but our recommendations will be based on the best deal we can find period rather than something like an average between the retailers.
The Prelude: Sub $75 and $75-$100 Graphics Cards
So this first page, while showing off inexpensive product, doesn't offer really high performance. This page is great for the HTPC crowd, but we aren't going to ignore gamers on a really tight budget. The parts we recommend here will still be the cards that can muster some gaming performance, but low resolutions will need to be run and higher quality settings won't be an option with newer games. Antialiasing is not usually a reasonable method to improve image quality here, and tradeoffs between performance and quality will almost always need to be considered when gaming.
Generally, we need to look at 800x600 and 1024x768 for new games with higher quality settings. Usually running a higher resolution than that requires reduced quality to be playable. If you are monitor limited at a low resolution, or you don't mind running half native resolution on LCD panels, then spending less on graphics hardware is definitely an option. For our HTPC users who still may want to try a game or two, remember that allowing the TV to convert the signal will add delay. If you have a 1080p HDTV, both NVIDIA and AMD now offer GPU accelerated upscaling and can handle rendering at a lower resolution and outputting an upscaled native resolution image.
The competition from NVIDIA in this segment is somewhat lacking with cards either not supporting the features we want or not offering the kind of game performance an AMD alternative can. The GeForce 9500 GT doesn't support 8-channel LPCM audio over HDMI like the Radeon 4550, and it also isn't a good gaming solution compared to the Radeon HD 4670. The GeForce 9500 GT does, however, offer good 24Hz refresh rate performance (useful for HTPCs connected to a 24p display) while AMD struggles a bit here.
While the GeForce 9600 GSO offers competitive gaming performance compared to the Radeon HD 4670, it doesn't offer all the features we want for HTPCs and isn't as quiet. Pushing the $100 boundary is the 9600 GT, which really doesn't have direct competition from AMD, though spending slightly more or finding amazing rebates on the Radeon 4830 is an interesting option.
The lowest performance card we recommend also happens to be great for the HTPC crowd. The inexpensive Radeon HD 4550 can be had passively cooled, and does offer a step up from integrated graphics in terms of game performance. Gaming is not great on the Radeon HD 4550, but being passively cooled and offering 8-channel LPCM over HDMI with adequate video decoding offload is a killer combination for those of you with 7.1 channel speaker setups.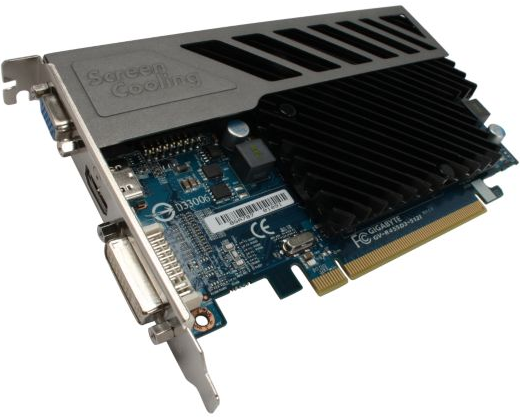 ATI Radeon HD 4550 (Image From newegg.com)
Sub $75 8-channel Audio HTPC Recommendation: ATI Radeon HD 4550
| | | | |
| --- | --- | --- | --- |
| Newegg | ZipZoomFly | TigerDirect | Buy.com |
| Gigabyte Radeon HD 4550 | ASUS Radeon HD 4550 | Not Available | ASUS Radeon HD 4550 |
| | $59 | Not Available | $60 |
Opting for the NVIDIA solution for its smooth 1080p24 playback is a viable HTPC alternative to the Radeon HD 4550. As an added bonus, the 9500 GT does offer a bit better gaming performance as well (though it can't touch the 4670 in this area, so if it's gaming you're interested in, this isn't the card to get). Some of these recommendations are silent and some aren't, so make sure you check out each vendor before you buy if you have a specific cooling need or dB level.
Basically if you have a 7.1 audio setup and want to play back original Blu-ray discs in full 8-channel glory, go for the Radeon HD 4550. If you've got a 24Hz display and want smooth 24Hz playback, buy the GeForce 9500 GT.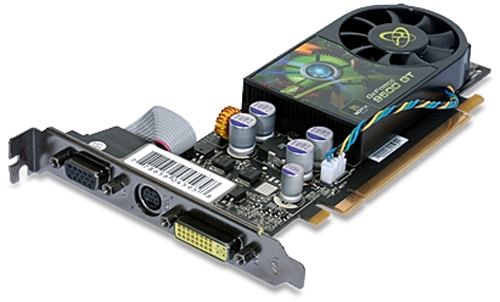 NVIDIA GeForce 9500 GT (Image From TigerDirect.com)
Sub $75 1080p24 HTPC Recommendation: GeForce 9500 GT
| | | | |
| --- | --- | --- | --- |
| Newegg | ZipZoomFly | TigerDirect | Buy.com |
| Biostar GeForce 9500 GT | ASUS GeForce 9500 GT | XFX GeForce 9500 GT | PNY GeForce 9500 GT |
| | $54 | $50 | $70 |
If you need to stay inexpensive but still want some gaming performance, the Radeon HD 4670 is really the cheapest viable option. Coming in at about $75, with some holiday special rebate offers dropping that price to $65 (or even $55 in one 24 hour deal at newegg on a gigabyte card), this card is capable of good quality at low resolutions. This one isn't passively cooled, and if the main purpose of the box is for HTPC use then sticking with the 4550 is the way to go here. If you want to build a living room computer with good gaming performance that could also be used as an HTPC where fan noise is acceptable, we recommend stepping further up than the 4670.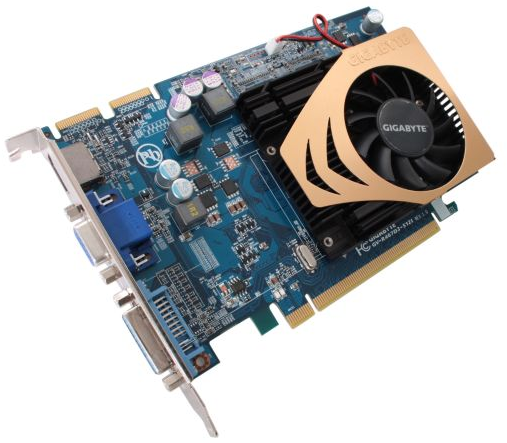 The Radeon HD 4670 (Image From newegg.com)
$75 Gaming Recommendation: ATI Radeon HD 4670
| | | | |
| --- | --- | --- | --- |
| Newegg | ZipZoomFly | TigerDirect | Buy.com |
| Gigabyte Radeon HD 4670 | Gigabyte Radeon HD 4670 | Sapphire Radeon HD 4670 | MSI Radeon HD 4670 |
| | $56 | $80 | $90 |
Pushing up closer to $100 the lines get blurry and the 9600 GT becomes more of an option though there's a deal in the next section that sort of negates that advantage. If your target is $100, you'd be better served by spending $10 more dollars to get a better card, but the fastest option for just under $100 today is going to be found on the next page (even though it may only be a very temporary option). Because of this, we don't recommend the 9600 GT as an option.