Mainstream Nehalem: On-chip GPU and On-chip PCIe
Let's take a look at the Core i7, the first Nehalem incarnation: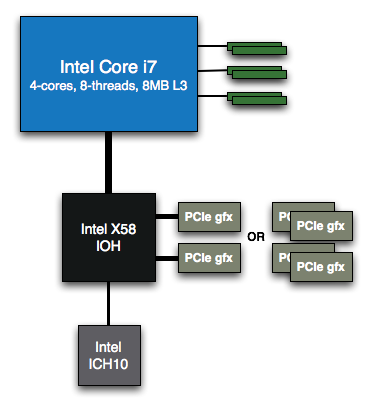 Three DDR3 memory channels, a QPI link to the X58 chipset and support for multiple GPUs off of the X58 IOH. The Core i7, as you know by now, plugs into Intel's new LGA-1366 socket. But in the second half of next year, there will be a new socket for mainstream users: LGA-1156.
Meet Lynnfield, it's also a 4-core/8-thread design with an 8MB L3 cache, just like the Core i7, but it plugs into LGA-1156. Instead of 3-DDR3 channels it's got two and instead of QPI it's got Intel's DMI connecting it to the chipset. It's a lower bandwidth interconnect but Lynnfield doesn't need a ton of bandwidth between it and the chipset, the reason being its secret weapon: Lynnfield has an on-package PCIe controller.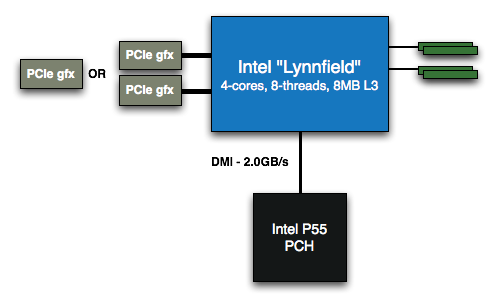 There are 16 PCIe lanes on Lynnfield (presumably PCIe 2.0) and they can be used as two x8s or a single x16, so you'll get 2-way SLI/CrossFire support assuming all licensing silliness is worked out. The close proximity of the PCIe controller to the CPU could mean some very interesting things for latency, if well designed Lynnfield could have the lowest latency CPU-GPU connection we've seen on a desktop PC. Whether or not that'll actually mean anything for real world performance remains to be seen, I'd guess not but it's neat to talk about nonetheless.
Next up we've got Havendale, this is a 2-core/4-thread part with a 4MB L3 (still 2MB of L3 per core, just like Lynnfield and the Core i7). The "pinout" (if we can still call it that on these pinless CPUs) is the same as Lynnfield, so we've got a two channel DDR3 memory controller and DMI to the chipset.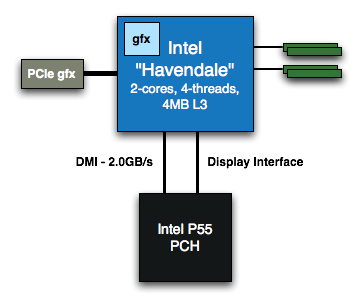 Havendale's secret sauce is that it's got an on-package GPU, I'd expect it to be a bigger, better, faster variant of G45 (hopefully a lot better/faster) built on a 45nm process. This should beat AMD to the punch with the first single-chip CPU/GPU for mainstream desktops/notebooks, as AMD delayed its first APUs until 2011. Alongside the on-package GPU we've also got the same PCIe controller from Lynnfield.
The actual display output on Havendale will be through the chipset itself but the GPU and PCIe interface are on the CPU's package. Harvendale only offers a single x16 PCIe slot, you can't run it in 2 x8 mode.
At the right clock speeds, Havendale should be perfect for notebooks and desktops as well. These days two-cores with Hyper Threading would be the perfect mixture of cores/performance for the majority of consumers. As I noted in part 2 of our Nehalem coverage, give me Nehalem's power efficiency in a notebook and I'll be beyond happy.
The hiccup however is that we won't see Havendale until Q1 2010. It'll start production in Q4'09 but systems won't ship until the beginning of the next year. This does leave a hole in Intel's Nehalem roadmap as there won't be any Intel integrated graphics chipsets between now and Q1 2010, which should give NVIDIA ample opportunity to sell chipsets into the mainstream Nehalem market.