Exterior
As mentioned, the main frame of the chassis is made out of one piece of aluminum. That makes this case look a little similar to the G5 from Apple, just without handles and perforated front panel. The front has a large cutout in the bottom covered by a metal grille with a Silverstone logo in the middle. The first 180mm intake fan sits behind this grille, and the power button is just above the grille in the middle of the front. The upper part of the front has five 5.25" covers, behind which you can install optical drives or other components.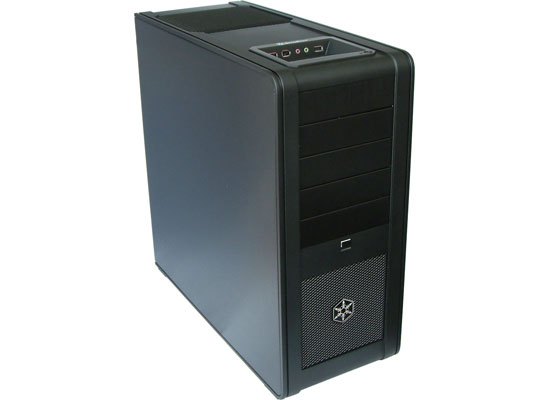 The top of the chassis features a recessed I/O panel that also sports the reset button. There is no plate/door blocking access to the I/O panel, providing easy access, but whether that's better will depend somewhat on personal opinion. Access is certainly easier, but it's also one more cranny where dust can build up, and if you have children in the house, it's sometimes nice to hide access to things like reset buttons. As far as dust is concerned, Silverstone angles the ports so that they are almost horizontal, so at least dust buildup inside of the ports will be kept to a minimum. However, during our tests we already noticed dust building up in front of the ports.
The back of the top panel has another large opening with a black grille. Behind that grille is the second 180mm fan, which will blow air into the case. You will want to make sure that you don't block this area, since that would obviously affect cooling performance.
The back of the case gives us some hints at the internal structure. The power supply sits on the bottom in this case. At the top are two openings covered by rubber, through which you can insert your external water cooling tubes into the system. We also find the lone 120mm exhaust fan on the rear panel, which of course will be supplemented by any power supply fans.