Introduction
When it comes to high-end aluminum chassis, a few names come to mind. One name that should definitely be on your short list if you're interested in such a case is Silverstone. The Taiwanese manufacturer formed when a group of rogue engineers left Cooler Master to go their own way in 2003, and they have been building high-end cases and power supplies (and a few other products) since the split.
They recently introduced their new Fortress chassis series, and we will be looking at the black anodized version today. With this case, Silverstone follows the footsteps of Apple by producing the case - or at least the main frame - out of one piece of aluminum. That results in better stability as well as a cooler appearance since joints stay mostly unseen.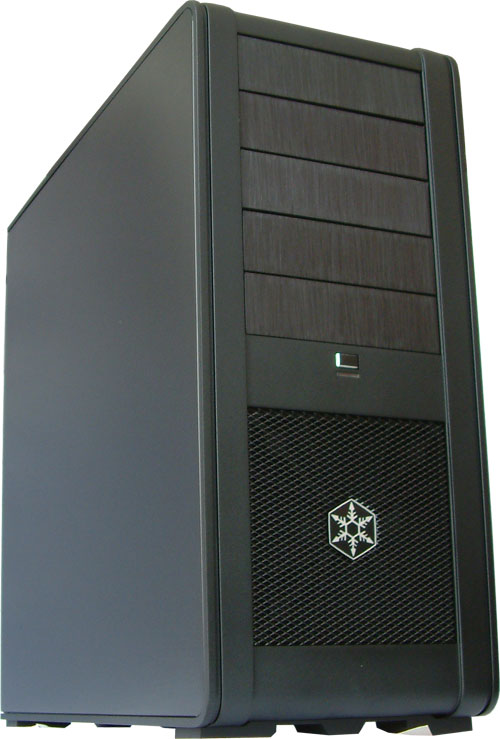 Silverstone chose to modify the cooling system relative to the ATX standard. The ATX standard says air needs to come into the case at the bottom front, which will allow airflow to cross over the mainboard and all the components, and then it will exit via the power supply and rear mounted fan(s). Minor tweaks in positioning of fans are one thing, but Silverstone mixes things up by having two large 180mm intake fans, one at the front and one at the top.
With more fans blowing air into the case, Silverstone creates higher air pressure inside the case, which in turn causes air to exhaust through every opening it can find. In the presentation on their website, Silverstone shows how the air will exhaust through the rear-mounted fan, the perforated side near the fan in the rear, and the front - again, wherever is an opening. One benefit of this design is that most of the air that enters the chassis will come through one of the two filtered fan intakes, reducing dust buildup and the interior. Silverstone has even posted a YouTube video demonstration.
There has been something of a debate among users for years about the best way to air-cool a case. Some people think it's best to have most of your fans as intake fans, creating positive air pressure -- like the Silverstone FT01. Others take the opposite view and feel it's best to have all of your fans exhausting air from the chassis, and there's the traditional matched intake/exhaust configuration that most cases use. Perhaps the best cooling setup depends on the overall case design, which is something we are working to test right now with the FT01. Initially, we will have results for the standard configuration of the FT01 that we can compare with other cases; however, we will update this article later today with testing results showing how reversing fan directions affects -- or perhaps doesn't affect -- cooling efficiency.
Specs
Silverstone FT01 Specifications
Motherboard Form Factor
ATX, Micro ATX
Drive Bays
External
5x 5.25"
Internal
7x 3.5"
Cooling
Front
1x 180mm intake
Rear
1x 120mm exhaust
Top
1x 180mm intake
Side
Bottom
Expansion Slots
7
Front I/O Port
2x USB, 1x IEEE1394, 1x Audio, 1x Micro
Power Supply Size
Standard ATX
Weight
8.66kg
Dimensions
211 x 486 x 495mm (WxHxD)