Board Layout and Features
EVGA 790i FTW
Market Segment
High End-Gaming & Benchmarking
CPU Interface
Socket T (Socket 775)
CPU Support
LGA775-based Core 2 Duo, Core 2 Extreme, or Core 2 Quad Recommended
Chipset
NVIDIA nForce 790i Ultra SLI SPP and MCP
Front Side Bus Speeds
Auto, CPU default to 700 in 1MHz increments
DDR3 Memory Speed
Auto, Linked and Unlinked
FSB Speeds
1600/1333/1066/800 MHz
PCIe Speeds
Auto, 100MHz - 200MHz in 1MHz increments
SPP-to-MCP Link Speeds
Auto, 200-500MHz in 1MHz increments
HT Multipliers
1x-5x for SPP-MCP and MCP-SPP
Core Voltage
Auto, 0.825V to 2.16V in 0.00625V increments
CPU Clock Multiplier
6x ~ 11x, downward adjustable for Core 2, upward to 31 for Extreme
DRAM Voltage:DDR3
Auto, 1.50V ~ 3.075V in 0.025V increments, 1.50V standard
DRAM Timing Control
Optimal, Expert (tCL, tRCD, tRP, tRAS, CPC, tRRD, tRC, tWR, tWTR, tFAW, tRFC and tREF)
DRAM Command Rate
Auto, 1T, 2T
NB Voltage
1.30V - 1.57V in 0.05V increments
SB Voltage
Auto, 1.50V ~ 1.75V in 0.05V increments
CPU VTT Voltage
Auto, 1.10V ~ 1.625V in 0.075V increments
CPU PLL Voltage
1.50V ~ 1.80V in 0.1V increments
CPU Vdroop Compensation
Enabled, Disabled
CPU GTL
Individual Core Adjustments, Auto and Default and manual from -155mv to +155mv in 0.05mv increments
Memory Slots
Four 240-pin DDR3 DIMM Slots
Dual-Channel Configuration
Regular Unbuffered DDR3 Memory to 8GB Total
Expansion Slots
3 - PCIe 2.0 x16, Supports up to NVIDIA 3-way SLI Technology
2 - PCIe (1.x) x1
2 - PCI Slot 2.2
Onboard SATA/RAID
6x SATA 3.0Gbps Ports - nForce MCP
NVIDIA Mediashield RAID 0, 1, 0+1, 5 and JBOD
Onboard IDE Additional SATA
JMicron JMB363 PATA Controller (up to 2 UDMA 133/100/66 devices) Up to 6 External eSATA ports configurable via BIOS
Onboard USB 2.0/IEEE-1394
10 USB 2.0 Ports - (6) I/O Panel, (4) via headers
2x 1394a Ports - (1) I/O Panel, (1) via header
Onboard LAN with Teaming
Dual NVIDIA nForce LAN with DualNet and FirstPacket Technology
Onboard Audio
8-channel HD Audio (Azalia) CODEC
Power Connectors
ATX 24-pin, 8-pin ATX 12V
I/O Panel
1 x PS/2 Keyboard 1X PS/2 Mouse
1 x eSATA
2 x SPDIF - Optical Out, Coaxial Out
1 x IEEE 1394
2 x RJ45
8 X Audio Out
6 x USB 2.0/1.1
Fan Headers
6 - 1X CPU, (1) SPP and 4 Chassis
Fan Control
CPU and Chassis Fan Control via BIOS
BIOS Revisions Used
SZ15 and OC Test Beta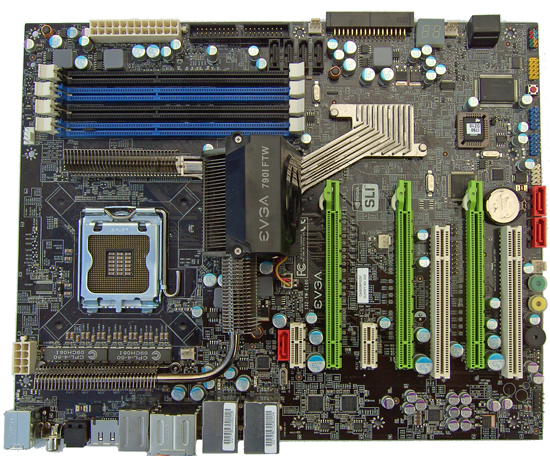 NVIDIA's layout is just about as good as it gets with a board crammed to the nines with expansion slots. During testing, we found most of what we needed to use was easily accessible. Cooling-wise, there are six fan headers onboard, two of which are dedicated to CPU and MCH cooling leaving you with four to populate as required. EVGA chose to go with solid polymer capacitors in all locations for power supply decoupling. These provide low ESR and the potential for a longer life than conventional 85C rated electrolytic capacitors.
MCH cooling is provided by a heatpipe and extruded sink that stretches from the Northbridge to the Southbridge. The PWM area is linked to the Northbridge via a heatpipe, while an additional heatpipe extends to a smaller heatsink to the right of the CPU socket to aid in thermal dissipation. The Northbridge sink comes with a screw-mounted fan attached to the nearby header. We found the stock cooling solution provides reasonable thermal performance for moderate overclocking. If you're going to push the SPP past 1.4V, we'd recommend you place a fan to blow over the PWM or use an additional heatsink to help lower temperatures.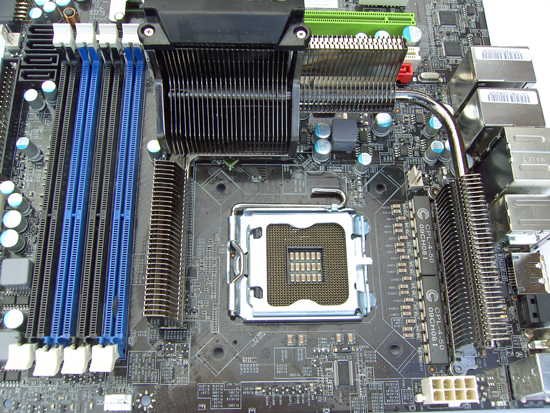 Here's the main selling point of this board, a clean socket area that many who use alternative cooling methods adore. Personally, we've grown to have a love/hate relationship with Volterra's PWM solutions in the past. This is mainly because early renditions of this "electronically superior" solution had implementation issues in the cooling department. However, motherboards like the Foxconn Black Ops blew our convictions wide open with its ability to soak up punishment from a quad-core processor running 100% load tests with 1.8Vcore at 5.4GHz.
Although we get a similar 8-phase solution here on the EVGA board, we also get the smaller sibling MOSFETS that have a lower overall current handling capacity. We've seen these particular MOSFETS on DFI boards in the past, where we also experienced some board deaths due to improper heatsink retention (although this has now been improved). EVGA uses a fairly firm screw mounting system and based upon the results we've seen at the top of Futuremark's Orb, everything is working as it should be to provide more overclocking overhead than conventional PWM controller solutions. The EPS12V connector is located in the usual top right corner where removal and insertion of power leads is fairly easy.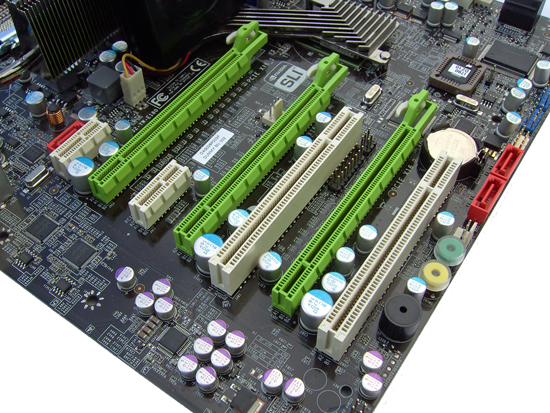 Another "selling point" of the FTW variant is its three full x16 speed PCI-E slots, providing triple-SLI full bandwidth to strut its stuff. PCI-E x1 slots straddle the top PEG slot and we get an additional SATA port right at the top of the tree. Front panel audio and S/PDIF connectors are placed between the top PCI slot and the last 16x PCI-E slot. You will lose access to both PCI slots if you are one of the rare individuals that runs triple SLI.
The onboard speaker, power/reset buttons, two SATA ports, and remaining front panel, USB connectors, serial connector, and CMOS clear buttons are also placed along the length of the lower edge of the board. Most of these connectors will remain as accessible as they need to be when the board is mounted inside a PC case. A welcome addition is a standard socket-mounted BIOS chip, which allows for an easy swap out should the BIOS become corrupt.
Moving over to the lower right of the board we find two more SATA ports placed at a 90 degree angle. The hex code LCD display sits further up, with the floppy drive connector for a neighbor.
Memory slots are well placed enough not to hinder graphics card removal, and we also like the placement of the last four SATA ports that provide easy access regardless of how the PCI-E ports are populated. ATX12V has enough clearance too.
Finally, we move onto the rear panel. We get the standard PS/2 mouse and keyboard inputs together with S/PDIF and TOSLINK digital connectors. eSATA and FireWire ports are also present alongside the 8-channel 3.5mm connector hub. Six USB connectors are available for use on the rear panel and two RJ45 LAN connectors round off the connector saga.