Although the past 3-4 months have seen plenty of verbal abuse thrown towards NVIDIA developed chipsets, EVGA has thrown caution to the wind and released an updated 790i based motherboard known as the 790i FTW. To clarify, the FTW (For the Win) naming suffix merely denotes a more extreme version of the earlier released NVIDIA reference 790i Ultra SLI motherboard. The main "improvements" are centered around the Volterra VT115 PWM controller, solid capacitors throughout, 3x PCI-E 2.0 slots, onboard power/reset and CMOS clear buttons, and a slew of increased voltage ranges to appease the demands of the extreme user community.
In order to stir the pot and encourage adoption, Peter Tan (Aka Shamino), who formerly worked at Foxconn, has been enlisted by EVGA to make their latest offering palatable for the niche extreme overclocking market. As a first task, this is no small undertaking for anyone regardless of prior credentials. With NVIDIA succumbing to pressure from Intel (by providing SLI licensing rights to the upcoming X58 chipset), it seems there's little reason for anyone to be looking at a short-term stopgap SLI mainboard - unless we factor in the cost of a new processor that the X58 chipset will require if you're moving up from an older platform.
It appears that Nehalem/Core i7 won't universally benefit gaming performance, but even with that small nugget of hope for the 790i FTW, we have to acknowledge that there are already plenty of SLI capable motherboards in the marketplace. Boards based on the 650i, 680i, 750i, and 780i are all perfectly capable of providing decent performance for SLI aficionados, at a lower cost than the 790i FTW. Nevertheless, the 790i FTW is available for those who must have the top NVIDIA chipset, and EVGA's solid reputation as a consumer friendly organization may inspire enough confidence for such users to take the plunge.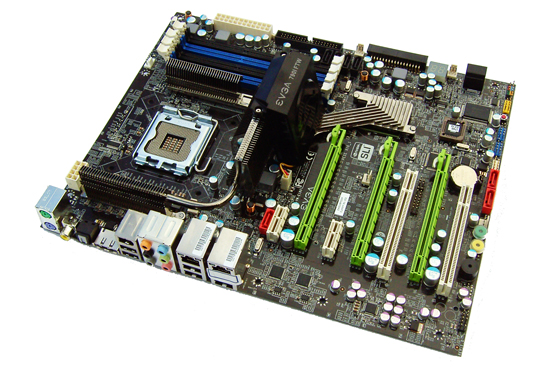 As the NVIDIA 790i reference boards have been in the marketplace for over six months now, our initial expectations for general peripheral compatibility on the 790i FTW are quite high. We'd expect that many of the faults highlighted by prolonged use of the reference design boards will now be ironed out, so these fixes can be transplanted directly into the backbone of the 790i FTW BIOS.
On the flipside, we already know there's a few things we need to look out for based our past experiences with the 790i SPP/MCP Northbridge/Southbridge combination. Specifically, there's the notorious potential for SATA OS drive corruption when the790i chipset is pushed to its limits. Of course, this can happen on any board and chipset if you get a little over zealous, but it seems the NVIDIA 6 and 7 series chipsets have been more susceptible to this issue than any other competing chipset. There's not really anything positive we can say about this situation other than the fact that boards based on these chipsets are usually best run in a conservative rather than aggressive manner. However, the FTW does beg to be pushed a little, so we're going to put our convictions aside while we do just that.
This won't be a hugely in depth review, as a very comprehensive 790i chipset overclocking guide has already been provided within our ASUS Striker II Extreme review. We'll briefly compare performance against some of the other enthusiast boards we've reviewed this year, and then perhaps throw caution to the wind and try our hands at a little sub-zero benchmarking. With all that said, let's move on to board specifications and features.