Antec Fusion Remote Black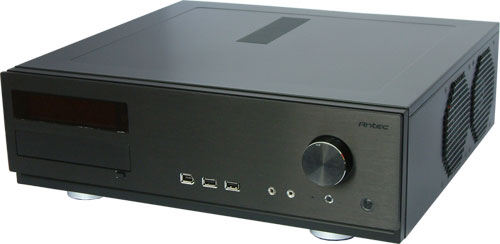 Aluminum plate front bezel with LCD, built-in IR receiver, and volume control to work with media center applications

Windows MCE and Vista compatible IR receiver

Triple chamber structure to separate heat and noise of power supply, hard drives, and motherboard for cooler and quieter operation

Removable HDD brackets with extra soft silicone grommets to reduce vibration noise

Advanced cooling system


2x side mounted 120mm TriCool 3-speed fans



Low profile desktop height to fit in any environment

3 drive bays


Front Accessible: 1x 5.25"

Internal: 2x 3.5"



4 expansion slots

Motherboard: Micro ATX form factor (9.6"x9.6")

Front-mounted ports for easy multimedia connections


2x USB 2.0

1x IEEE 1394 (FireWire)

Audio In and Out



Durable 0.8mm cold rolled steel construction

Dimensions: 5.5"(H) x 17.5" (W) x 16.3" (D)

Net Weight: 18.7lbs / 8.5kg

Gross Weight: 21.6lbs / 9.8kg
The second chassis is the Antec Fusion Remote Black, which also comes with an aluminum front bezel -- this time anodized in black. The height of 140mm is a little more than the Micro Fusion, which allows Antec to install two 120mm fans next to the CPU. The front looks similar to the Micro Fusion, with the only noteworthy difference being that the VFD and the optical drive cover are above one another rather than next to each other. You still get the same number of ports on the front.
Looking at the other sites, the left side is slightly perforated so that the power supply can get some fresh air. Since this case doesn't come with a power supply, Antec didn't try to get too fancy; this case will most likely work best with a PSU that has a 120mm fan on top or an 80mm fan at the front. Another change from the Micro Fusion is that users will be able to install full height expansion cards.
Opening the chassis reveals a very different inside compared to the previous model. The optical drive is on the left side (looking from the front) together with the VFD. The power supply sits behind the optical drive, and there's a limited amount of length -- not that we expect anyone to try and install something like a PC Power & Cooling Turbo Cool 1200W in this sort of system. The hard drives have their own little compartment at the front of the case, separated from the motherboard by a metal wall. The two large 120mm fans are on the right side and will pull quite a bit of air through the case; a lot of this air will come through the ventilation slots underneath the hard drives, thus helping to keep them cool. Antec includes an easy mounting mechanism for the hard drives; remove the top plate and then just slide the drives in. The included rubber pads on special screws hold all of the drives in place.