Introduction
Antec is no stranger to us when it comes to power supplies, and we have tested many of the latest offerings from the Fremont, California based company. We recently had a short look at the Three Hundred case, a budget offering that still provides a good feature set. Antec asked us if we would be interested in reviewing some of their latest HTPC chassis, and we responded in the affirmative.
Anyone searching for an HTPC case probably has certain things in mind. First is a nice and sleek design that will fit in with the entertainment center in your living room. Placing it there comes with another problem: size. The ideal HTPC case should be small and designed to fit together with a stereo amplifier, game console, and/or DVD player.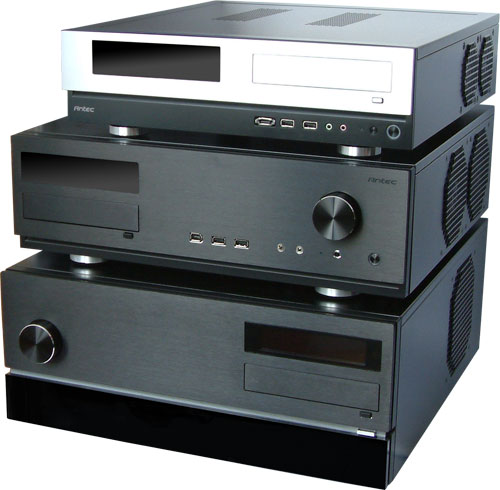 We have three cases from Antec that provide very different approaches in terms of size and interior space. All of them come with a nice aluminum front bezel that helps create a high quality appearance. All of them also come with software that provides easily access to media data through a Windows application called iMedian. This includes a VFD (Vacuum Fluorescent Display) installed in each front of the chassis. The three models are:
Antec Micro Fusion 350 (includes 350W power supply)

Antec Fusion Remote Black

Antec Fusion Remote Max
The Micro Fusion is one of Antec's latest offerings in the HTPC sector and comes with a good 350W power supply. We tested this separately with our Chroma of course, and we are surprised by the build quality and good performance it delivered. Each of these three cases come with unique features and therefore target different users. We tested the chassis with the following components:
Test Components
CPU
Intel Core 2 Duo E4500 (2.2GHz)
Motherboard
Asus P5E-VM SE
Memory
4GB OCZ DDR2 PC2-8500 Platinum Series
HDD
Western Digital 400GB
CPU Cooler
Zalman CNPS7700
Power Supply
Antec Signature SG-650W
We took readings while idle on the Windows desktop as well as at full load. To fully load the systems we started BOINC for the CPU and the Fur benchmark for the GPU (IGP chipset). All of the preinstalled fans are adjustable with settings of low, medium, and high speed. We will include results for all three fan speeds at both idle and load.