Internals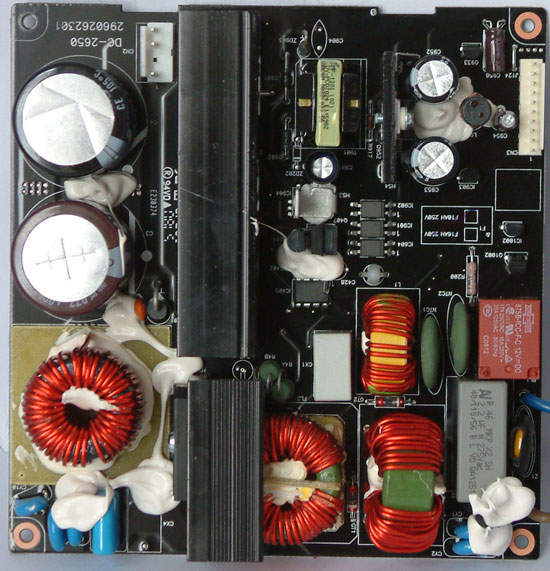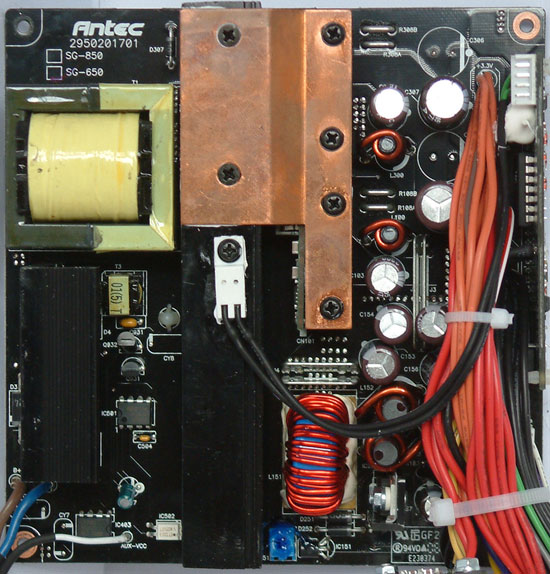 The casing design is identical to the 850W. When we open the casing, we are greeted with a view of the backside of the PCB that holds the filtering stage and the primary side of the power supply. We need to disconnect a few cables and can then remove the first section. The whole power supply can now slide open, which removes both the sides and the rear. The upper part that contains the primary side is fixed to the rear section, which holds the jack for the power cord. The transformer and secondary side are located on the second PCB, which can be easily disconnected as all of the fixed wires go through the little opening in the side.
The filtering stage is packed, leaving no room for additional parts. In the picture of the left bottom side, we can also see the additional circuit to create the 5Vsb voltage. The primary side features two different main capacitors made by Rubycon and Nippon Chemi-Con. That is actually the first time we've seen two different brands used in the primary stage, but it seems to work out just fine. The Rubycon cap is rated at 450V and 270µF at 105°C; the Nippon Chemi-Con cap is rated at 105°C, 450V, and 220µF. Right after the caps you can see the connection that leads to the second PCB.
On the second PCB, we find the transformer in the top corner. Right on top of the large heatsink in the middle is a temperature diode that the fan control unit monitors, adjusting the fan speed as it deems appropriate. There are Nippon Chemi-Con capacitors all over the secondary side. Under the small copper plate, we find the two VRM that are responsible for the 3.3V and 5V rails.