In several recent reviews I've talked about the importance of supporting 8-channel LPCM over HDMI. More specifically, you'll see this as a feature listed with AMD's Radeon HD 4800 series and more recently the 4600 series. Intel has quietly toted 8-channel LPCM support as a feature of its integrated graphics chipsets since the G965, yet I've never done a good job explaining what this feature is and why you should even care.
Honestly, it took my recent endeavors into the home theater world to really get an understanding for what it is and why it's important. So without further ado, I present you with a "quick" (in Anand-terms) explanation of what 8-channel LPCM over HDMI is and why it matters.
Grab some popcorn.
The Necessity: Enabling 8-channel Audio on Blu-ray Discs
Movies ship with multi-channel audio tracks so that users with more than two speakers can enjoy what ultimately boils down to surround sound. Audio takes up a lot of space and studios keep trying to pack more data onto discs so most multi-channel movie audio is stored in a compressed format.
In the days of DVDs the studios used either Dolby Digital or DTS encoding for their audio tracks, but with Blu-ray (and HD-DVD) the stakes went up. Just as video encoding got an overhaul with the use of H.264 as a compression codec, audio on Blu-ray discs got a facelift of its own. Dolby Digital and DTS were both still supported, but now there were three more options: Dolby Digital TrueHD, DTS-HD Master Audio and uncompressed LPCM.
Dolby Digital and DTS, as implemented with the original DVD standard, had two flaws: 1) They were lossy codecs (you didn't get a bit for bit duplicate on disc of the audio the studio originally mastered when making the movie), and 2) they only supported a maximum of 6-channels of audio (aka 5.1 surround sound: right, left, center, left surround, right surround and LFE/sub channel).
DVDs could store 4.5GB or 9GB of data on a single disc, so using lossy audio codecs made sense. Blu-ray discs are either 25GB or 50GB in size meaning we can store more data and higher quality data at that, for both audio and video.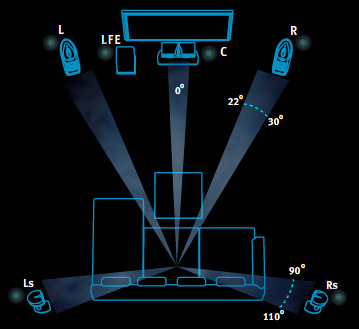 A standard 5.1 channel audio setup. Copyright Dolby Laboratories.
Both Dolby Digital TrueHD and DTS-HD MA improve upon their DVD counterparts by: 1) being lossless (when decoded properly, you get a bit for bit identical copy of the audio the studio originally mastered for the movie), and 2) currently supporting up to 8-channels of audio (aka 7.1 surround sound: right, left, center, left surround, left rear, right surround, right rear, and LFE/subwoofer channel; both specs actually support greater than 8-channels but current implementations are only limited to 8).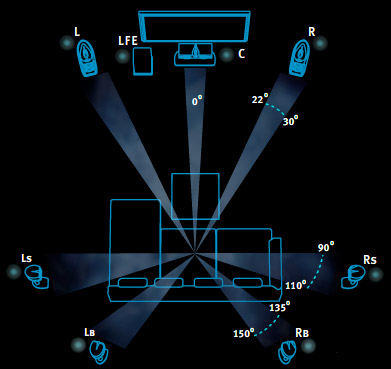 A standard 7.1 channel audio setup. Copyright Dolby Laboratories.
These standards are lossless, which is great. While we're not quite there on the video side, the fact that we can store and playback the original audio track from a movie is an incredible feat and a feather in the cap of technology in general.
The support for 8-channel speaker setups is also a boon, because currently the way people with 8-channel audio setups get those extra two channels is by some form of matrixed audio. Dolby ProLogic IIx and DTS Neo6 generate one or more additional channels of audio from existing surround sound channels; the downside is that these methods never sound good. While they make audio come out of all speakers, generally the original 5.1 audio track produces better sound in that it is less muffled and more distinct.
Now we have these wonderful audio codecs to give us the benefits of fully uncompressed audio without the incredible space requirements, but there is indeed a problem: decoding them on a PC.