Non-G DDR3? Sure, Why Not
For a while now we've been seeing either DDR2 or GDDR3 on most graphics cards. The future standard looks to be GDDR5 at this point (with 4 being skipped due to its not-that-much-better-ness when compared to GDDR3), but currently board makers are faced with an interesting situation: DDR3 is coming down in price due to its adoption on the desktop.
The push to GDDR3 was to fill the need in the graphics industry for faster DRAM, so it came along a little ahead of DDR3 and has served us well for the past few years. DDR3 is now finding traction in the desktop world and prices are starting to come down as every major platform will support DDR3 going forward. Performance is apparently fairly similar at the speeds DDR3 can hit (we don't really have a way of testing this ourselves right now, but this is what AMD is telling us), so price is really the only differentiator.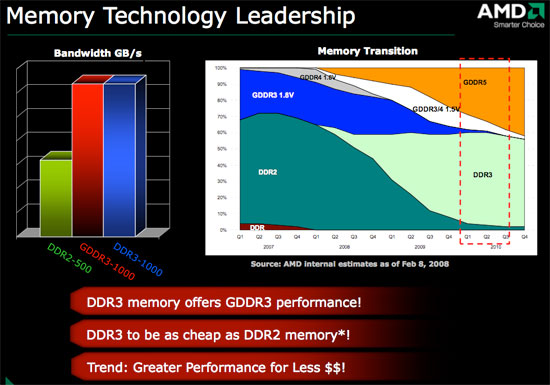 The future: GDDR5 at the high end and DDR3 at the low end for graphics cards
Cheaper DRAM means cheaper boards, especially on the low end where we won't see really high speeds where GDDR3 or GDDR5 would be required. This is a good thing as it will hopefully bring performance down to the mainstream faster.