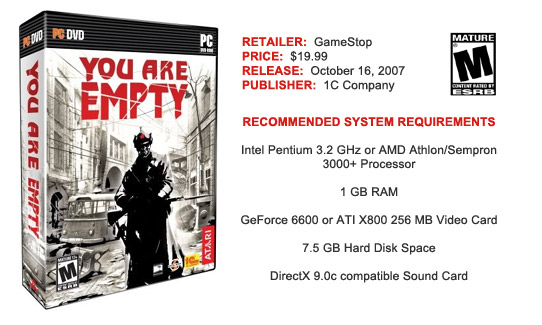 What do giant mutant chickens, rabid firefighters, and the Third Reich have in common? Absolutely nothing, but that didn't stop the folks at the 1C Company from tossing them into the freak-fest that is You Are Empty. In this bizarre chronicle, you play as a wounded soldier who awakens inside a dilapidated German hospital that is overrun with flesh eating nurses and deranged mental patients. From there, you'll embark on a fairly linear journey that will have you shooting your way through the remains of a fallen German empire using signature WWII weaponry, along with a trusty nail gun and a few Molotov cocktails.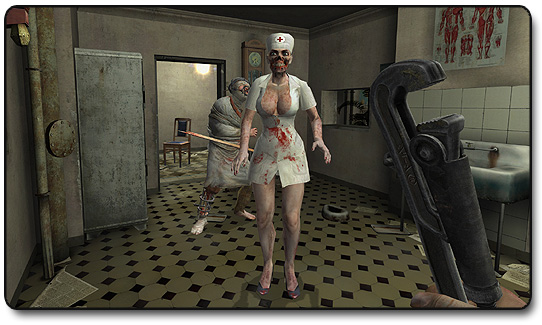 You Are Empty finds its footing somewhere between Half-Life and Resident... Weirdo. The game is completely void of any recognizable story and contains almost no narrative. Much like Half-Life, players will experience the occasional puzzle that can be solved by flipping switches and searching for items that will allow you to proceed into a new area. As for the Resident Evil similarity, the developers have created what many will call a marginal survival horror experience with its array of aggressive inhuman attackers. You'll also experience firefights against Nazis in the game's more rural settings, but those sequences are overshadowed by your dealings with an odd mix of character creations that suggest some level of pot smoking on behalf of the development team. But don't let my references to these two great series' fool you - the game is nowhere near as enjoyable and will leave you feeling, as the title suggests, empty.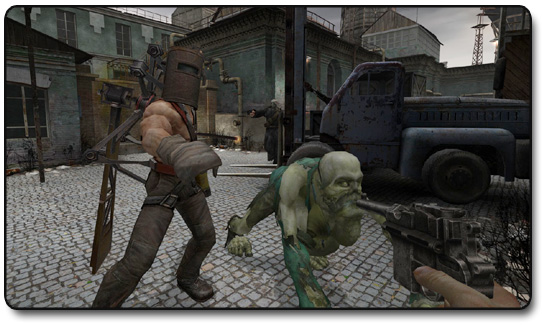 This has to be the strangest game I have ever experienced. There is no plot, there is no objective, and there is ultimately no point to the game. You simply find your way through the game's dreary settings with no clue who you are or where you'll end up. At the same time, it has to be one of the worst games I have ever experienced. While the game has a unique old school presentation, it is certainly amateur hour as far as the game as a whole is concerned.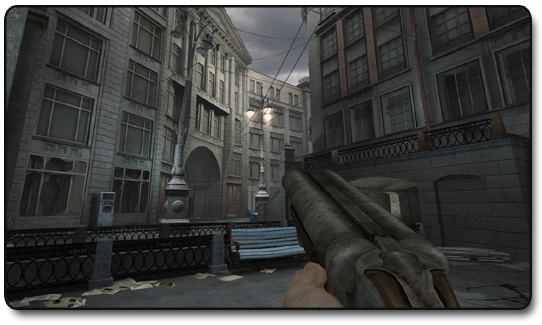 The one interesting element the game possesses is a series of black and white animated cutscenes that add a new element of darkness to this Nazi themed extravaganza. However eye-catching, each scene contains imagery that has nothing to do with what's going on in the game. While part of me says to steer clear of this ridiculous shooter, part of me wants you to check it out if for no other reason than to experience how weird the game is. However, the latter is a very small part, so I suggest you bypass it altogether. You Are Empty is as unfulfilling as they come.