Below you'll find live coverage, updated in real time, from the second day of keynotes at IDF. Refresh for the latest updates. All times are in EDT, the newest posts are at the top.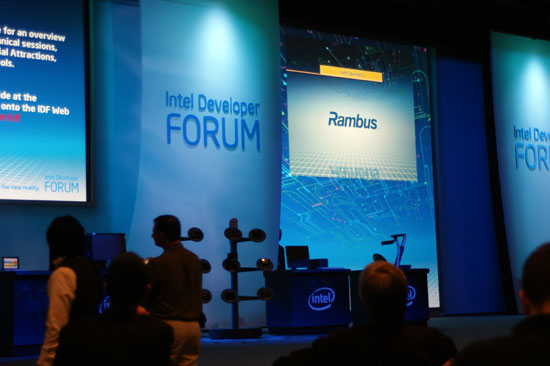 2:04PM - And we're done! Now off to learn more about CE 3100...
2:00PM - Intel is announcing a developer program to help with visual computing. It looks like Intel is already gearing up to get devs interested in Intel solutions before Larrabee hits. It's called Visual Adrenaline.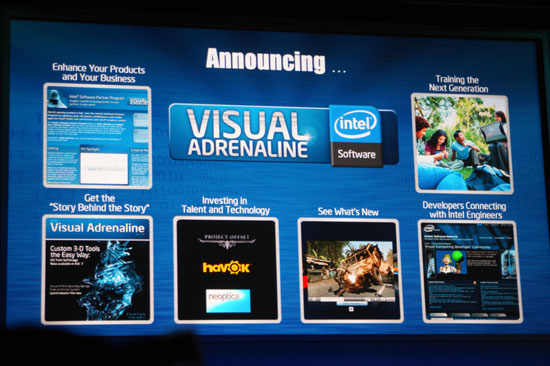 1:55PM - Id is running a Tech 5 demo. It looks like either the same or a very similar demo as the one shown at Apple's WWDC a while back. He's talking about multi and many core stuff.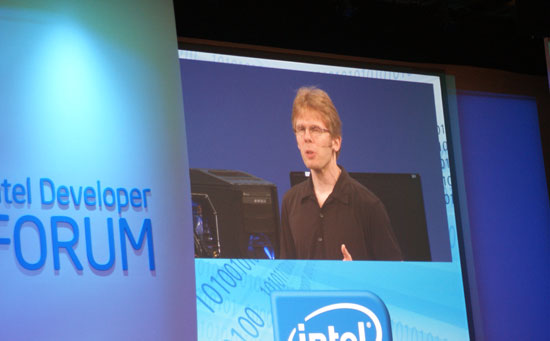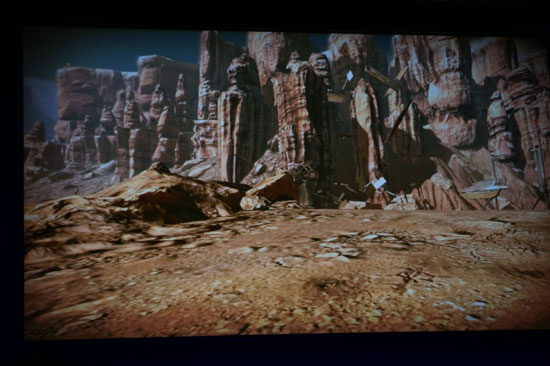 1:55PM - John Carmack is up on stage now to talk about visual computing.
1:45PM - Okay, so there are a couple issues. After watching a longer clip, there are some visual artifacts, specifically ghosting. It isn't always visible, and I couldn't quite put my finger on when and where it happened. It seemed to be on some high contrast edges and some low contrast edges. It seemed like far filed objects showed ghosting on low contrast edges more than near field objects. But I'd have to spend a little more time watching and even changing position around the screen in order to get a better idea of exactly what and why is going on.
(Ed: If it's 3D, you would see double vision as pictured below if you don't have on glasses.)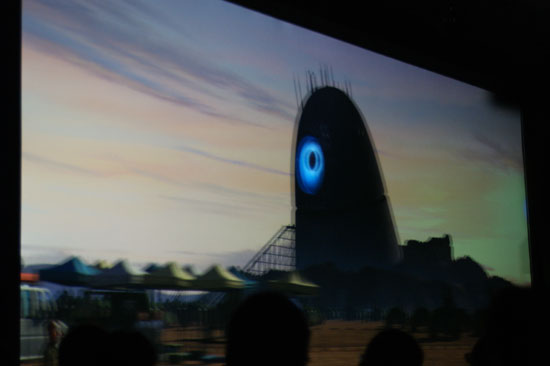 1:41PM - First 3D movie will be Monsters and Aliens to be released to be released in March. They just finished showing a preview
1:33PM - Damn. That looked pretty good. We were sitting left of center, so some of it was a little distorted, but it was very 3D and very nice looking. This is cool technology.
1:28PM - They are rolling in a giant movie screen in front of the stage. We are going to see a demo with Kung Fu Panda re-done in this new 3D technology. Apparently, we had some glasses taped under our seat. We'll let you know how it looked in a minute. (Derek wearing glasses pictured below)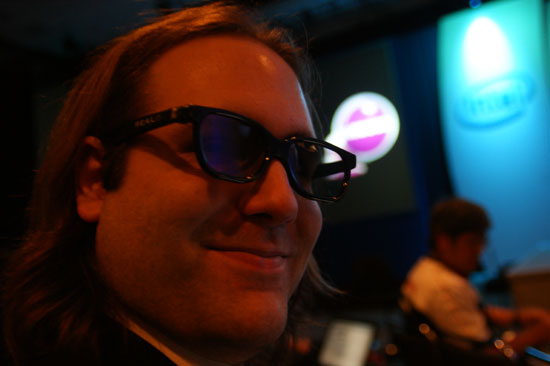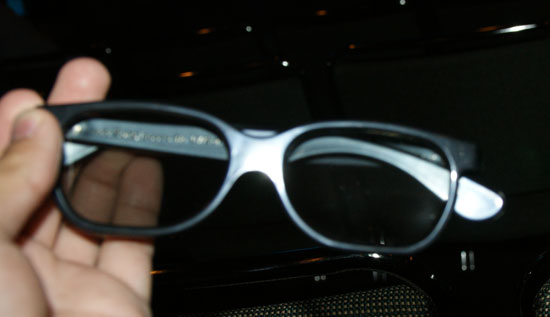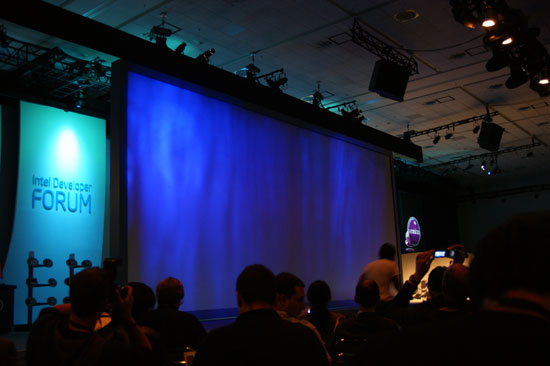 1:25PM - In 2009 all of DreamWorks animated movies will be authored and available in 3D. The technology will still require glasses -- polarized glasses.
1:21PM - Jeffrey Katzenberg (the K in DreamWorks SKG) is up on stage and talking about this new 3D technology for movies.
1:18PM - INTRU3D -- DreamWorks and Intel are announcing a new technology in movies. No details yet.
1:13PM - Intel Parallel Studio (beta available in November) can plug into visual studio to help enable and debug parallel programming.
1:10PM - Medical demo by Philips showing real-time 3d imaging of a heart.
1:05PM - Far Cry 2 (to be released in November) is being shown off by Renee James.
12:53PM - Both Samsung and Sony seem to be supporting Intel's CE SoC, nice. Also, they just referred to the instruction set as IA86, so I'm guessing it is x86 but just not Atom/Silverthorne based.
12:50PM - It looks like the CE3100 is IA but not Atom, it's unclear whether or not it's x86. Next year Sodaville will add the Atom core, but for it what it is, it looks very fast today. Being able to decode two 1080p streams at the same time and manipulate them in 3D is pretty impressive, although admittedly one of the streams was MPEG-2, which is far easier to decode than H.264. There also appeared to be a slight slowdown once the 3D effects pictured below were applied. I want faster TV interfaces; if Intel's CE 3100 and future successors can guarantee that then I'm all for it.
12:40PM - CE 3100 can decode 1080p MPEG-2 and H.264 at the same time. Not only that, but it can do things like fast forward without dropping frames (it just plays them really fast). On top of that the hardware 3D graphics can turn the video into a texture mapped onto 3D and they can do cool things with the video streams. This is a pretty cool demo, it's like Apple meets your TV.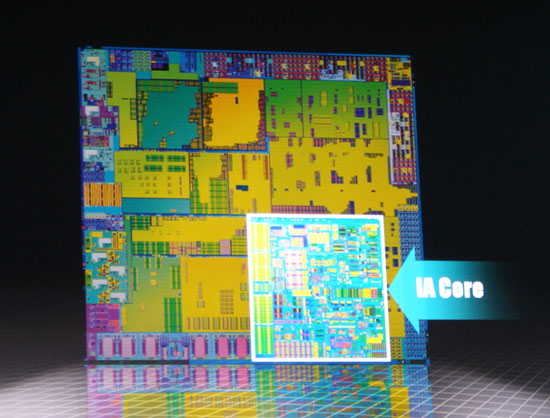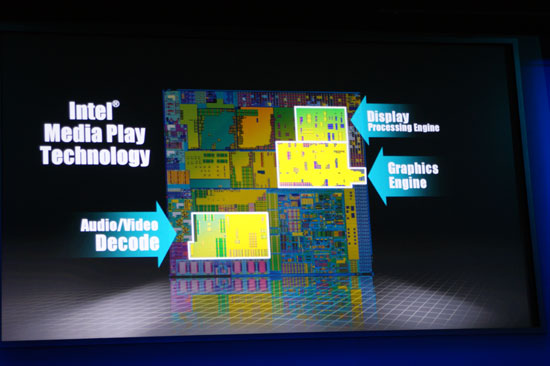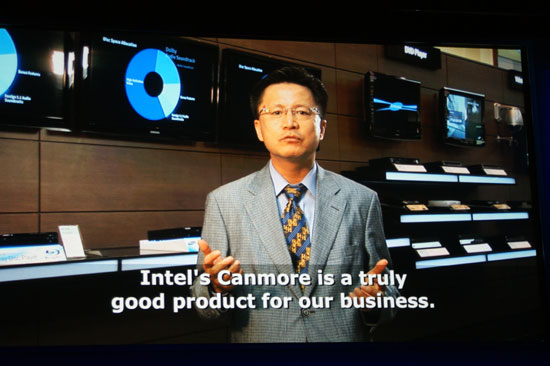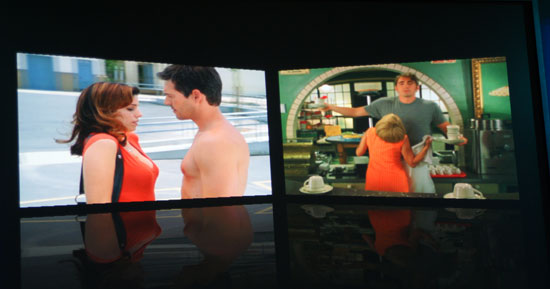 12:36PM - 150M transistors, 46 clock domains, and 15 unique pieces of IP (I'm guessing both licensed and Intel internal IP?)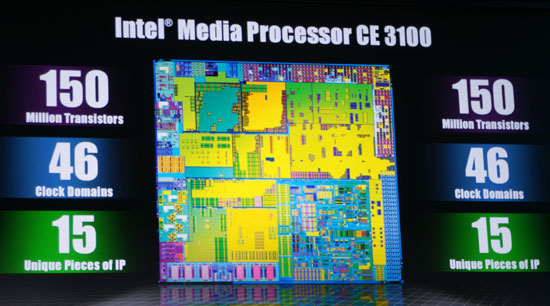 12:35PM - Intel Media Processor CE 3100, the processor formerly known as Canmore, just got announced. Today's demo was running on a CE 3100.
12:33PM - No word on what TV makers will adopt Intel's silicon and Yahoo's widgets. Light integration of the internet on TVs like this is actually a pretty good approach to convergence in that respect. It's very small-step evolutionary and not set-fire-to-the-world revolutionary, but I'll take it.
12:30PM - And then comes what could be a killer app. Streaming video to the TV over the internet. Being able to rent movies from something like Netflix or Blockbuster this way would also be cool.
12:26PM - Oh wait, but it's not just a dock across the bottom of the screen, there's also a sidebar. It's connected to the internet and can pull things like photos from Flickr and other things. You know all those scrolling bars on some news channels? Think about it almost like the ability to customize all that crap with any connected info and putting it on any channel.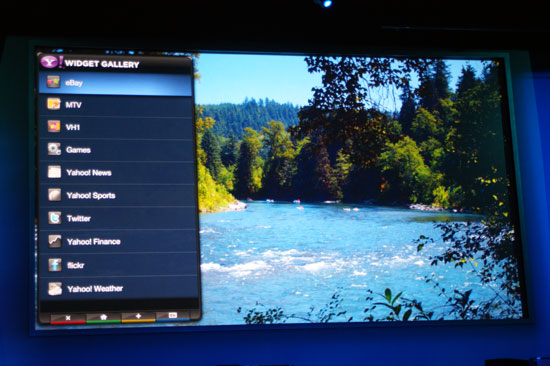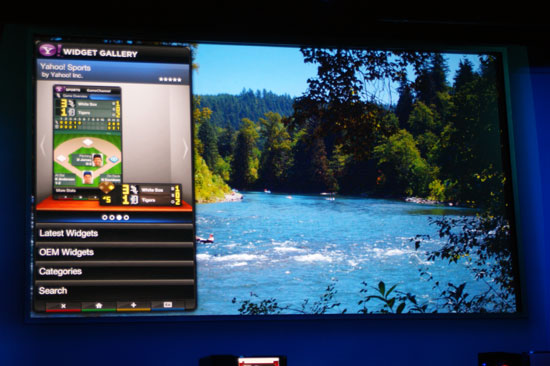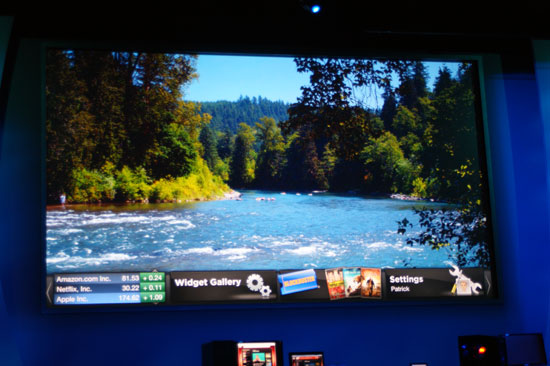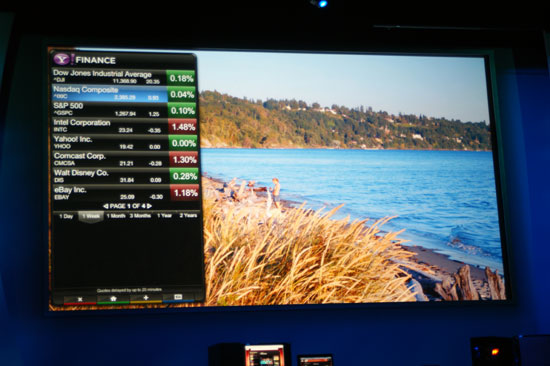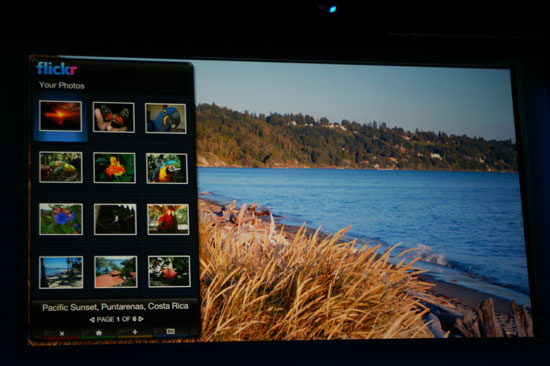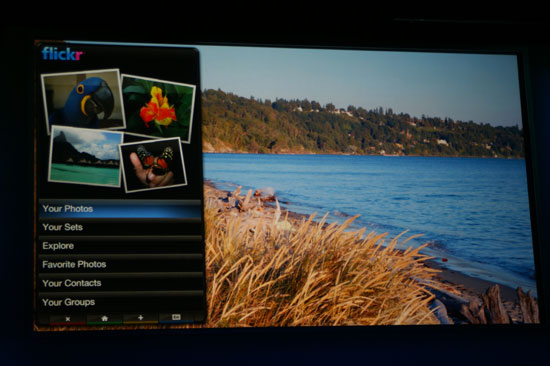 12:25PM - Yahoo and Intel are showing off a TV experience that tries to accomplish the goals they outlined previously. It has one button access to an internet connected dock at the bottom of the screen. It overlays over the TV image and doesn't take you out of the experience.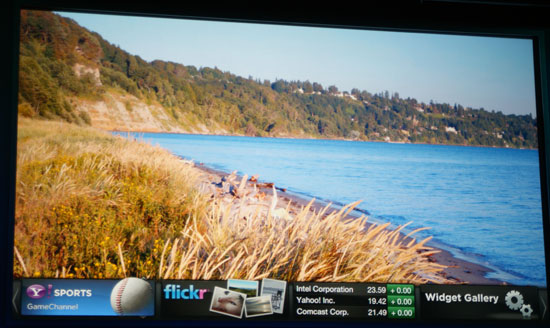 12:22PM - Two announcements: world's first Intel Architecture (x86) System on a Chip for TVs and a partnership with Yahoo...
12:20PM - The last few minutes were spent on the mock game show mentioned below asking questions about TV viewers internet usage, desire for interactivity, and the simplicity of the TV interface. Intel wants to bring internet to TV in ways that meet these ideals.
12:11 PM -Eric Kim is up now. Time for the Digital Home presentation; should be interesting. The first demo is a takeoff on the Price is Right called The Viewer is Right.
12:10PM - Mmm...Moorestown, the system-on-a-chip version of Atom/Menlow. Due out in 2009/2010 it has an integrated memory controller and on-die graphics. Anand C. says we'll have to wait until IDF Taiwan for more information on Moorestown. He did have a sample Moorestown PCB though, it's about the size of a credit card.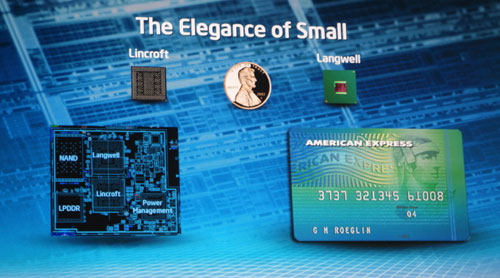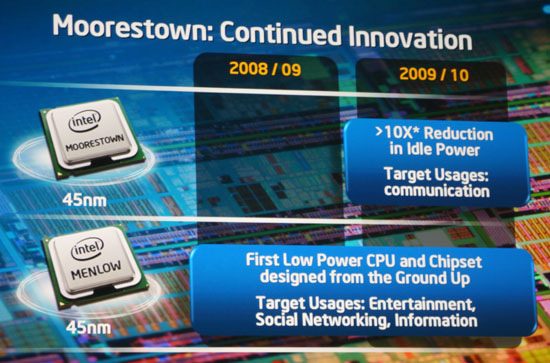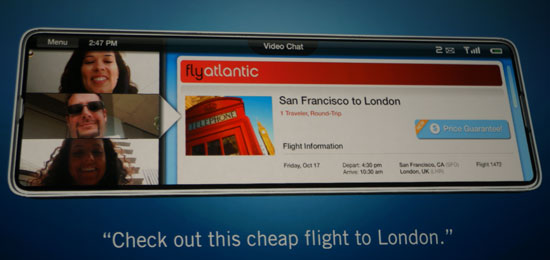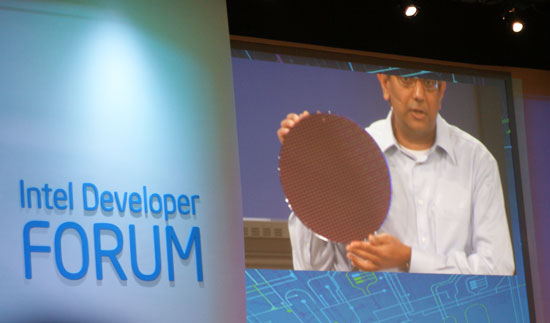 12:04PM -Lenovo is trying to get their new product MID working but it is not happening. Uh oh, this demo bombed. The attempted demo really highlights a major issue with many of today's MIDs: the user interface. These things need an iPhone-like interface, instead many of them attempt to use a standard Windows UI. You can't try to scale down a UI designed for a desktop/notebook and use it on such a small screen, it just doesn't work.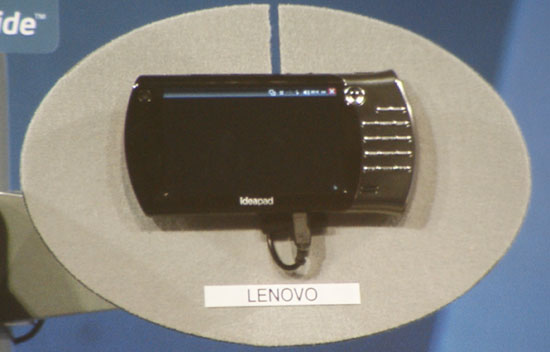 11:58AM - Now talking about Clarion working on devices called MINDs (mobile internet navigation device). They will have product coming to US markets soon. Their interface is adaptive and very interactive. A combination of a consumer MID with the ability to playback video and audio while doubling as a Navigation device.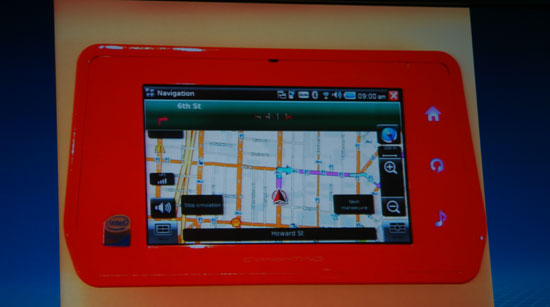 11:51AM - Panasonic and BP are pimping Atom and MIDs for enterprise and government customers. It's an ultra mobile rugged device. Anand C. was thrown the device and let fall an expletive along with the device ("oh shit!"). He called for someone to censor it, but I think they were a bit late on the button.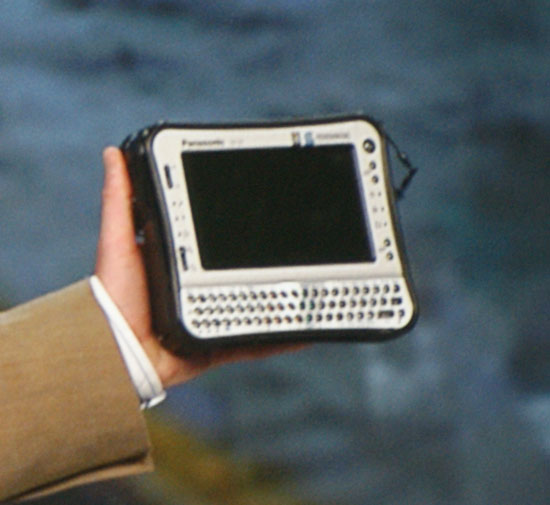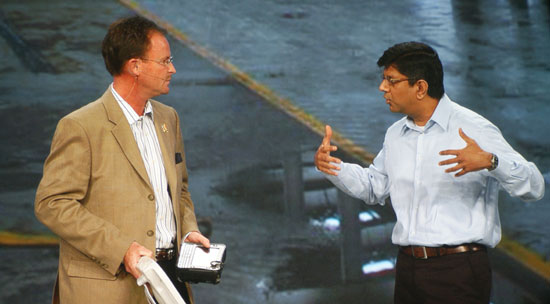 11:45AM - Apparently Neusoft is working on a pretty interesting GUI interface for MIDs. This should be available for licensing by other companies. It looks pretty but I'm not sure about the practicality of floating buttons.
11:42AM - Neusoft is coming on now. They just showed a demo that highlighted a couple things. I want my car to tell me the speed limit. That'd be cool. These guys are the largest software developer in China.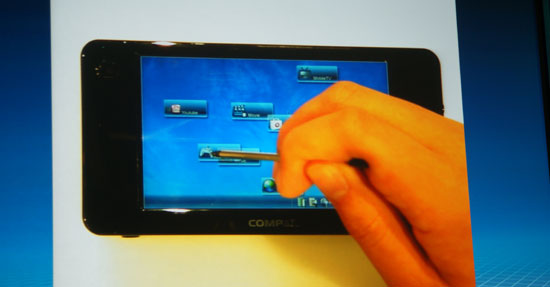 11:41AM - The MID "ecosystem" is growing, a bunch of companies are developing MID-specific applications. We're at the very early stages here guys; it's going to take much more serious efforts on the software, hardware, and connectivity sides to make MIDs really successful.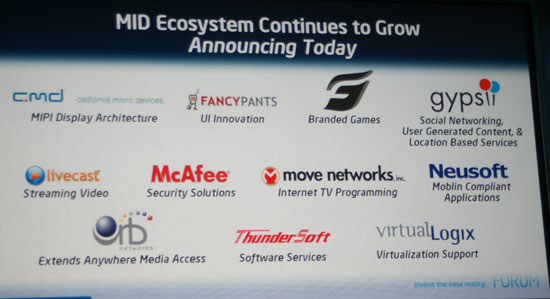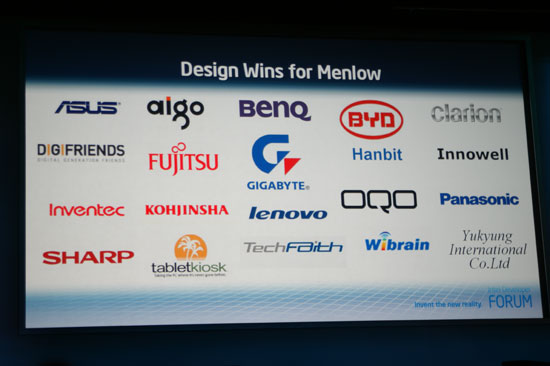 11:38AM - Warren Tomlin from fuel games came on stage to talk about developing games for mobile devices and branded entertainment. Apparently working in the mobile space is really difficult (different languages, OSes, devices) as it is. Atom makes it better.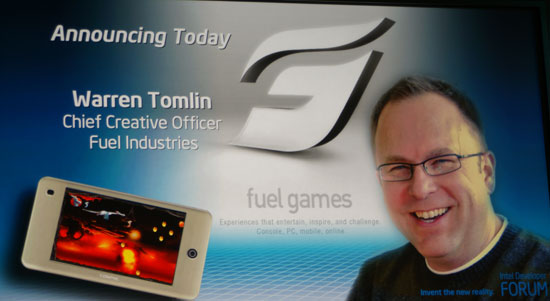 11:37AM - Because Atom is an x86 platform that looks just like a regular desktop/notebook, compatibility issues with plug-ins such as Flash just don't exist. Stuff just works. This is a real advantage of Atom. Unfortunately, Atom is too big, too power hungry and too expensive to really compete in the same areas as ARM today. The 5-year plan is to have that change though...dramatically.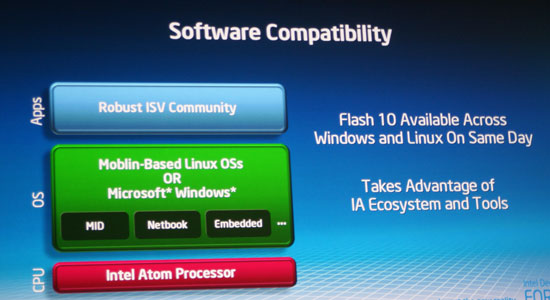 11:36AM - Flash 10 just demoed on a MID. Things like Flash take forever to get released on mobile hardware (handsets). With an x86 based platform like Atom, as soon as Flash is available for desktops/notebooks, it'll be available for handheld devices.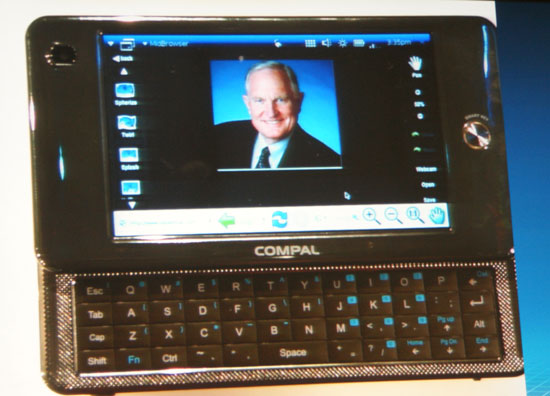 11:35AM - Derek wrote the last line. All of my PCs can decode 1080p; Derek builds slow systems. :-P
11:31AM - 1080p decode on an MID. Not all of my desktop PCs can do that.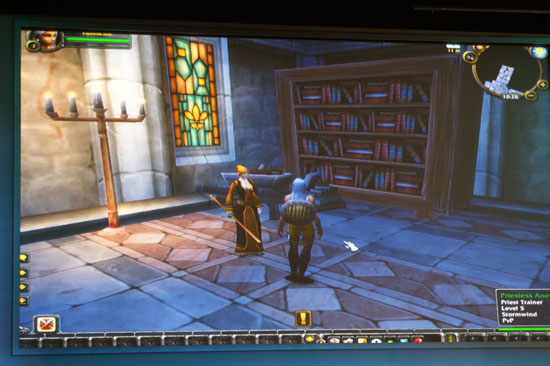 11:30AM - Here's where Atom is pretty cool: they just showed it running World of WarCraft on a MID. It wasn't exactly fast (maybe 10 fps?), but it worked.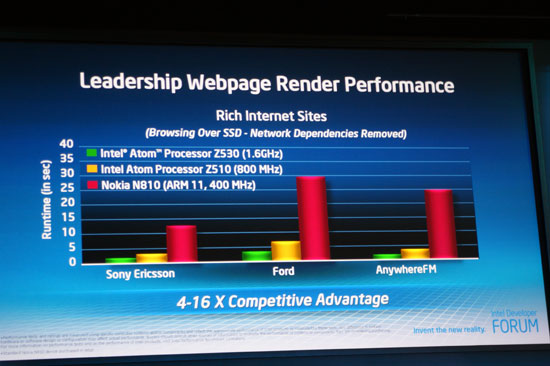 11:30AM - Atom loads web pages 4 - 11x faster than ARM based platforms. It also has much higher power consumption though...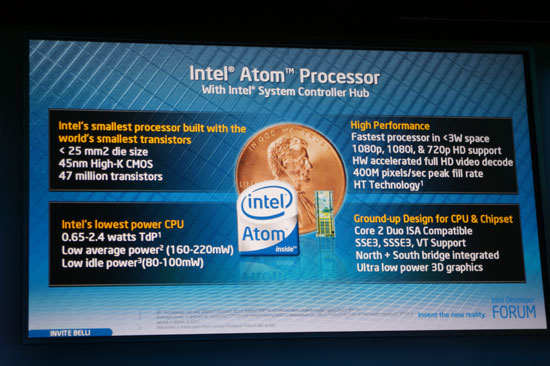 11:28AM - Anand C. brought out Belli Kuttanna, the lead architect on Atom. I met him back in Austin not too long ago, he's a very talented guy. Intel is talking about Atom - 47M transistors, about the complexity of a Pentium 4, but significantly cooler and lower power (obviously lower performance too).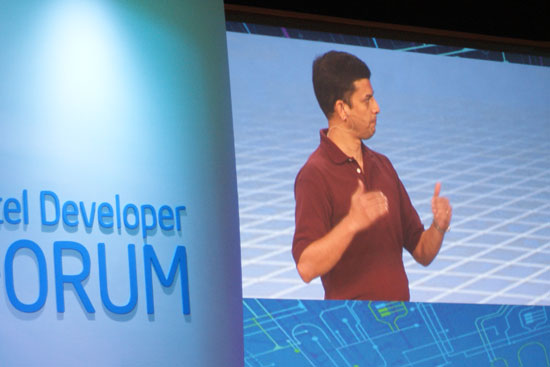 11:17AM - Demo time: Intel is demonstrating gypsii. You run the application, it tells you where other gypsii users are, it tells you what places they like to visit in the area (restaurants, etc...) and you can easily communicate with them. We've seen these types of things before, this is simply a demo on an Atom platform.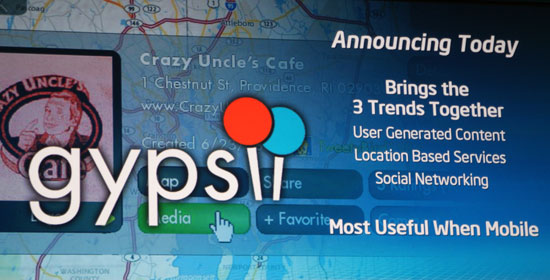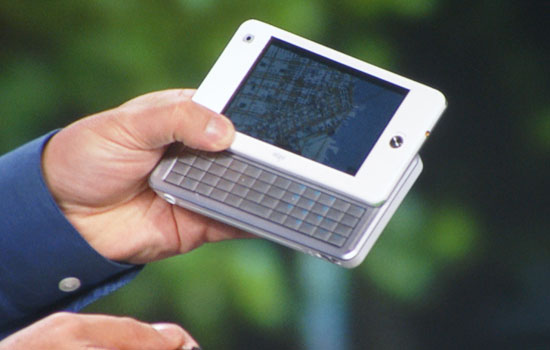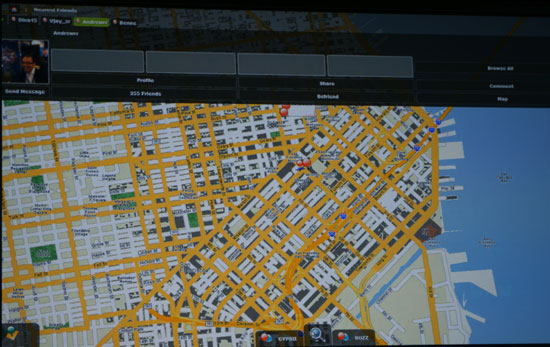 11:16AM - Facebook: June '07 - 52M unique visitors, June '08 - 132M unique visitors. People like visiting sites on the Internet, we get it. Guess where this is going? People want to visit sites on the net untethered, while they're mobile.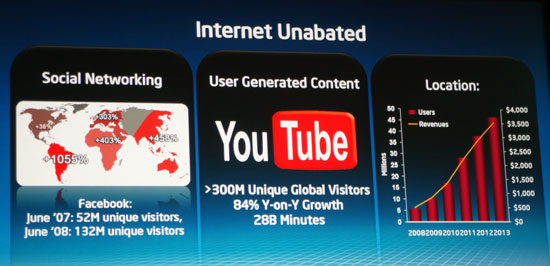 11:15AM - Internet usage is changing, social networking is taking off, the Internet is very young and over the next decade usage models will change dramatically.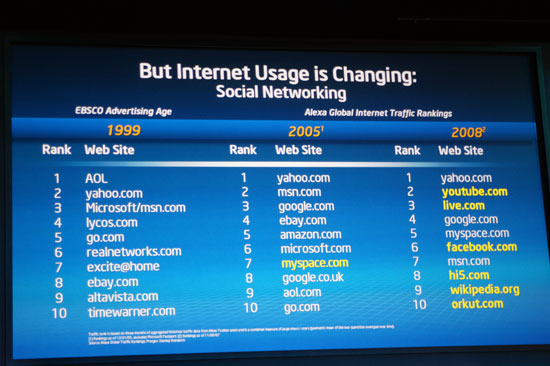 11:11AM - Intel is running a video showing off quotes from positive reviews of Atom based Mobile Internet Devices (hmm, wonder why they haven't sent us any Atom based MIDs...). Anand Chandrasekher just took the stage.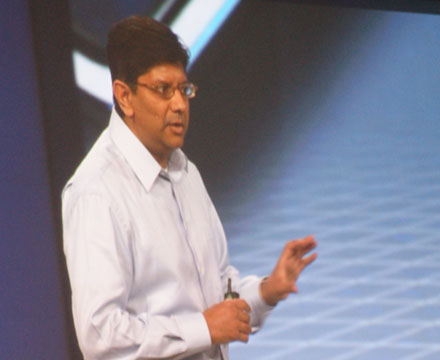 11:08AM - Dadi is recapping yesterday's keynote addresses so Ultra Mobility is grounded for now.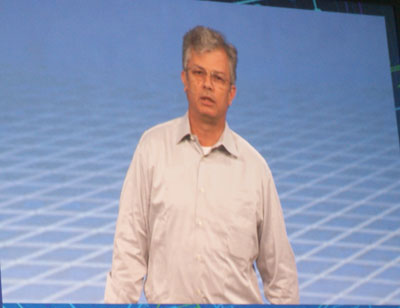 11:03AM - Ready Set Go - Today's first topic is Ultra Mobility.