Fixing AMD's Poor AA Performance
Now that we have a new architecture from AMD with improved AA performance, it's time again to look at a comparison of all the different AA modes these cards offer. No new modes have been introduced since the R600 and G80 reviews, but AMD has completely rebuilt their ROPs with special attention to hardware based AA resolve. In R600, hardware resolve wasn't much faster than shader based resolve, but this time around, AA runs blazingly fast whether its on the dedicated resolve hardware or on the shader hardware (since their is so much more shader hardware now even shader based resolve gets a giant boost).
The first thing we will want to look at are the MSAA modes. These are the modes we absolutely recommend for use with AMD hardware as all their other filters essentially low-pass filter the entire image by blending in neighboring subpixels. In any case, the results are very impressive for RV770.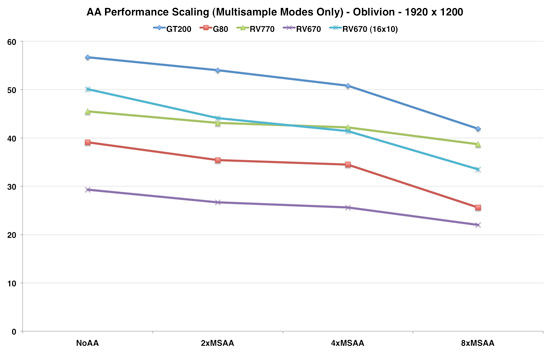 Click to Enlarge
The RV670 at 19x12 was limited in some way other than AA (it really couldn't keep up), but at 16x10 we can get a better idea of relative impact of AA. And clearly the RV770 quite improves fall off with increasing AA levels over the previous generation. One special thing to note is that the RV770 does fall off very gracefully to 8xAA. Since the RV670, G80 and GT200 all have sharp drops in performance when moving up from 4xAA to 8xAA, the RV770 really shines here. In fact, the few tests we did with 8xAA paints the 4870 in a much better light relative to the GTX 280. Remember from our earlier architecture discussion that Oblivion is the game where the GT200 had the largest performance advantage over RV770.
While 8xAA performance is all well and good, the image quality difference is just not enough for us to recommend enabling it over increasing resolution (or better yet, pixel density on LCD panels -- hello display makers). For those with panels that don't go over 1280x1024, it would be better to spend the extra money on a large panel than a $300 graphics card. The application where we see 8xAA making the most sense is on 50+ HDTVs used as computer monitors where the pixels are just plain huge. For the majority of desktop users though 4xAA is where it's at.
We did test the performance of all the other modes as well. NVIDIA's CSAA modes are quite good (they actually improve image quality rather than degrade it), but again, stay away from anything but AMD's "box" filtered AA.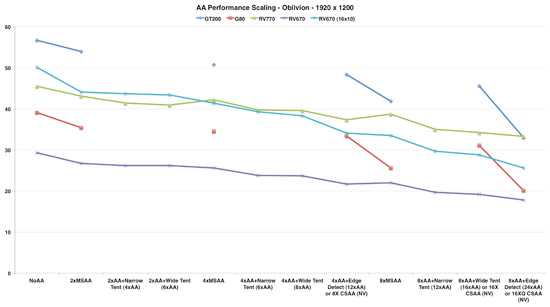 Click to Enlarge
The RV770 actually shows a bigger performance hit from enabling their tent filters than RV670. This is likely because the filters are run on shader hardware in both cases while RV770 has faster hardware resolve that can be used for normal AA resolve. If RV670 resolves "box" filtered AA on the shader as well this would explain the flatter performance in that case. Even more so than the image quality question, the fact that they perform lower really should be the nail in the coffin for AMD's tent filter garbage.