Final Words
NVIDIA has a pretty solid product lineup now, the problem it is that at the lower end of the lineup the Radeon HD 4850 manages to do a great job of disrupting things: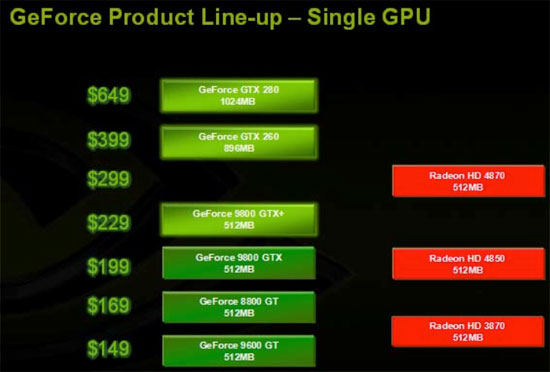 The Radeon HD 4850 continues to be a better buy than NVIDIA's GeForce 9800 GTX, even if both are priced at $199. The overclocked, 55nm 9800 GTX+ manages to barely outperform the 4850 in a few titles, but loses by a larger margin in others, so for the most part it isn't competitive enough to justify the extra $30. The 4850 also uses significantly less power than the 9800 GTX+, and AMD was quick to point out that by the time the 9800 GTX+ ships that it will also have factory overclocked 4850s. That should make things even more interesting, because honestly, a factory overclocked Radeon HD 4850 is far more attractive to us than an overclocked GTX+.
In a little over 12 hours we'll be able to complete the story with a full look at AMD's RV770 GPU and the Radeon HD 4870, so for a full, detailed performance analysis come back then. Until then, in short, the 9800 GTX+ doesn't really change anything for NVIDIA.
NVIDIA needs to further drop the price of the GeForce 9800 GTX or GTX+ in order to make them truly competitive with the Radeon HD 4850. There's nothing more to it. Price drops on the 8800 line are also necessary, which makes sense given the positioning of the 9800 GTX/GTX+. There's a reasonable chance we'll see some of the 8800 products disappear from NVIDIA's lineup in the near future, so if you've been contemplating adding a second 8800 GT 512 for SLI use, now might not be a bad time to do so; we're seeing cards priced as low as $160 with a $30 mail-in rebate now.