The New Voodoo Omen
An all aluminum chassis, integrated 7" LCD display (800 x 480), slot loading optical drives and liquid cooling: it's the new Omen.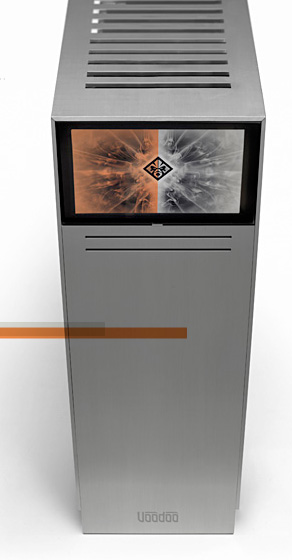 This thing looks good and targets an entirely different market than the Envy 133. Prices will start at around $7000 for the Omen, with average configurations expected to be around $10,000. Think that's too much? It doesn't matter, you have to be invited to purchase the Omen. Voodoo is building this thing, at least at first, for its long term customer base. It is limited production but we have no idea exactly what sort of production numbers that will end up being.
The system will ship with an ASUS Striker Extreme II based on the nForce 790i chipset, you can pick either a Core 2 Extreme QX9770 or QX9650 (3.2GHz or 3.0GHz) and 2GB, 4GB or 8GB of memory is offered.
Both SLI and CrossFire are supported using the 8800 Ultra or Radeon HD 3870, but we expect that it won't be long before the GPU list is upgraded to include some upcoming GPUs that will launch before these things ship.
The Omen features six completely tool-less drive bays, just open the cover and pop in a drive.
The internals of the machine are pretty unique, the motherboard tray has been rotated 90 degrees clockwise in order to promote better cooling (heat rises out of the top of the machine). All of the water cooling tubes in the machine feature quick release connectors that make emptying fluid or removing your motherboard a lot easier.
We weren't allowed to take pictures of the prototype Omen, its release will be a little while from now compared to the Envy.