The "4 Socket Reference Design"
The 2U Sun Fire X4450 is the only 2U server on the market that features the Quad Socket Intel Xeon MP 73xx platform. Even four mighty 130W Xeon MP "Tigerton" X7350 2.93GHz can find a home in this slick Sun server. In case you don't remember, "Tigerton" is basically the quad socket capable version of the 65 nm "Clovertown".
Only the Supermicro 8015C-TB does better and fits the entire Xeon MP platform in a 1U server. However, this server clearly targets a completely different market - the HPC clustering market. The Supermicro only has one PCIe slot, 24 DIMM slots, and features one PSU; the Sun Fire X4450 has two fully redundant PSUs, six PCIe slots, and 32 DIMM slots. It is unlikely that the Supermicro server would be on the shopping list of someone searching for a virtualized consolidation server or heavy database server, since PSU redundancy is usually a requirement for those markets.
To fully appreciate the work that the Sun engineers have done, it is interesting to look at the Intel "Xeon Tigerton MP Reference Server", also called the Intel S7000FC4UR. It is a massive 4U server, with two 1570W 1+1 hot pluggable power supplies. In the front we find two pairs of 120mm fans that draw the cold air in. Each pair of fans starts to spin much faster if you remove the other pair.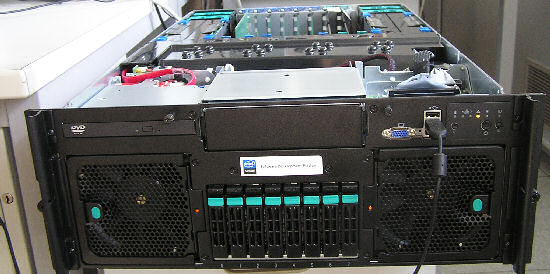 In the back four 80mm fans try to blow the hot air out of this sixteen core beast.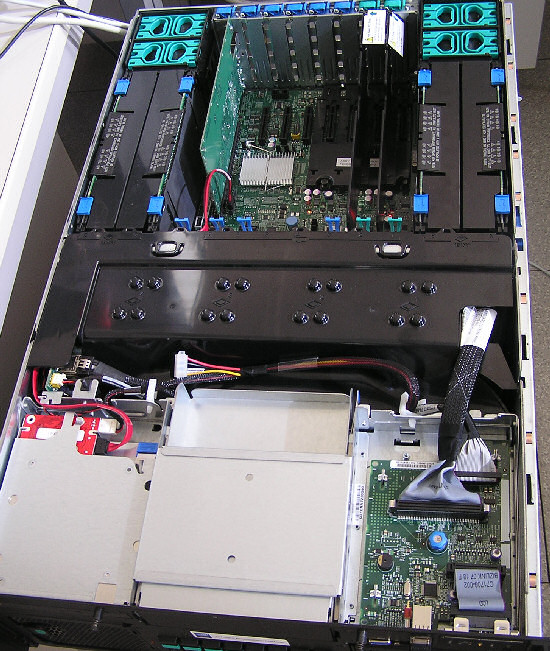 Seven total PCI Express slots are available: four x8 (two slots hot-plug) and three x4.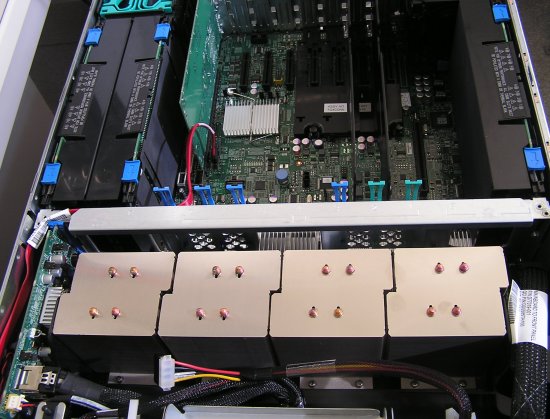 Notice that the 7300 Northbridge needs quite a bit of cooling. The 7300 chipset can dissipate between 33 (idle) and 47W[1] and therefore needs a large heatsink. At the left and the right, you notice two black memory boards. Each of them can contain eight DIMMs, as you can see below.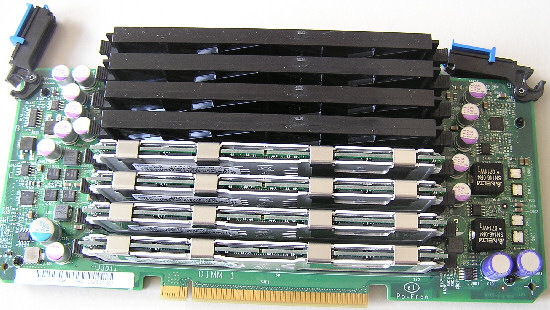 Let us compare this Intel server with the Sun server.