Noise Levels
For many enthusiasts upgrading cooling the goal is maximum stable overclock, and they will live with the inconvenience of a louder system. For other users silence is the most important factor, and these users will forgo maximum overclocking if that increases system noise levels. Those who expect silence to be the domain of high-priced cooling solutions will find the Noctua reputation for silence continues with the NH-U12P. The performance is certainly there, but low noise is not sacrificed to reach those performance goals.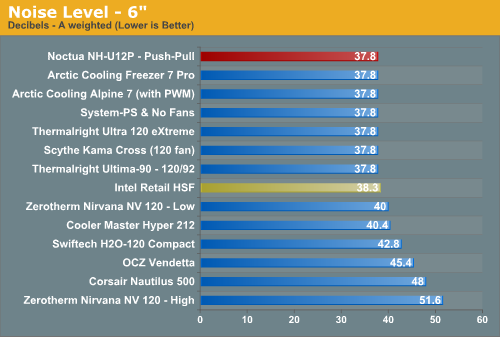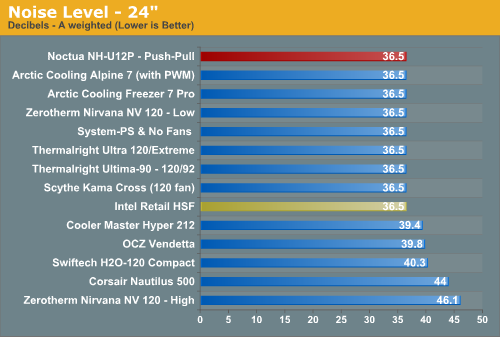 The stock Noctua NH-U12P is one of the quietest coolers we have tested so far in our new cooling test bed. This should not be a surprise as Noctua rates the cooler at 19dB(A) at the highest fan speed. All four test results are at the floor of our system noise, and the new test bed system noise floor is equivalent to a suburban bedroom at night in noise level.
When we test with the NF-P12 fan - or fans in push-pull - at their highest speed, the system remains below the noise floor with one or two fans operating. Those who want to use a fanless power supply or mount their power supply in another room can choose two even quieter configurations with the Low-Noise and Ultra-Low-Noise adapters. We did not reach noise levels higher than our variable speed Corsair 620W power supply even with two fans on high, so there is no point in trying to measure even lower and quieter speeds.
If your goal is silence, we are confident the new NF-P12 fan can meet your expectations, even if they are test results in a lab instead of real-world testing. The NH-U12P is virtually silent, even when pushed hard with push-pull fans and massive overclocking