Board Layout and Features - ASUS Striker II Formula
ASUS sticks with the tried and tested 8-phase CPU power circuit they have used for the past two years along with the regular array of heatsinks and heatpipes. Most air-cooling solutions should fit fine, though access to thumbscrews will be a little tight for coolers like the Tuniq Tower. The EPS 12V connector is at the top corner of the board. The CPU fan header is near the memory slots in the lower right corner of the picture. Seven system fan headers are located across the board to provide a variety of locations for attaching fans. Fan control is offered in the BIOS and via ASUS' own software, though the level of customization does not match that of abit's µGuru utility.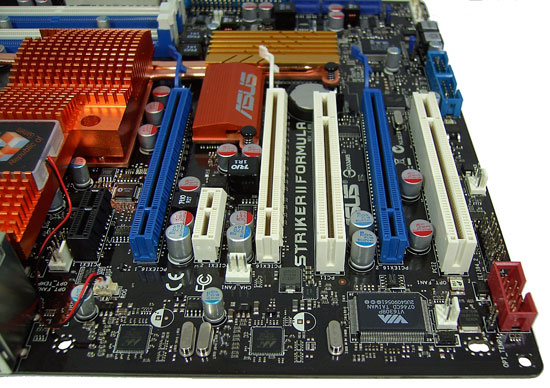 The PCI-E 2.0 compatible slots are far enough apart to allow a third graphics card to be used in the white PCI-E 1.1 x16 slot. The supplied Supreme FX II soundcard uses the black PCI-E x1 connector above the top PEG slot. Using dual graphics cards allows the use of the central PCI slot. When three air-cooled graphics cards are used, all other expansion slots (apart from the soundcard connector) are blocked.
Six 3Gbps SATA ports capable of RAID 0, 1, 0+1, 5 and JBOD arrays are located at the edge of the board. The IDE connector is placed to the right of the SATA ports and has enough clearance from the PEG slots to allow access at all times. Power and reset buttons are at the lower edge of the board, for users who run open testbeds.
The ATX 12V connector is adjacent to the memory slots, with the 3.5" floppy connector placed to its right. Interestingly enough ASUS has employed a 2-phase memory power circuit using the low RDS MOSFETs we often see on their DDR3-based motherboards. This should allow extra overhead when using double density modules for 8GB memory overclocking - we will test this in a few pages.