BEA rocking the Java world with LiquidVM
In a session led by BEA, we had a look at their plans for Java. A press release earlier that day announced their collaboration with VMware on providing Java Virtualization for hypervisor environments. The company has developed a Java Virtual Machine that is able to run right on top of the hypervisor, doing away with the need to install an operating system on the virtual machine.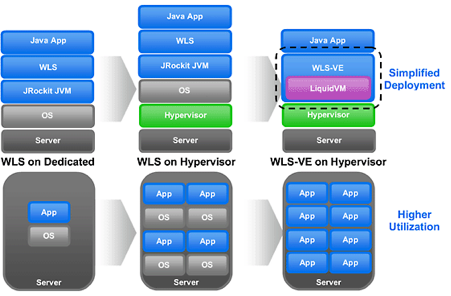 BEA's explanatory overview of how the LiquidVM removes the need for a full OS for Java applications
This "Virtual Edition" of their WebLogic Server software provides a Java "shell" that communicates with the hypervisor in much the same way it would communicate with a standard OS. They call the technology a form of paravirtualized Java, since the LiquidVM is "aware" of its virtualized state and can be managed from the outside by the WebLogic Operations Control. This allows for application-specific resource management, enabling administrators to allocate resources dynamically, depending on the needs of their applications.
During VMworld, a press release came out stating that VMware will soon be including the LiquidVM VI client into their Virtual Infrastructure product line, allowing their customers to manage Java applications from within the VI user interface.