System Overview
If you're the type of person that wants an eye-catching laptop, Dell's XPS line has you covered. The M1730 isn't quite as in-your-face as the M1710 (at least when comparing it to the red M1710), but it does add some additional LED lighting on the top cover. The XPS panels on the side are illuminated with a blue light while the center logo glows white. The lights on the side and in front can be set to one of 16 colors -- either within the BIOS or using Dell's QuickSet utility.
It's worth noting that the M1730 is actually slightly larger than the M1710, in all three dimensions. It's about a quarter inch taller, one inch wider, and a half inch deeper. Considering the fact that we are looking at an already large 17" chassis, however, it's unlikely most users would notice the difference. The main concern is that if you already have a carrying case for a 17" notebook, you may find that it's not quite large enough to hold the M1730.
Let's take a quick look at the features and configuration options available for the M1730.
Dell XPS M1730 System Configuration Options
Processor
Core 2 Duo T8300, T9300, T9500, X7900, or X9000 (X9000 not yet shipping)
Chipset
Intel PM965 + ICH8-M
FSB Speed
800 MHz
Memory Speed
DDR2-667
Memory Slots
(2) x SO-DIMM, up to 4GB RAM
Graphics
1 x NVIDIA GeForce 8700M GT 512MB
2 x NVIDIA GeForce 8700M GT 512MB
2 x NVIDIA GeForce 8800M GTX 512MB
Display
17" UltraSharp WUXGA (1920x1200) with TrueLife
Expansion Slots
1 x ExpressCard/54
Hard Drives
2 x 2.5" HDD bay
Up to 2 x 320GB 5400RPM
Up to 2 x 200GB 7200RPM
32-64GB SSD Available
Optical Drive
DVDR SuperMulti
Blu-ray reader/DVDR
Blu-ray recorder/DVDR
Networking/Communications
Integrated 10/100/1000 Ethernet
Intel 3945AG or 4965AGN WiFi
Bluetooth v2.0 (Optional)
Modem (optional)
Audio
SigmatelSTAC9228X HD Audio
Stereo speakers with 5.1 audio jacks
Left Ports
DVI-D (Dual-Link)
S-Video/Component connector
1 x USB
1 x 1394a Firewire
SSD/MMC/MS Pro/xD Flash Reader
Optical Drive
Microphone and 2 x Headphone jacks
(Configurable as 5.1 audio out)
Right Ports
1 x ExpressCard/54
WiFi/Bluetooth switch
2 x USB
Kensington Lock
Front Ports
Seven multimedia buttons (Mute, volume up/down, play/pause, forward, backward, stop)
Back Ports
1 x USB
Ethernet
Power adapter
Keyboard
104 Key QWERTY (US) with 10 Key Pad
LED lighting on keyboard
Extras
Webcam
Logitech mini-LCD with software
Colored LED Chassis Lights
AGEIA PhysX 100M PPU
Operating System
Vista Home Premium 32-bit
This is clearly a notebook targeted at performance first, and even the least expensive options on most areas are relatively fast. For example, the low-end T8300 CPU runs at 2.4GHz, and while it might have slightly less cache than a T7200/T7300, the extra 400MHz will definitely make up for that. Because it uses the Penryn core, it also offers this higher performance without adversely affecting battery life. Not that the CPU is the biggest culprit when it comes to battery usage -- the dual GPUs take home the gold in that event. And just in case the laptop isn't using enough power, Dell also includes an AGEIA PhysX 100M processor… though we're not sure how useful that hardware will actually be in the long run.
We really can't imagine anyone spending upwards of $2000 on a "gaming notebook" without opting to get a powerful graphics subsystem, so we recommend either going all the way up to 8800M GTX SLI or else looking at some of the alternatives out there that ship with a single 8800M GTS/GTX. 8700M GT SLI is essentially dead in the water these days, as it uses more power and provides less performance than a single 8800M GTX chip. In fact, if you're looking for a reasonable gaming notebook and you don't want to break the bank, the Gateway FX P-6831 is a far more likely candidate than any of the notebooks that have the potential to run SLI. (We are currently testing that notebook and are very pleased with the overall package, especially considering the $1300 price tag!)
One area where Dell definitely excels in terms of configuration options is the storage subsystems. Hard drive options range from a single moderately sized 5400RPM drive all the way up to dual 200GB 7200RPM drives in RAID 0. If you prefer raw capacity over performance, you can choose to install dual 320GB 5400RPM drives. Solid-state storage is also available, although at present it is limited to a single 64GB SSD coupled with a 200GB 7200RPM drive. Optical drive options also cover all the bases: a standard DVDR, DVDR with Blu-ray (BD-ROM) support, or you can get a DVDR/Blu-ray recorder (BD-R). The last option is of course the most expensive, adding $400 to the total price, but if all you want is the ability to watch blue ray movies you can get by with the $200 Blu-ray upgrade.
We were actually a little surprised that Dell even provided any options on the wireless networking. Getting the older 3945AG support does save a bit of money, but most high-end gaming laptops simply include the 4965AGN. Bluetooth support is also optional. We definitely recommend adding Bluetooth support, if only to save your USB ports for other devices. Then again, Bluetooth keyboards and mice often aren't as responsive as gamers would like. Mobile broadband cards from Verizon, Sprint, and AT&T are also available, though a separate wireless subscription is required for these to work.
We have to admit we were quite surprised at the dearth of USB ports, considering the size of the chassis. The M1710 included six USB ports, but the total drops to only four ports on the M1730. Other 17" notebooks only offer four USB ports, but it seems like it should have been easy for Dell to include two ports on the back and left sides instead of only one. The right side also looks to have plenty of room to add a couple more USB ports.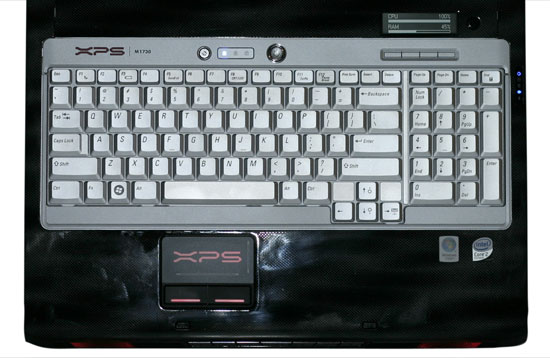 One of the nice things about the M1730 is that it comes with a full-size keyboard and number keypad. All of the standard keys are present and in their usual places, with the exception of the Page up/Page down/Home/End/Insert/Delete keys. It didn't take long for us to adapt to their new locations, and we were very happy that we didn't have to use any Fn+key combinations. Like the MacBook Air, the keyboard is also illuminated (not shown in the above picture), making it extra convenient for use at dark LAN parties. Above the keyboard is a small Logitech LCD screen that can be configured to display a variety of information. CPU/memory usage is one option, and you can also view date/time, multimedia information, POP3 status, and a stopwatch. Other applications also register with the display, FRAPS being a primary example. We thought the LCD was a pretty cool extra, though it's certainly not required.