Cooling at Stock Speed
Some users will never overclock their CPU, but they still want to run the coolest CPU temperatures possible to enhance stability and extend CPU life. We compile all temperature benchmarks with CoreTemp, a public domain utility that is quite stable with reproducible results on the Intel platform. This required retesting a cross-section of the best coolers evaluated so far at AnandTech. To better document performance in the large speed gap between 2.93 GHz and 3.73 GHz, we added the intermediate value of 3.33 GHz to all test results during the retest of the coolers.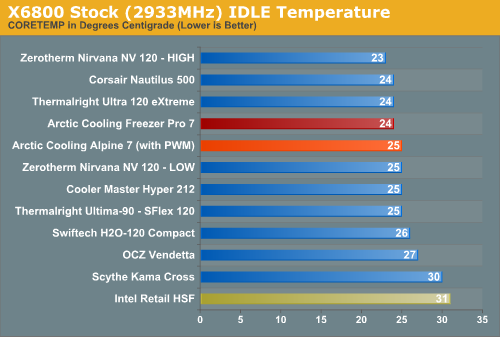 Performance at stock idle is amazing for the Alpine 7 - a cooler that costs less than $15. The Freezer 7 Pro does slightly better, but both perform much better than you might expect at this price point. Where the very good Intel stock air-cooler keeps the X6800 at 31C at idle, the Alpine 7 reduces that to 25C and the Freezer 7 Pro is one degree lower at 24C. This compares to the top Thermalright Ultra 120 eXtreme at 24C, Corsair water-cooling at 24C, Swiftech water-cooling at 27C, and ZEROtherm Nirvana at 23C. In comparing results, please keep in mind the test results from the new cooling bed using CoreTemp are not directly comparable to earlier cooling results.
It is more difficult to simulate all the various stress conditions a computer may encounter in different operating environments. For most home users, contemporary gaming is one of the most demanding CPU (and system) applications. Therefore, our stress test simulates running a demanding contemporary game. We loop the Far Cry River demo for 30 minutes and capture the CPU temperature with CoreTemp's "logging" option. We report the highest temperature during the load test. We ignore momentary spikes and report a sustained high-level temperature that you are likely to encounter in this type of scenario. This test configuration roughly equates to an 80% CPU load test using Intel TAT, another respected program for thermal measurements.
We next compare cooling efficiency of the Arctic Cooling HSFs under load conditions at stock speed to the retail HSF and other recently retested CPU coolers.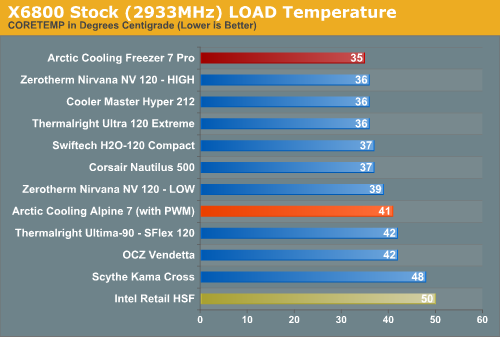 The Freezer 7 Pro turns in an outstanding performance under load at stock speeds. CoreTemp results are 35C, which is one of the best air-cooling results tested so far at AnandTech. The Alpine 7 is also a terrific performer under load at 40C. This sub-$15 cooler is a significant improvement over the stock Intel fan, which reaches 50C under load at stock speed in our cooling test bed.
If you do not plan to push overclocking to the extreme, the Freezer 7 Pro is an outstanding choice. The stock performance at idle and load is among the best we have tested - matching or coming in a bit better than the Thermalright Ultra 120 eXtreme. The Alpine 7 is frankly cheap to buy, but it still significantly outperforms the stock Intel cooler at stock speeds. These reasonably priced coolers from Arctic Cooling are great choices if you want better cooling at standard CPU speeds.