Power Supplies of the Year
We've tested about 60 power supplies this year (not all of which were included in published reviews), giving us insight on the manufacturers behind the products. Along the way, we saw some good and not-so-good power supplies. Thankfully, although we saw some quality issues at times, we did not encounter any of the flashes or explosions we have seen in prior years, and we hope that trend will continue! AnandTech's Power Supplies of the Year awards recognize our top picks from today's market for well-built, high-performance power supplies.
The AnandTech Bronze
Editor's Choice
award goes to the Seasonic S12II. After testing the Seasonic S12II, the Energy Plus and the X900, we came away impressed with Seasonic in general; they stand out as one of the last manufacturers to build a top-quality power supply at modest wattage ratings. The latest version of the S12II is available from 330 watts on up, and remains one of the only units we can wholeheartedly endorse at these output levels. Besides excellent connectivity and a solid warranty, you can expect Seasonic's trademark near-silent operation, typically below 25 db(A) even under higher loads, or possibly a little more for the 500 watts unit at full load, making the S12II particularly attractive for office / general-purpose computers and HTPCs. Overall, Seasonic produces a very good product, even at the lower end of the output scale.
Antec TruePower Quattro 850 and OCZ ProXStream 1000
We award the AnandTech Silver
Editor's Choice
jointly to two power supplies, the Antec TruePower Quattro 850 and the OCZ ProXStream 1000.
AnandTech recently reviewed the Antec TruePower Quattro in both 850-watt and 1000-watt variants. The Quattro delivered very good performance in our testing, with efficiency exceeding 80% under normal loads all the way to full output, and peaking at 87%. We primarily recommend the 850-watt model, since the 1000-watt unit has the same specs except for an additional 72 watts on the combined-12V rating. At a savings of about $30 over the 1000-watt version, the 850-watt unit is still ample for almost any high-end system.
The OCZ ProXStream also earns AnandTech's Silver Editor's Choice award, based on its very clean, stable DC outputs and its 80%+ efficiency at all normal loads up to its full output, peaking at 86%. Silence isn't the ProXStream's strong suit, with noise levels starting at 35dB(A), but at only 150mm deep, it's the shortest-depth 1000-watt unit on the market, allowing it to fit where no other high-end unit can be used.
PC Power & Cooling Silencer 750 QUAD
The AnandTech Gold
Editor's Choice
award goes to the PC Power & Cooling Silencer 750 QUAD. It was one of the first units we reviewed in 2007, and remains the best overall power supply we've tested. In addition to top-notch performance, the Silencer 750 QUAD is equipped with a full range of connectivity options (including four PEG connectors, two of which convert to the 8-pin standard), and ample wattage for nearly any high-end system, including SLI or Crossfire configurations. As a nitpick, we found that the Silencer 750 QUAD's fan speeds may ramp up more aggressively than necessary; under worst-case conditions (50°C intake temperature), the fan did hit 4200rpm, resulting in noise levels of 45dB(A). At normal room temperatures, however, the Silencer 750 QUAD did not exceed 30dB(A) at normal loads.
In the final analysis, if you want the best power supply available for your new SLI or Crossfire rig, AnandTech's top recommendation goes to the Silencer 750 QUAD. Incidentally, the retail packaging for the Silencer series is getting a facelift, replacing the traditional no-nonsense white PC Power & Cooling box with a more attractive one. The Silencer 750 QUAD is available in black and bright red, the latter of which is the Crossfire-certified model we reviewed.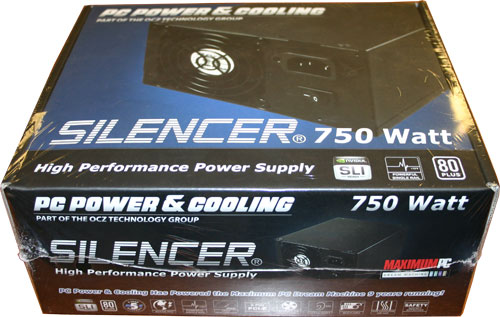 Conclusion
Looking back on our 2007 power-supply tests, we think it's unfortunate that more companies aren't following Seasonic's lead in developing top-notch aftermarket power supplies in the 300-400W range. Our 1000-watt power-supply roundup illustrated that there are many decent high-end power supplies, but we have not seen the same widespread quality or performance among lower-output aftermarket units. We feel that the users of 750W+ units aren't the only ones who can benefit from a high-quality power supply. Perhaps next year's Power Supplies of the Year article will tell a different tale.