The 8800 GT 256MB: Here at Last
The 8800 GTS 512 isn't the only new NVIDIA card we'll be looking at today. Remember the 256MB 8800 GT that NVIDIA promised us for less than $200? We don't exactly have that, but we've got a $229 XFX GeForce 8800 GT 256MB, which is pretty close.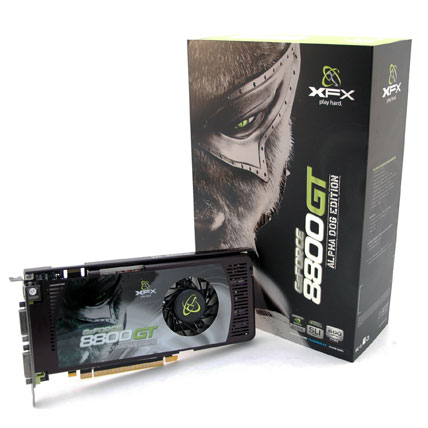 The Alpha Dog Edition XXX we have runs at a slightly overclocked 650MHz core clock, 1.6GHz shader clock and with 256MB of GDDR3 running at a 1.6GHz data rate. That's an 8% higher core clock, 7% higher shader clock and 11% lower memory clock than a standard 512MB 8800 GT. The card is available and considerably cheaper than the $300 512MB cards floating around, so we'll look at whether losing 256MB of frame buffer matters all that much later on in the review.
The Test

Note that the results from this article can't be compared to those from our 8800 GT and Radeon HD 3800 articles, we're using different hardware, updated drivers and in some cases updated benchmarks to keep up with the latest game patches.
We aren't going to recap some of the basic performance comparisons we did in the two aforementioned reviews, so if you want to know how the 8800 GT stacks up against older cards or how the older GTSes perform, be sure to consult those articles.

Our test platform for this article is as follows:


Test Setup
CPU
Intel Core 2 Extreme QX6850

Motherboard
ASUS P5E3 Deluxe
Video Cards
AMD Radeon HD 3870
AMD Radeon HD 3850
NVIDIA GeForce 8800 Ultra
NVIDIA GeForce 8800 GTS 512
NVIDIA GeForce 8800 GT (512MB & 256MB)
Video Drivers
AMD: Catalyst 7.11
NVIDIA: 169.12
Hard Drive
Seagate 7200.9 300GB 8MB 7200RPM
RAM
4x1GB Corsair XMS3 DDR3-1066 7-7-7-20
Operating System
Windows Vista Ultimate 32-bit