Power Supplies
When it comes time to choose a power supply for a new system, most users don't pay much attention. You simply use whatever comes with your case, for budget systems. That's one way of doing things, and if all you're building is an inexpensive PC that's probably okay. However, if you're going to spend $300 on a graphics card and another $300 on a CPU, you probably want something a bit better than "whatever is cheapest". Power supplies are important, as they help to keep everything running.
Many users have experienced the dreaded dead PC. It worked yesterday, but for some reason it won't turn on today. Did the RAM go bad, or maybe your motherboard got fried? Most likely not; if your PC suddenly won't turn on - particularly if you haven't been swapping around parts - you probably have a failed power supply. If like many people you are using whatever came with your case, it's time for an upgrade.
As long as you're in the market for a new power supply, we recommend getting a higher quality unit. Next time your PSU goes out because you got a $20 "bargain", you could end up with more than a dead PSU. Depending on your needs, you may be able to get away with a lower-end 300W-400W model, but if you want something a bit more powerful you should look for quality as opposed to simply getting a high wattage rating. The quality differences between brands can be huge, but at the same time don't fall for the premium prices of the high-end manufacturers unless you are truly building an elite class system.
Entry-Level
Seasonic OEM 300W - $40
Seasonic doesn't only produce retail products; a main part of their business occurs as an OEM/ODM manufacturer. We have seen many products from different companies all made by Seasonic, and all of them are made with high quality standards and deliver high reliability and performance. We have tested several of the OEM power supplies recently, and while they have fewer cable harnesses and connectors, their performance is in some cases even better than the retail products. We have chosen the SS-301HT from Seasonic as the best choice if you are building a budget system and want to make sure the PSU is up to snuff. This 300W model will deliver enough power for anything up to a decent midrange rig. The only negative point is the lack of connectors, particularly the lack of a PEG connector. You can use splitters and/or adapters, but for everything up to a moderate midrange system this is a great power supply priced under $50.
Antec Earthwatts 430W - $35 (after $30 rebate)
This is really a midrange power supply, but with the current $30 mail-in rebate it potentially carries an entry-level price. The Earthwatts line from Antec is a no-frills design, but if you care more about quality than appearance they are certainly worth a close look. High efficiency and reasonable noise levels for the price of a nice dinner isn't too shabby!
Midrange
Corsair CMPSU-450VX - $65 after rebate
For most of the users, there is no need to buy a high-performance power supply, since you can run the most recent graphics cards with a midrange power supply. Unfortunately, the manufacturers aren't really promoting lower wattages anymore since the margins are better on higher-end models. In addition, recent "requirements" of 300W for graphics cards have created confusion for users. We have tested power consumption on a variety of systems, and the only way to break into the 400W and higher range is generally via multiple graphics cards, numerous hard drives, and/or extreme overclocking. Many users will have no difficulties with a good quality 400-500W unit. The Corsair 450VX is available at with a mail-in-rebate for around $70, making it a good bargain.
OCZ StealthXStream OCZ600SXS - $75 after rebate
The OCZ StealthXStream 600W almost qualifies as a high-end model, since it provides almost everything a high-end system would require. The price, particularly with the rebate, is what keeps it in the midrange category. You get two 6-pin PEG connectors suitable for even a relatively potent 8800 GT SLI or 3870 CF setup. It also offers a high efficiency rating and remains quiet during use.
Another Option
Antec TruePower Trio 430W - $65 after rebate
Seasonic S12 II 430W - $89
High-End
With the high-end segment, we get into the "more interesting" regions - at least if you plan to build a top-performance setup. Many companies provide good quality products, lots of features, and high efficiency. Unfortunately, these higher wattage designs usually carry a price tag well over $125. Again, good quality power supplies that can actually provide 700W or more of continuous output should only be used by people that have some hefty hardware needs. As an example, a water-cooled, overclocked quad-core running HD 2900 XT CrossFire (currently the most power hungry GPUs around) topped out with a power draw at the outlet of 750W. We're talking about the HP Blackbird 002 we reviewed a couple months ago (now available for customization if you're interested). Assuming even a high 85% efficiency rating, that still represents a peak load of less than 650W on the PSU. If that sounds like the type of system you plan on running (or maybe something with a couple dozen hard drives each using 10-15W of power), then by all means grab a top quality high-end power supply. Just don't do it because marketing told you it was necessary for your single high-end GPU with a dual-core processor. We do have quite a few models that we would recommend in this price range, however.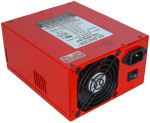 PC Power & Cooling Silencer 750 Quad - $160
We start with one of the most respected brands on the market. We tested the Silencer 750 QUAD from PC Power & Cooling not too long ago and were pleased with the results. Its performance and high quality make for a very good purchase that no user would regret. The 5-years warranty is simply the cherry on top of a sweet overall package. The different versions of this unit are all internally the same, and only the color (red, black, or copper) changes. If you want something that will last through several system upgrades, the Silencer 750 is more than enough for today's applications and systems. The smaller versions of the Silencer series are also good and we recommend them as well. The Silencer 470 for example falls at the higher end of the midrange level.
Antec TPQ-850 850W - $249
As a second brand, we want to recommend Antec with their TruePower Quattro series. The 850W version will meet the needs of virtually any user; the 1000W version doesn't change much and only comes with a higher rated output. The overall performance is very good and the efficiency is also very high. There are plenty of connectors on a variety of cable harnesses, and you get detachable cables to help keep your case organized. The price may be high, but you get a lot for the money - just make sure you actually need it.
HIPER HPU-4M880 - $190
HIPER HPU-5K680 - $160
Our final recommendation is the Type-R series from Hiper. We have to admit that the performance of their latest products surprised us. In our last PSU Roundup, we had four power supplies from Hiper and they all performed very well. This series is available in a range of wattages, and Hiper offers a very good price/performance value not only in Europe but also in the US.