Overclocking
As cooling solutions do a better job of keeping the CPU at a lower temperature, it is reasonable to expect the overclocking capabilities of the CPU will increase. In each test of a cooler we measure the highest stable overclock of a standard X6800 processor under the following conditions:
CPU Multiplier: 11x (Stock 11x)
CPU Strap: 266 (stock) or 333 (overclocked)
CPU voltage: 1.5875V at max overclock
NB Voltage: 1.70V
FSB Voltage: 1.40V
NB Voltage: 1.20V
Memory is set to Auto timings on the P35. This removes memory as any kind of impediment to the maximum stable overclock. As FSB is raised the linked memory speed increases in proportion. For this reason Memory Speed is maintained as close as possible to CPU strap settings to prevent memory becoming an issue in CPU testing. This means 3.33 uses a 333 strap and runs at 10x333, 3.73 runs a 333 strap at 11x339, and 3.90 GHz also uses the 333 strap at 354x11. The stock speed test is 266 strap and 11x266. We may move in the future to a 3.0GHz stock speed with a 333 strap and 9x333 settings for complete consistency, but since we are not measuring raw computer performance in our cooling benchmarking this becomes a moot point. The same processor is used in all cooling tests to ensure comparable results.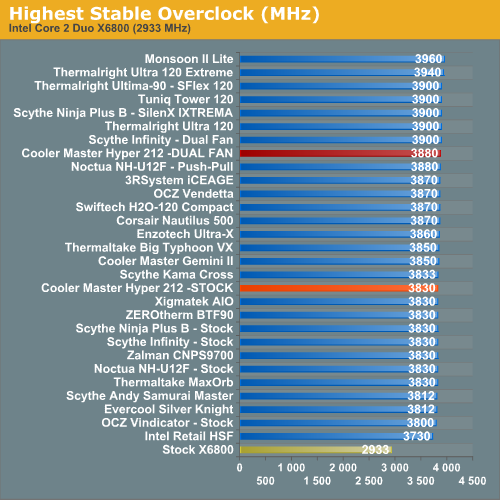 The Cooler Master Hyper 212 tops out at 3830 MHz with a single fan. This is fairly typical performance for a midrange cooler. Adding a second 120mm fan in a push-pull configuration allows the stable overclock to be pushed to 3.88 GHz. This result is very near the best coolers tested which generally reach around 3.90 GHz. This overclocking performance is excellent for a mid-priced cooler.
As stated many times, the overclocking abilities of the CPU will vary at the top, depending on the CPU. This particular CPU does higher FSB speeds than any X6800 we have tested, but the 3.9 GHz top speed with the Thermalright Ultima-90 with 120 fan is pretty average among the X6800 processors we have tested with top air cooling. A few of the other processors tested with the best air coolers reach just over 4 GHz, but the range has been 3.8 to 4.0GHz. Stock cooling generally tops out 200 to 400 MHz lower, depending on the CPU, on the processors tested in our lab.