AMD Midrange Gaming
Let's start by pointing out the pink elephant hiding in the corner: there's no doubt that Intel has faster processors than anything AMD is currently shipping. Intel also has CPUs that overclock (percentage wise) a lot better than anything AMD currently offers. So why even bother considering AMD? There are several reasons. Price is the biggest attraction, which extends beyond the price of the CPU to the price of the platform as a whole. The other major consideration is that if you're talking about a gaming system, for the vast majority of systems the graphics card is going to be the most important aspect of gaming performance. The features you can get at a particular price point for an AMD setup are also very good. Now that that's out of the way....
AMD Midrange Gaming System
Hardware
Component
Price
Rebates
Processor
Athlon 64 X2 5000+ AM2 Black Edition (2.6GHz 2x512K unlocked) - Retail
$130
Motherboard
ASUS M2N32-SLI Deluxe WiFi (nForce 590 SLI)
$167
Memory
Patriot Extreme Performance 2x1GB PC2-8500 (PDC22G8500ELK)
$139
$25
Video Card
XFX GeForce 8800GTS 320MB (PVT80GGHF4)
$287
$20
Hard Drive
Western Digital Caviar SE16 320GB 7200RPM 16MB (WD3200AAKS)
$80
Optical Drive
Samsung 20X DVD+R SATA (SH-S203B)
$36
Case
Cooler Master Centurion 534 (RC-534-KKN2-GP)
$66
$10
Power Supply
Corsair CMPSU-520HX
$108
$10
Display
Acer AL2216Wbd 22" 5ms (1680x1050)
$235
Speakers
Logitech X-530 5.1 70W Speakers
$66
Keyboard
Saitek Eclipse USB Wired (PZ30AU)
$40
Mouse
Logitech G5 Wired Adjustable Weight
$52
$15
Operating System
Windows Vista Home Premium 32-bit (OEM)
$105
Bottom Line
$1511
$1431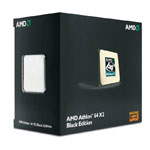 The core of any system is the motherboard and processor, and we've gone with AMD's latest X2 5000+ Black Edition sitting snugly in an ASUS M2N32-SLI Deluxe WiFi motherboard. The Black Edition's claim to fame of course is its unlocked multiplier, giving overclockers a little bit more flexibility. We've seen reports online of people hitting 3.4 GHz and beyond with a bit of effort. While just about any midrange Core 2 Duo processor will offer better performance at maximum stable overclock, the X2 5000+ is still relatively inexpensive and offers competitive stock performance. If you don't care about the unlocked multiplier, a regular X2 5000+ costs $10 less.
If you're undecided on what CPU or platform might be best, you might want to take a look at our
Midrange CPU Roundup
from a couple weeks back. As long as you're willing to take overclocking out of the picture, you can get performance that's relatively competitive with Intel's Core 2 Duo E4400/E4500 with a CPU price that's nearly identical to the E4400 - or about $13 cheaper if you get the standard 5000+. Looking specifically at the gaming results from that article, performance tends to fall between those same two processors, at least at 1024x768 where we aren't GPU limited. If you're like most people and you plan to play at higher resolutions (for example 1680x1050 if you purchase the recommended LCD), performance differences are going to be even smaller.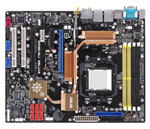 The ASUS motherboard offers SLI support, which might be something useful in the future, but for a midrange system we're going to stick with single graphics cards for now. The ASUS M2N32 Deluxe WiFi also comes with a bevy of overclocking options, ASUS' proven reputation, and integrated 802.11b/g WiFi support for good measure. If you will make use of all of these features, the final price is very good; if you don't need WiFi or dual x16 PEG slots, you can get basically the same performance and features for around $95 with the DFI Infinity NF570-M2/G.
As mentioned, the graphics card is probably the most important component for this type of system, and we had quite a few choices. We decided to go with a GeForce 8800 GTS 320MB, as it offers the most attractive price/performance ratio. Other than minor differences in factory clock speeds, all of the 8800 GTS cards are pretty similar, so the deciding factor was price. XFX ended up getting the nod, but EVGA, Gigabyte, Leadtek, and others are not too far off.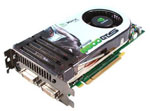 It's important to point out the runner-up cards that we didn't choose as well, as other factors might actually make them a better choice in the long-run. The 8800 GTS 320MB performs identically to the 640MB version, up until the point where you run out of graphics memory. Right now, that usually only happens at extreme resolutions like 2560x1600 or in a few certain games with maximum texture quality (which often doesn't bring a noticeable improvement in visual quality). That's right now, however; next-generation games could very likely push 320MB cards to the limit, particularly when we consider that 512MB cards have been shipping for a couple of years now. We have seen preliminary results on next-gen titles where the 640MB cards hold a pretty substantial performance advantage, so if you can spare the extra money that's probably the safer bet.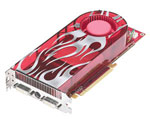 The other option is AMD's recently launched HD 2900 Pro, which in theory carries a similar price to the 8800 GTS 320MB. The drawback here is that the cards aren't readily available right now, and while this is an AMD platform we're using an NVIDIA chipset. MSRP is supposed to be around $250, but the few places that even have cards in stock are charging a price premium. Since the cards seem to be downclocked 2900 XT GPUs, you can probably get some pretty good overclocking results, but many people are simply interested in stock performance. You also get a $20 mail-in rebate on the GTS 320MB, and HD 2900 cards tend to really suffer when antialiasing is enabled. Finally, AMD and NVIDIA both have upcoming midrange cards that could very well improve performance while staying under the $250 price point; since these cards are not yet available, however, they will have to wait for a future Buyers' Guide.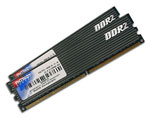 We're not going to spend a lot of time dwelling on the rest of the components, as many of them have been discussed in previous Buyers' Guides and/or reviews. We did choose to use some DDR2-1066 memory, which honestly might be overkill considering the price. $114 (after rebate) for 2GB of this type of memory might seem like a steal compared to a year ago, but if you're okay with DDR2-800 you can still pick up 2GB of 4-4-4 memory for a measly $75. In fact, one of the AnandTech editors did exactly that just this last week... twice! If you're thinking about upgrading to a 64-bit operating system, give some serious thought to running a 4GB configuration with DDR2-800 as opposed to 2GB of higher performance DDR2-1066.
The final price comes out to $1511 (not counting rebates). Depending on how you want to configure things, going with an AMD platform will save you somewhere between $15 and $100 compared to a similar Intel configuration. By no means is our AMD platform bad, but if we were to go out and purchase a midrange gaming system right now, it would be using a Core 2 Duo processor. Then again, we're enthusiasts, so overclocking is pretty much a given. If you can hold on a couple more months, we're definitely interested in some of the changes that will occur with AMD's upcoming product launches. The attraction of current AM2 systems is mostly price, and the gap there is really too small these days to make it a real deciding factor.