Creative by The Numbers
We'll start with Creative's financial/business situation first, as it will help us paint the picture of their overall health and market status.
Creative first went public in 1992, listing their shares on the NASDAQ stock exchange. It's important to note however that Creative is not an American company but rather a Singapore company; so the NASDAQ listing was followed 2 years later with a listing on the Singapore Exchange, a result of their desire to tap the richer American IPO market. Creative Labs as we commonly refer to them by is actually the American subsidiary of Creative Technology Ltd.
If a stock is the best way to measure the health of a company, then Creative is about as sick as they come. Creative's lowest stock price ever was in 1996, where the stock hit a mid-day price for three days straight of $3.50, closing slightly higher than it each time. Following that low point Creative has seen numerous high-flying years, since then, peaking at nearly $40 in 2000. However the good times for Creative took a hit following the general economic downturn of 2001 and the company has never quite recovered. This has culminated in a near-continuous slide since the start of 2005, and nearly 3 whole years later the company's stock price is now flirting with the all-time low. On August 22nd of this year they briefly traded at $3.58, a mere $0.08 above their all-time low. Although they are now back up above $4 at $4.08, by this standard Creative is still in very, very poor shape.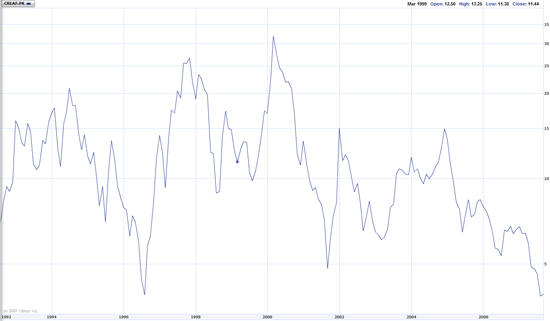 Stock history courtesy of Yahoo! Finance
Furthermore as of the start of September, Creative has ceased listing its stock on the NASDAQ, now focusing on trading it exclusively over the Singapore Exchange, with some trading still taking place as Over The Counter trades in the United States. Creative has cited the reason for the move as being two things: 1) Most of the trading of the stock these days is done over the Singapore Exchange making the NASDAQ listings redundant and 2) They were dissatisfied with the reporting requirements for companies listed on American exchanges, which requires a level of detail and work not required for the Singapore Exchange. In other words, the reporting requirements enforced upon them to be listed on the NASDAQ weren't worth the limited trading business it was bringing them. To be fair to Creative, this announcement was made on June 14th, more than two months before they scraped the bottom, but it still has happened at a bad time for them.
To understand why their stock price is so low, we'll next take a look at their revenue, which for obvious reasons greatly influences their stock price. Creative uses a modified fiscal year calendar, with their fiscal year ending on June 30th of the year (the end of the second quarter on the traditional calendar). For the 4th quarter of fiscal year 2007 (Q4FY07, aka Q2'07) final quarter they had a revenue of $165mil, with an operating expense of $183mil, putting them in the red for the quarter to the tune of $18mil. After other income and losses (taxes, interest, etc) they lost just shy of $20mil for the quarter.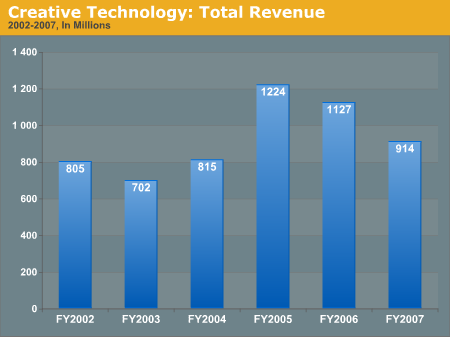 Their entire year is a brighter story, with revenue of $915mil and a final net income of $28mil. However these numbers look better for Creative than they actually are, due to the fact that in FY2007 they received a very large one-time payment for $100mil. In 2005 Creative was awarded a user interface patent for MP3 players, they promptly turned around and went after Apple with it, as Apple controls the lion's share of the MP3 player market. In August of 2006 Apple and Creative settled the matter with Apple paying Creative $100mil to drop all legal suits against Apple (with Steve Jobs saying "Creative is very fortunate to have been granted this early patent").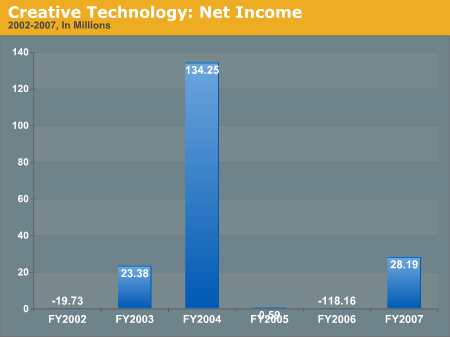 It's because of that $100ml payment that Creative was able to turn a profit for FY2007, and while we can't calculate what their exact income would have been for FY2007 without it, all other things held the same they would have had a sizable loss for the year. We would need to go back to FY2004 to find the last time Creative turned a real profit, when that year they pulled in $134mil. FY2005 was effectively break-even with a very slight profit of $590,000, and FY2006 saw a loss of a massive $118mil. This roughly correlates with Creative's stock price slide; they haven't turned a significant profit since FY2004 and haven't seen their stock price go up for any significant period of time since January 2005. As a result, at this point Creative is by no means destitute, thanks in large part to their settlement with Apple, but the immediate outlook isn't good, with no immediate sign that they'll be able to turn a profit in the near future.
Wrapping up Creative's financial situation, Creative includes some very interesting statistics with their fiscal reports: revenue as a share of location, and revenue as a share of product type. If you're in the Americas and you've ever felt that Creative doesn't seem very active here, you're not alone; the percentage of revenue coming from the Americas has shrunk over the past year from nearly half of all of Creative's revenue (46%) to less than a third (30%). Europe is now Creative's largest source of revenue at 47%, and Asia rounding things out at 23%.

As for the product situation, Creative has for years relied on portable media players for the majority of its revenue. This peaked in the later part of 2006, where such devices were 70% of their revenue, while this has since dropped a bit to 57% as of the end of Q4FY07. This market has a large reliance on new product releases making it volatile, but it still represents a general trend for Creative in the reduction of revenue coming from portable media players. No other product segment from Creative is nearly as big; audio, speakers, and everything else are all fairly close in size, although Creative is going to have to rely on these more and more as their portable media player revenue continues to slide.
Revenue By Geographical Region
Q4FY2007
Q3FY2007
Q4FY2006
Americas
30%
32%
46%
Europe
47%
49%
37%
Asia & Other
23%
19%
17%
.
Revenue By Product Category
Q4FY2007
Q3FY2007
Q4FY2006
Portable Media Player
57%
52%
65%
Audio
15%
17%
13%
Speakers
18%
21%
13%
Other
10%
10%
9%
.