LCD Brightness, Contrast, and Viewing Angles
The only remaining aspect of this laptop that we haven't reviewed yet is the LCD, and as usual we like to take a closer look at notebook displays to see how they measure up to the competition. Our standard disclaimer follows: we use ASTRA32 to probe for details about the LCD panel. However, ASTRA32 merely reads the information directly from the LCD panel using the VBE/DDC standard. Some LCD panels contain the wrong data, for example serial numbers, manufacturing dates, etc. so we cannot guarantee all of the details are 100% accurate. Likewise, we cannot guarantee that the LCD panel used in our particular sample will be the same as that used in other notebooks of the same model.
Note: The LCD in the X205-S9359 is not the same as the LCD in the X205-S9349, so what we have to say here does not apply to both X205 models.
ASTRA32 reports that the LCD panel in our test unit is an LG Philips LP171WE3 (LPL 0060), manufactured in January 2007. We're quite happy to finally have a laptop LCD reporting a 2007 manufacturing date, but as we'll see in a moment that doesn't mean that the results are strikingly better than what we've seen in other laptops. The
LG Philips website
does not list any information about the LP171WE3, but it does have some specs on the LP171WE2 (presumably the previous revision of this particular panel). Noteworthy details include the fact that this is a 6-bit panel (like pretty much all laptops short of those that use IPS panels) and it has a 25 ms response time. The viewing angle is listed as 100° vertical/130° horizontal, it has a maximum brightness of 300 nits (dependent on the backlight being used), and it has a 600:1 contrast ratio. It's possible that the WE3 has improved specifications, but our objective testing more or less agrees with the above specifications.
Moving on to objective testing, we'll start with brightness and contrast ratios along with viewing angles. We'll conclude on the following page with an examination of the color accuracy, before and after hardware calibration. For color accuracy, we are including results using ColorEyes Display Pro in addition to Monaco Optix XR Pro. Monaco Optix XR Pro uses the older ICCv2 profile specification and it may not be as accurate as software that uses the more recent ICCv4 specification. In testing we have discovered that there are certainly differences between the two software packages when it comes to color calibration, but neither one is universally better. We use a Monaco Optix XR Pro colorimeter (which is the same as the DTP-94) with both software packages.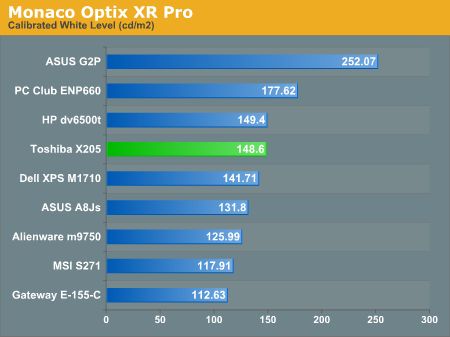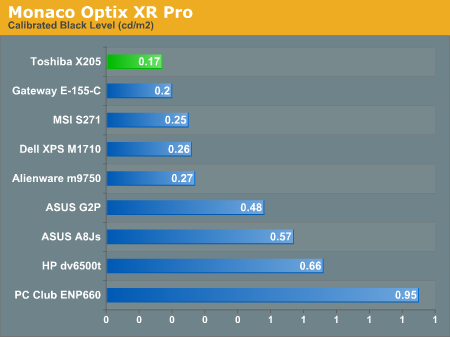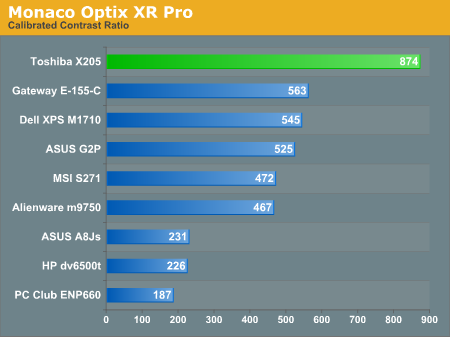 The calibrated white level is about the same as most other laptops, coming in right around 150 nits. Brighter backlights require more battery power, so most laptops unfortunately forego that feature. Considering that users can always turn down the brightness level if they need more battery power, we would like to see more laptops follow the example of the ASUS G2P, which is about 66% brighter than most other laptops we've tested.
While the white levels weren't particularly noteworthy, the black levels are the darkest we've encountered on a laptop so far, and the result is a higher than advertised 874:1 contrast ratio. That doesn't make this LCD noticeably better than other laptop displays, but the dark blacks did make viewing movies more pleasing, which fits with the inclusion of an HD DVD drive and other multimedia functions.
So far so good, but while contrast ratio is a nice number to quote, realistic viewing angles tend to have a far greater impact on how we feel about a particular display. Here's a look at the LCD panel from our standard 30° viewing angles. Images for the other laptops can be viewed using the links below.
Alienware m9750
ASUS A8Js
ASUS G2P
Dell M1710
HP dv6500t
Gateway E-155-C
MSI S271
PC Club ENP660
While the high contrast ratio and darker blacks offered by the X205 are clearly apparent, the viewing angles are quite bad. In side-by-side comparisons with other laptops, both the vertical and horizontal viewing angles are measurably inferior. It's a shame, because most of the other aspects of this display are quite good. The reality is that TN panels really just don't provide good wide-angle viewing. Of course, if you want to keep other people from snooping over your shoulder, that can be a good thing.
Taking a quick look at response times, we don't really see anything different than what we've seen on other laptops. Using a 1/80s shutter speed, we can see remnants of at three (and perhaps slight traces of a fourth) screen updates in the above image. The stated 25 ms response time is therefore pretty accurate.