Introduction
Last week we took a
first look
at the Toshiba Satellite X205-S9359, a laptop sporting NVIDIA's fastest current mobile DirectX 10 offering. We took a look at gaming performance and general application performance and came away relatively impressed, but we weren't finished testing just yet. We're here today to wrap up our review of the X205, with a look at the LCD, additional performance benchmarks - including DirectX 10 results for a couple of games - and some commentary on other features of this laptop.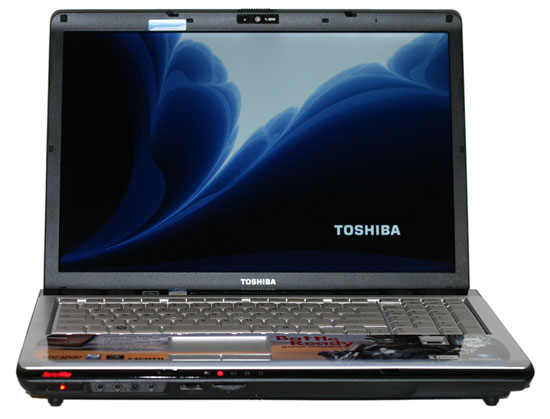 Jumping right into the thick of things, let's take a moment to discuss preinstalled software. Most OEMs do it, and perhaps there are some users out there that actually appreciate all of the installed software. Some of it can be truly useful, for instance applications that let you watch high-definition movies on the included HD DVD drive. If you don't do a lot of office work, Microsoft Works is also sufficient for the basics, although most people should probably just give in and purchase a copy of Microsoft Office. We're still a bit torn about some of the UI changes in Office 2007, but whether you choose the new version or stick with the older Office 2003 the simple fact of the matter is that most PCs need a decent office suite. The standard X205 comes with a 60 day trial version of Office 2007 installed, however, which is unlikely to satisfy the needs of most users. If you don't need Office and will be content with Microsoft Works, there's no need to have a 60 day trial. Conversely, if you know you need Microsoft Office there's no need to have Works installed and you would probably like the option to go straight to the full version of Office 2007.
There is an option to purchase Microsoft Office Home and Student 2007 for $136, but it's not entirely clear if that comes in a separate box or if the software gets preinstalled - and if it's the latter, hopefully Microsoft Works gets removed as well. As far as we can tell, Toshiba takes a "one-size-fits-all" approach to software, and we would really appreciate a few more options. In fact, what we would really appreciate is the ability to not have a bunch of extra software installed.
Above is a snapshot of Windows Vista's Add/Remove Programs tool for the X205 we received, prior to installing or uninstalling anything. The vast majority of the extra software is what we would kindly classify as "junk". All of it is free and easily downloadable for those who are actually interested in having things like Wild Tangent games on their computer. We prefer to run a bit leaner in terms of software, so prior to conducting most of our benchmarks we of course had to uninstall a lot of software, which took about an hour and several reboots. If this laptop is in fact intended for the "gamer on the go", which seems reasonable, we'd imagine that most gamers would also prefer to get a cleaner default system configuration. Alienware did an excellent job in this area, and even Dell does very well on their XPS line. For now, Toshiba holds the record for having the most unnecessary software preinstalled.