First Thoughts
It is hard to find any faults with the X38 chipset at this time. Even though we are working with an engineering sample that has been around the block a few times and an early engineering BIOS that is designed more for debugging the chipset than providing top performance, it still manages to outperform a fairly mature P35 equipped motherboard that offers excellent performance in its own right.
We are generally impressed with the Gigabyte GA-X38-DQ6 motherboard and look forward to providing updated results with our retail board once the release BIOS arrives in the lab. Even in its early state, the performance is very good and stability has been excellent throughout several days of 24/7 benchmark testing. In fact, we found the stability, performance, and compatibility of this early engineering sample to be better than several retail boards we are currently testing.
Although in early testing it appears the power consumption of this board is up to 18W higher than a similarly equipped GA-P35-DQ6 board, we did not find the increased thermal loads creating any issues during testing. With the added number of PCI-E lanes and the same process technology, we didn't really expect a decrease in power requirements, though it would have been nice to get that as well. We will provide full thermal and power consumption numbers shortly, but we can say without a doubt that the X38 MCH will bring a new meaning to the word "heat" when overclocking.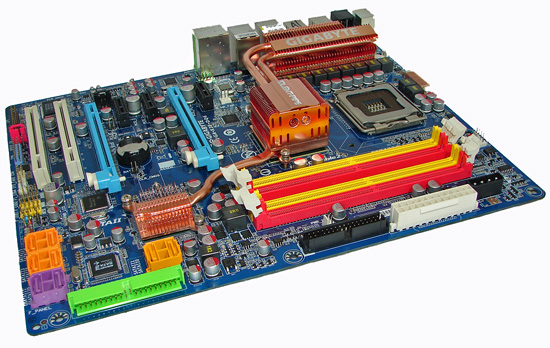 Speaking of overclocking, in testing to date with the engineering sample, we were able to match or exceed the levels reached with our best P35 motherboards when utilizing the quad core processors. We even managed several benchmark runs at 510FSB with our Q6600 set at an 8x multiplier and additional cooling. Also of note, at least with this particular board setup, we generally could run our CPU and memory voltages slightly lower at the same settings as our P35 boards. Dual core performance with a wide variety of chips was excellent also, but we will reserve final judgment of the capabilities of the chipset and board until we have a production release BIOS and additional retail boards. For now, we look forward to providing those results in the near future.
Despite being faster than the Intel P35 in our limited test suite, the percentages were minor to say the least. Expecting a large performance leap in stock performance is generally unrealistic with a new chipset release. The most promising results are in our Sandra unbuffered, MemTest, and SuperPI 1.5 results where we can see the strength of this chipset. It is still difficult to determine exactly what the performance improvements will be over the P35 chipset, but for now most of the motherboard suppliers think an average of 3% to 5% is the correct range and it should only improve as the BIOS matures. This does not take into account the projected improvements in overclocking or CrossFire performance, areas that the X38 is supposedly designed to excel in with the right components.
In the early stages, it certainly appears that Intel has another great enthusiast chipset on its hands and a worthy successor to the 975X. Of course, only time and retail boards will prove us right or wrong, but our early guesstimates indicate this chipset should have a long life... well, at least until Nehalem appears but that is a story for another time.