A Second Opinion
To answer the question of the source, we took two other games that have been known to encounter problems with the 2GB barrier: S.T.A.L.K.E.R: Shadow of Chernobyl and Company of Heroes. Both of these games as we found out in part 1 are currently shipping as large address aware, making them ideal candidates for examining address space usage under heavy load.
For STALKER, we are measuring address space usage around the particularly hectic and graphics-heavy starting camp. Usage was measured right after STALKER finished loading a saved game at that location.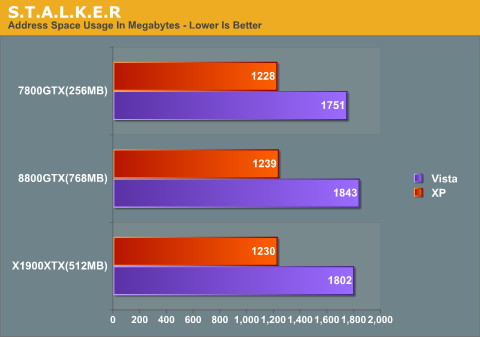 Once again we are seeing two patterns as with Supreme Commander: under XP it's consuming far less address space than under Vista, and the amount of space consumed under Vista is dependent on the amount of video memory. On our bulky 8800GTX the difference between XP and Vista is 600MB, now 30% of our total 2GB of default address space. While STALKER manages to stay under 2GB, we could easily see the game cracking that. As for the relationship between video memory and address space used, it's less pronounced here, switching out for the 7800GTX only shaves off about 100MB.
Switching back once again to real-time strategy games we have Company of Heroes. Here we're checking address space usage at the start of the single-player Cherbourg mission, which as one of the visually richest levels in the game has the greatest capacity for hitting the 2GB barrier and reportedly has been causing problems doing so.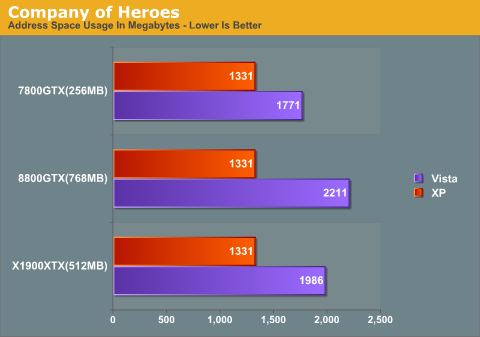 If we were handing out prizes for the biggest difference in address space usage, Company of Heroes would take the cake. At 2.16GB with our 8800GTX on Vista versus 1.30GB on XP, the increase in address space usage is now over 40% of the default and had we not modified our memory allocations Company of Heroes would have crashed. We also see our clearest pattern here of a difference in address space usage based on video memory, under Vista the address space usage with our 7800GTX is some 430MB less.