Drive Specifications
Drive Specifications
Samsung SpinPoint
T166 500GB
HD501LJ
Hitachi Deskstar
T7K500 500GB
HDT725050VLA360
Seagate Barracuda
7200.10 500GB
ST3500630AS
Manufacturer's Stated Capacity
500GB
500GB
500GB
Operating System Stated Capacity
465.8 GB
465.8 GB
465.8 GB
Interface
SATA 3Gb/s
SATA 3Gb/s
SATA 3Gb/s
Rotational Speed
7,200 RPM
7,200 RPM
7,200 RPM
Cache Size
16 MB
16 MB
16 MB
Average Latency
4.17 ms (nominal)
4.17 ms (nominal)
4.16 ms (nominal)
Read Seek Time
8.9 ms
8.5 ms
11 ms
Number of Heads
6
6
6
Number of Platters
3
3
3
Power Draw
Idle / Load
7.1W / 11.3W
6.9W / 12.5W
8.6W / 12.6W
Command Queuing
Native Command Queuing
Native Command Queuing
Native Command Queuing
Warranty
3 Year - Retail or OEM
3 Year - Retail or OEM
5 Year - Retail or OEM
When compared directly to two of its competitors within the 500GB category, we find the
Samsung HD501LJ
has nearly identical specs as the Hitachi and Seagate drives. The only major differences is a read seek time advantage and lower power consumption at idle for the Hitachi drive and an additional two years of warranty coverage for the Seagate drive.
Samsung has 17 variations of the T166 product series released at this time with a choice of PATA or SATA interfaces and 8MB or 16MB cache schemes. Capacities for the T166 series range from 80GB to 500GB. Our review unit is at the top of Samsung's model lineup with a 500GB capacity and SATA 3Gbps interface. This capacity is made possible by three 167GB platters spinning at 7200rpm with a 16MB cache. The current street price for this unit is around $109 making it a bargain in the 500GB market. The Hitachi and Seagate drives sell for $139 and $119 respectively.
Feature Set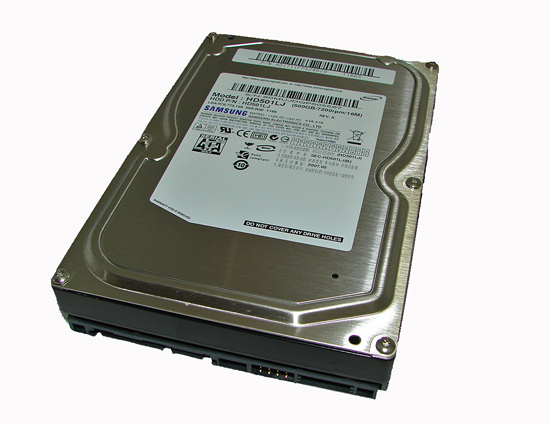 The external casing design of the SpinPoint T166 series is based on the industry standard 3.5" form factor platform with pertinent part number and warranty information embossed on a white sticker on the top of the casing. Samsung quotes a 600,000 hour Mean Time Between Failure rate that is significantly less than other drives in this category, and near-line enterprise SATA drives that hover around a 1 million to 1.2 million hour MTBF rating.
Of course, MTBF ratings are meaningless if your drive fails within a few hours of operation or a few days outside the warranty period, as is known to happen on occasion. We normally pay very little attention to MTBF ratings and instead focus on the manufacturer's stated lifetime expectancy for the drive and warranty coverage - the longer the better. Samsung lists the life expectancy of this drive under normal operating conditions to be around five years and provides a three year warranty.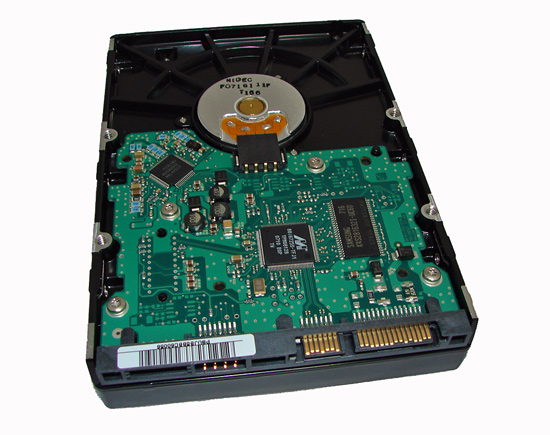 The SpinPoint T166 SATA family ships with Serial ATA data and power connectors only. There is no support for the 4-pin Molex power connector designed for use with older ATX power supplies. To the left of the data and power connectors is an eight pin jumper block. This jumper block will determine whether the drive operates in Master, Slave, or Select Cable mode if you are using a PATA model; for SATA models this jumper block has no effect.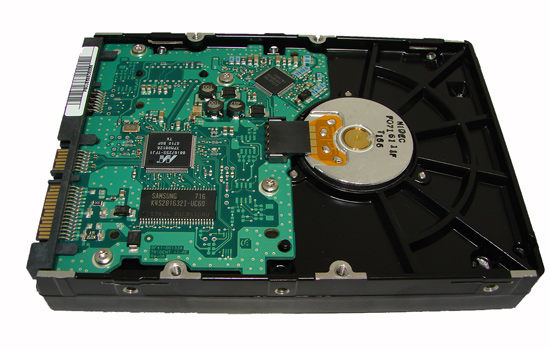 Click to enlarge
The PCB is openly visible on the bottom of the drive as in previous series and contains a Marvell controller chipset and Samsung's own memory module. In the past we have seen Samsung utilize ESMT (Elite Semiconductor Memory Technology) memory which was always surprising given the size of Samsung's memory business.