Test Setup
Standard Test Bed - CrossFire Test Configuration
Processor
Intel Core 2 Duo QX6700
(2.66GHz, 8MB Unified Cache)
RAM
OCZ Reaper PC2-9200 (4x1GB) DDR2 4-4-4-10
Corsair CM3X1024 (4x1GB) DDR3-1066 8-7-7-16
Hard Drive
Western Digital 150GB 10,000RPM SATA 16MB Buffer
System Platform Drivers
Intel - 8.3.0.1013
Video Cards
1 x MSI HD2900XT
Video Drivers
ATI 8.37.4.3 (HD2900XT Release Drivers)
CPU Cooling
Tuniq 120
Power Supply
OCZ ProXStream 1000W
Optical Drives
Plextor PX-760A, Plextor PX-B900A
Case
Cooler Master CM Stacker 830
Motherboards
Intel D975XBX2KR (Intel 975X) - BIOS 2692
ASUS P5K Deluxe (Intel P35) - BIOS 0304
ASUS P5K3 Deluxe (Intel P35) - BIOS 0011
MSI P35 Platinum (Intel P35) - BIOS 7345P01
Gigabyte P35-DQ6 (Intel P35) - BIOS F4
DFI Infinity P965 (Intel P965) - BIOS 424
EVGA 680i LT SLI (NVIDIA 680i LT) - BIOS P04
Operating System
Windows Vista 64-bit Ultimate
.
Test conditions were maintained the same, as much as possible, over the platforms tested. Our game tests were run at settings of 1280x1024 HQ to ensure our GPU was not a bottleneck during testing. We will provide CrossFire results in our upcoming P35 roundup but preview performance numbers are available in
this article
.
All results are reported in our charts and color-coded for easier identification of results. We utilize new drive images on each board in order to minimize any potential driver conflicts. Our 3DMark results are generated utilizing the standard benchmark resolution for each program. We run each benchmark five times, throw out the two low and high scores, and report the remaining score. All results are run at stock speeds for this article although we will provide overclocked results in the next article.
Our choice of software applications to test is based on programs that enjoy widespread use and produce repeatable and consistent results during testing. Microsoft Vista has thrown a monkey wrench into testing as the aggressive nature of the operating system to constantly optimize application loading and retrieval from memory or the storage system presents some interesting obstacles. This along with the lack of driver maturity will continue to present problems in the near future with benchmark selections. Our normal process was to change our power settings to performance, delete the contents of the prefetch folder, and then reboot after each benchmark run. This is a lengthy process to be sure, but it results in consistency over the course of benchmark testing. All applications were run with administer privileges.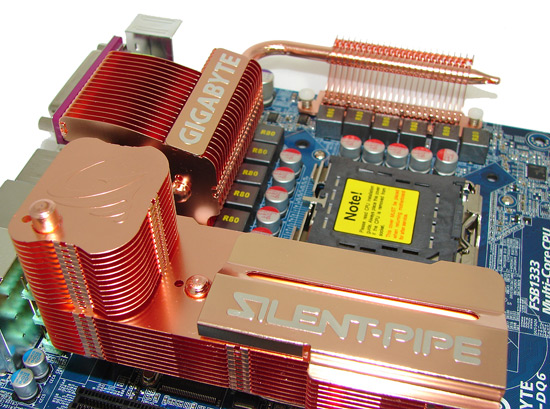 The test results we will present today are preliminary. What do we mean by this? Although the boards we are reviewing are full retail kits, their BIOS tuning continues at a rapid pace before the "official" launch on June 4th. Over the course of the last week we have tested numerous BIOS releases from each manufacturer and we've seen positive steps along the way. We honestly thought this preview would be a cake walk for ASUS until Gigabyte/MSI provided their latest BIOS releases that improved the performance of the boards up to 9% in certain areas.
We are also using early DDR3-1066 samples with memory settings at 8-7-7-16 for 1066 scores and 9-9-9-24 for DDR3-1333 results. We just received lower latency DDR3-1333 modules and will update our results in the roundup. On a side note, ASUS provided us a new BIOS for their P5K3 board that enables 1T command rates at DDR3-1066. Early testing has shown performance improvements up to 4% in memory sensitive applications. ASUS is continuing to work on the command rate timings and hopes to have 1T settings ready when low latency DDR3-1333 hits the market shortly. Expect to see an exclusive on this memory and BIOS in the next few days.
Our Intel Intel D975XBX2KR will be at a slight disadvantage, but with memory speeds set to DDR2-800 we were able to run timings at 3-4-3-8 without issue. We did not include extensive overclocking results for the CPU or memory side as time did not permit us to run each processor series on each board for the full test suite. We received seven boards late last week and will have results on several of those along with full overclocking results before Computex starts. We will also compare P35 1333/1066 DDR2 against P965 1333/1066 at the same time. Our DFI Infinity P965 is the fastest P965 board in our labs and as such is a good match for comparison.
Memory Performance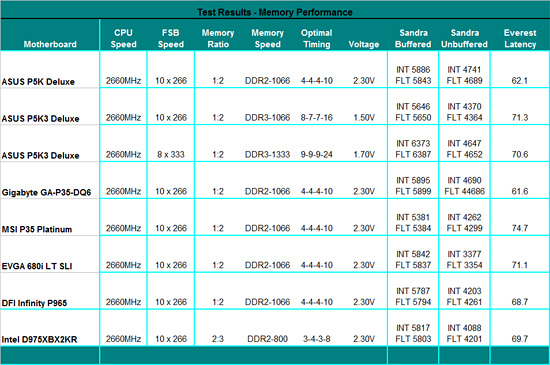 Click to enlarge
We switched to a 4GB memory configuration for this article and future motherboard tests. The P35 chipset proves to have the fastest memory performance and best latencies at stock speeds provided the BIOS is tuned properly. We still find the 975X to offer some of the fastest memory performance when overclocked provided you can change strap settings and have very good RAM.
We noticed an 11% difference in unbuffered memory speeds and a 7% difference in latencies on the ASUS P5K Deluxe board when comparing auto to manually adjusted BIOS settings using the same standard 4-4-4-10 memory timings. Our other boards are tuned to the best possible performance that still allows the board to complete our benchmark test suite. We did not compare DDR2-1333 to DDR3-1333 for the simple fact that we currently do not have any DDR2 memory capable of 1333 speeds in a stable manner. However, we do expect DDR2-1333 RAM later this summer.