MSI P35 Platinum Basic Features
MSI P35 Platinum
Market Segment:
Enthusiast - $199.99
CPU Interface:
Socket T (Socket 775)
CPU Support:
LGA775-based Pentium 4, Celeron D, Pentium D, Pentium EE, Core 2 Duo, Core 2 Extreme
Chipset:
Intel P35 MCH and Intel ICH9R
Bus Speeds:
Auto, 200 ~ 600 in 1MHz increments
Memory Speed: DDR2
Auto,1:1, 1:1.2, 1:2, 1:1.25, 1:1.66, 1:1.5
PCIe Speeds:
Auto, 100MHz~200MHz in 1MHz Increments
Core Voltage:
Auto, 1.100V ~ 2.300V
SB Voltage:
1.05V, 1.15V
SB I/O Voltage:
1.50V ~1.80V in .05V increments
CPU Clock Multiplier:
Auto, 6x-50x in 1X increments if CPU is unlocked, downwards unlocked, Core 2 Duo
DRAM Voltage: DDR2
Auto, 1.80V ~ 3.30V
DRAM Timing Control:
Auto, 9 DRAM Timing Options
NB Voltage:
Auto, 1.250V ~ 1.650V in .025V increments
FSB Voltage:
Auto, 1.175V ~ 1.500V in .025V increments
Memory Slots:
Four 240-pin DDR2 DIMM Slots
Dual-Channel Configuration
Regular Unbuffered Memory to 8GB Total
Expansion Slots:
2 - PCIe X16 (1x16, 1x4 electrical for CrossFire or Multi-GPU)
2 - PCIe x1
2 - PCI Slot 2.2
Onboard SATA/RAID:
4 SATA 3Gbps Ports - ICH9R
(RAID 0,1, 10, 5)
2 eSATA 3Gbps Port - ICH9R
1 SATA 3Gbps Port - Marvell 88SE6111
Onboard IDE:
1 ATA133/100/66 Port (2 drives) - Marvell 88SE6111
Onboard USB 2.0/IEEE-1394:
12 USB 2.0 Ports - 6 I/O Panel - 6 via Headers
2 Firewire 400 Ports by VIA VT6308 - 1 I/O Panel, 1 via Header
Onboard LAN:
Realtek RTL8111B PCIe Gigabit Ethernet controller
Onboard Audio:
Realtek ALC888 - 8-channel HD audio codec
Power Connectors:
ATX 24-pin, 8-pin EATX 12V, 4-pin Molex connector
I/O Panel:
1 x PS/2 Keyboard
1 x PS/2 Mouse
2 x eSATA
1 x S/PDIF Optical - Out
1 x IEEE 1394a
1 x Audio Panel
1 x RJ45
6x USB 2.0/1.1
BIOS Revision:
v.P01
Board Revision:
v1.10
The MSI BIOS offers a decent set of options available for tweaking the board with specific emphasis placed on the available memory settings. Voltage options are rather limited but the range of voltage options available is impressive. Only our high end modules from OCZ, Corsair, and Patriot were able to operate at tight timings with absolute stability. However, until we received the latest BIOS release this weekend the board would not boot with 4GB of memory. MSI has made great strides over the past two weeks in getting this board to perform well with BIOS updates, and we fully expect the performance levels to match or come close to the other currently available P35 boards in the near future.
MSI P35 Platinum Board Layout and Features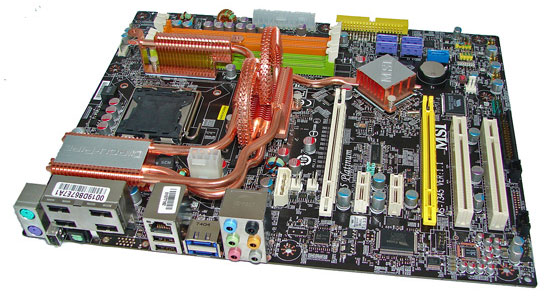 Click to enlarge
MSI did a really nice job in the layout of this board as all features on the board except for the floppy drive connector are easily reached. This board features a four-phase power regulation solution and conductive polymer aluminum capacitors that provided very good stability during testing. In a fight to outdo the other manufacturers in the heatpipe wars, MSI provided a roller coaster design that looks as interesting as it works. During our overclocking tests we found the heatpipe system results were on par with the other offerings provided additional airflow was available around the CPU area when using a cooler such as the Tuniq 120.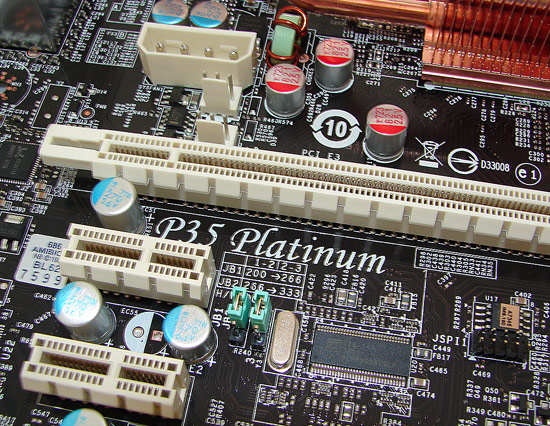 The board installed easily into our Cooler Master CM Stacker 830 case and cable management was very good for power, optical, and hard drives. Due to the tight clearances around the heatpipe, MSI includes an extender for the 8-pin ATX connector. We did not have any issues installing larger heat sinks on this board. The first DIMM slot is right against the rear heatpipe and the memory cannot be installed without removing the graphics card. MSI also includes a manual jumper system on the board that lets the user set a FSB speed of 200, 266, or 333 manually. The BIOS will automatically adjust settings to compensate for the change.