The AMD HD 2000 Series Lineup
The announcement today includes a top-to-bottom lineup of DX10 class hardware including four mobile parts (with one additional DX9 mobile part sharing the HD 2000 series naming) and five desktop parts. While all of this hardware is being made public, we've only got one piece of hardware to bring to the table today: the R600 based Radeon HD 2900 XT.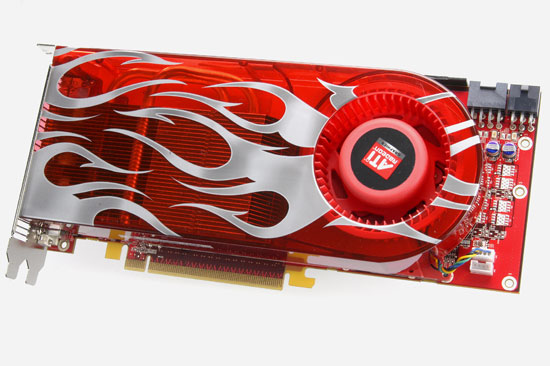 Performance on all other R6xx parts won't be available until "late June", but we can still talk about what these parts will be when they finally make it to market. On the desktop, in addition to the HD 2900 XT, we will see the Radeon HD 2400 Pro and XT in the "value" segment, with the HD 2600 Pro and XT providing good mainstream-to-midrange gaming performance.
ATI Radeon HD 2600 XT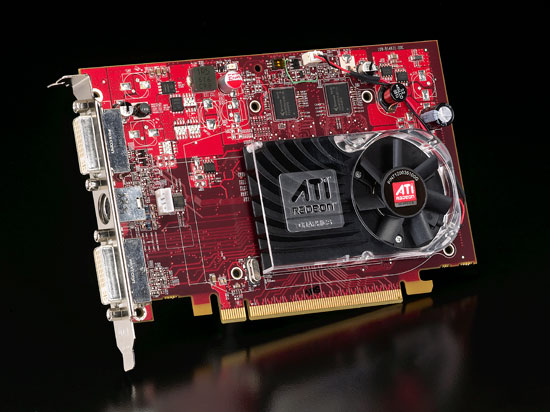 ATI Radeon HD 2400 XT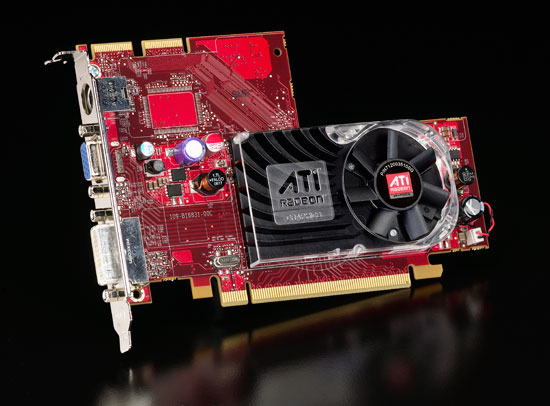 ATI Radeon HD 2400 Pro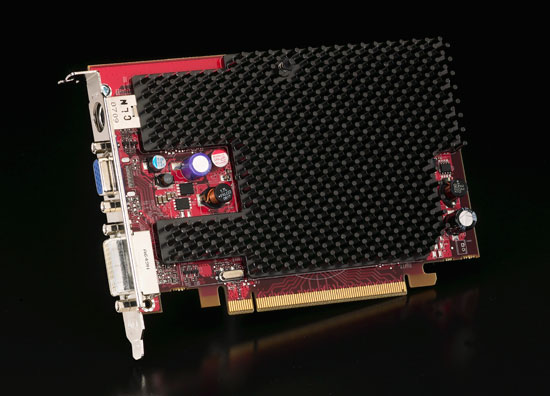 There is currently no add-in retail hardware planned that tops the HD 2900 XT, but we are hearing rumors that faster parts may be available through OEMs only. This is unconfirmed at present, so take it with a grain of salt. Let's take a look at a break down of what we do know we'll be getting:
AMD R6xx Hardware
SPs
RBEs
Core Clock
TMUs
DDR Rate
Bus Width
Memory Size
Price
HD 2900 XT
320
16
740MHz
16
825MHz
512bit
512MB
$399
HD 2600
120
4
600 - 800MHz
8
400 - 1100MHz
128bit
256MB
$99 - $199
HD 2400
40
4
525 - 700MHz
4
400 - 800MHz
64bit
128MB / 256MB
<$99
It's harder to pin down all the specs of the mobile parts, as all the clock speeds (and sometimes bus width) can change depending on the TDP envelope a notebook maker is working with. While we aren't certain, our best guess is that mobile parts named similarly to desktop parts will have the same internal configuration of SPs, texture units, and render back ends. The exception here is the Mobility Radeon HD 2300, which is a DX9 part based on R5xx hardware.
While 2400 and 2600 standard and XT versions will exist in the mobile space, there are currently no plans for a high end mobile part. This is very likely due to the high power draw and low performance per watt we see with AMD's 80nm R600. We don't expect to see a higher performance mobile part until AMD can get the power consumption of its higher end hardware down (likely with a process shrink).
Just for comparison, let's take a look at what NVIDIA is currently offering as well. Here's a table of all the G8x based parts on the market.
NVIDIA G8x Hardware
SPs
ROPs
Core Clock
Shader Clock
DDR Rate
Bus Width
Memory Size
Price
8800 Ultra
128
24
612MHz
1.5GHz
2.16GHz
384bit
768MB
$830+
8800 GTX
128
24
576MHz
1.35GHz
1.8GHz
384bit
768MB
$600 - $650
8800 GTS
96
20
513MHz
1.19GHz
1.6GHz
320bit
640MB
$400 - $450
8800 GTS 320MB
96
20
513MHz
1.19GHz
1.6GHz
320bit
320MB
$300 - $350
8600 GTS
32
8
675MHz
1.45GHz
2GHz
128bit
256MB
$200 - $230
8600 GT
32
8
540MHz
1.19GHz
1.4GHz
128bit
256MB
$150 - $160
8500 GT
16
4
450MHz
900MHz
800MHz
128bit
256MB / 512MB
$89 - $129