Super Talent SSD16GB25/25M Features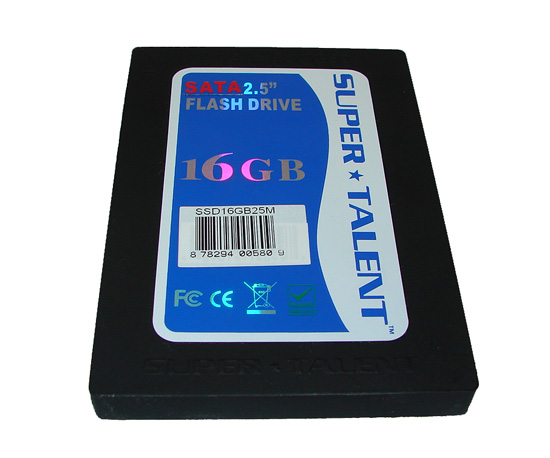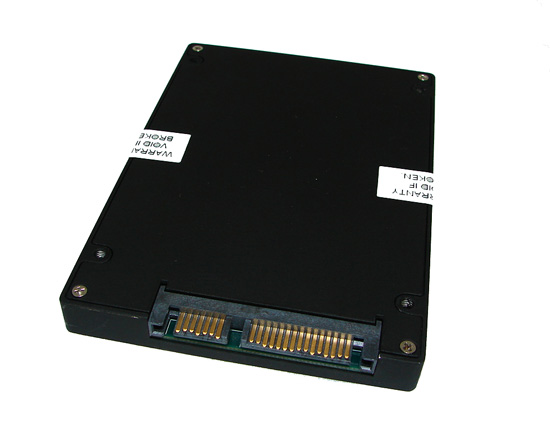 The external design of the Super Talent 16GB SSD is offered in either a hard plastic suitable for a commercial rating or high-strength aluminum design for industrial usage. The hard plastic design is capable of operating temperatures from 0C to 70C with the metal casing featuring a temperature range from -40C to 85C. The drive is based on the industry standard 2.5" form factor with measurements of 69.9mm x 100.2mm x 9.5mm. The drive utilizes a standard SATA interface for both power and data transfer capabilities.
Hard Disk Test Comparison and Features
Drive Specifications
Super Talent Flash Drive 16GB SSD16GB25/25M
Seagate Momentus 7200.2 160GB ST9160823ASG
Western Digital Raptor 150GB WD1500ADFD
Manufacturer's Stated Capacity
16 GB
160 GB
150 GB
Operating System Stated Capacity
15.5 GB
149.04 GB
139.73 GB
Interface
SATA
SATA 3Gb/s
SATA 1.5Gb/s
Rotational Speed
n/a
7,200 RPM
10,000 RPM
Cache Size
n/a
8 MB
16 MB
Average Latency
n/a
4.17 ms (nominal)
2.99 ms (nominal)
Read Seek Time
1 ms
11 ms
4.6 ms
Number of Heads
n/a
4
4
Number of Platters
n/a
2
2
Power Draw Idle / Load
.16W / .48W
.87W / 2.42W
9.19W / 10.02W
Acoustics Idle / Load
0 dB(A) / 0 dB(A)
27 dB(A) / 32 dB(A)
35 dB(A) / 48 dB(A)
Thermals Idle / Load
24C / 25C
27C / 31C
47C / 58C
Write/Erase Cycles
100,000 Estimated
-
-
Command Queuing
n/a
Native Command Queuing
Native Command Queuing
Warranty
OEM Specific
5 Year - Retail or OEM
5 Year - Retail or OEM
The Super Talent SSD16GB25/25M features a capacity of 16GB with capacity in the 2.5" form factor family ranging from 4GB to 64GB. The 16GB drive sells for approximately $575 at this time. The drive is marketed into the commercial and industrial sectors with an emphasis placed on use in such products as ATM, factory automation machines, measuring products, point of sale devices, ticket-vending machines, parking systems, and general industrial equipment that requires a storage device with a high degree of tolerance to environmental conditions.
The SSD16GB25/25M features a read seek time of less than 1ms, a maximum read/write speed of up to 28 MB/sec, a sustained transfer rate of 25 MB/sec, and an estimated write/erase cycle of approximately 100,000 cycles. This equates into a 1,000,000 hour MTBF rating and indicates a 10 year life expectancy based upon normal usage patterns. Super Talent has developed a set of proprietary wear leveling algorithms along with built in EDD/EDC functions to ensure excellent data integrity over the course of the drive's lifespan.
Looking at the specifications, it should become immediately apparent that we should not expect class leading performance in all applications. The Super Talent drive has no cache, and the maximum read/write speeds are clearly lower than the best hard drives currently available. It's also worth noting that the relatively low read/write speeds and lack of cache make the question of SATA interface a moot point. While the drive can of course function with a chipset that supports SATA 3.0Gbps connections, it will only utilize the 1.5Gbps standard, and actual transfer rates are still significantly lower than the maximum 150 MB per second SATA is capable of transmitting.
The Super Talent drive is truly silent as indicated by the acoustics test, features a very low power envelope with load requirements being five times less than the Seagate Momentus drive, and excellent thermals considering our room temperature base was 24C. The drive is designed to withstand 1500G of shock and 16G of vibration under operating conditions.