Serenity (VC1)
Our final test is a VC1 test, meaning the new BSP engine remains idle in the GeForce 8600 while running this test as it is hardcoded to H.264 CAVLC/CABAC bitstreams. When decoding VC1 content, the new 8600 (and the 8500) are essentially the same as the GeForce 8800 GTX or the GeForce 7 series GPUs. While they do include support for inverse transform, that doesn't appear to make any significant difference to the strain on the CPU.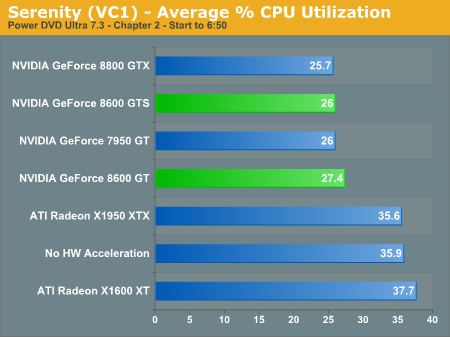 For some reason ATI's offerings continue to give us much higher CPU utilization figures. In this case it's as if hardware assist isn't working at all. We haven't been following ATI's AVIVO over the past several Catalyst revisions, so it is possible that somewhere along the line ATI broke compatibility. It could also be just one more software bug that needs to be fixed by PowerDVD. ATI's hardware is supposed to handle motion compensation while the NVIDIA hardware does not, so in theory ATI should be producing lower CPU utilization numbers in these VC1 tests.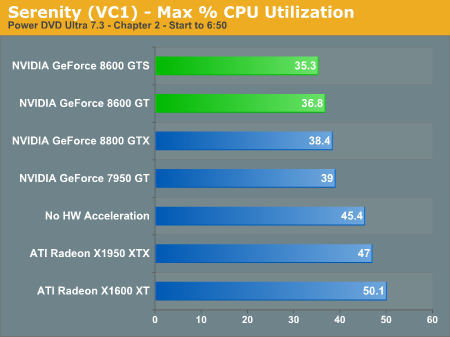 Under WinDVD the story is no different; the new GPUs (as expected) do the same amount of decode work as the old ones and CPU utilization remains unchanged. Given that VC1 is predominantly an HD-DVD codec, the CPU utilization figures we're seeing here aren't terrible.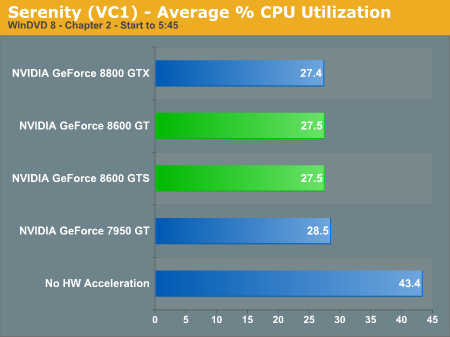 While NVIDIA has stated that it will look into adding a VC1 compatible BSP in future GPU revisions, it's not absolutely necessary today.