Yozakura (H.264)
The Yozakura test isn't the highest bitrate test we have, but it is the most stressful we've encountered due to how it uses the H.264 codec. Our benchmark starts at the beginning of chapter 1 and continues until the 1:45 mark.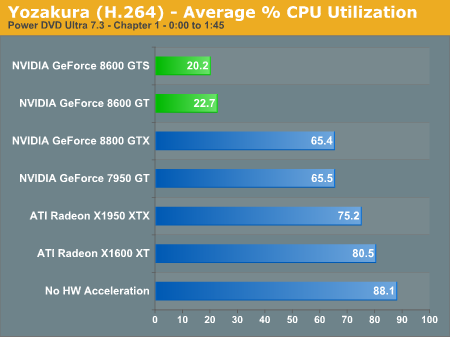 We start off with PowerDVD and immediately we see the tremendous difference that NVIDIA's new video decode engine offers. While even the previous generation NVIDIA hardware still eats up more than a single CPU core, the 8600s average in the low 20% for CPU utilization.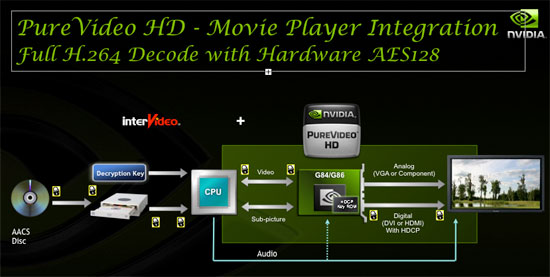 All of the steps that happen outside of the green box are responsible for any remaining CPU utilization seen when playing back H.264 content on a GeForce 8600.
Why isn't the CPU utilization down to 0%? The entire H.264 decode pipeline is handled on the GPU, but NVIDIA claims that the extra 20% is simply related to processing and decrypting data off of the disk before it's passed on to the GPU. If you had an unencrypted disk, the CPU utilization should be in the single digits.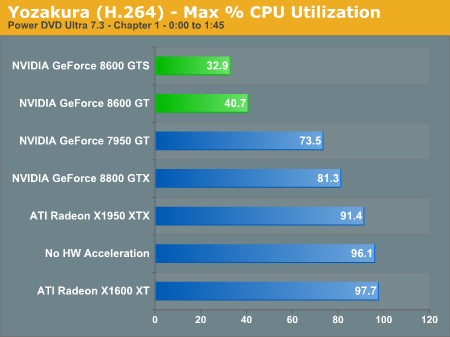 The maximum CPU utilization for these two cards is still significant, but obviously much better than the 70%+ of the competitors. Surprisingly enough, ATI's hardware actually does worse than NVIDIA's in these tests despite offloading more of the decode pipeline than the GeForce 7 or 8800.
To confirm our findings we also ran the tests under WinDVD 8, which as we mentioned before doesn't support ATI hardware acceleration so the only GPUs compared here are from NVIDIA.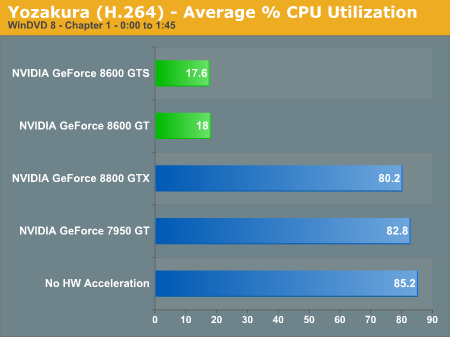 NVIDIA's older hardware actually does worse under WinDVD 8 than under PowerDVD, but the 8600 does a lot better.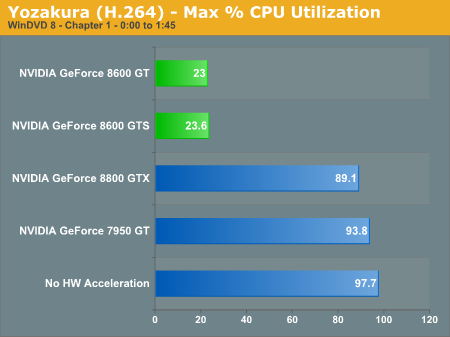 Maximum CPU utilization is particularly better on the 8600s under WinDVD 8, the two never even break 24%.
Looking at the PowerDVD and WinDVD scores, it's interesting to note that while the 8600 GTS is clearly faster in PowerDVD, the two cards are basically tied under WinDVD. There is definitely room for further optimizations in PowerDVD at present, so hopefully we will get that along with bug fixes in a future update.