Intel
Intel already announced a few weeks ago that in the second half of 2007, Intel Xeon processors with 1600MHz FSB will be available. In November of last year, Intel announced that the Greencreek chipset (the workstation version of
the Blackford chipset we tested
) would be succeeded by the Seaburg chipset. At that time, Seaburg was shown with a 1333 MHz Dual Independent Bus (DIB), but Intel has raised that speed to 1600 MHz.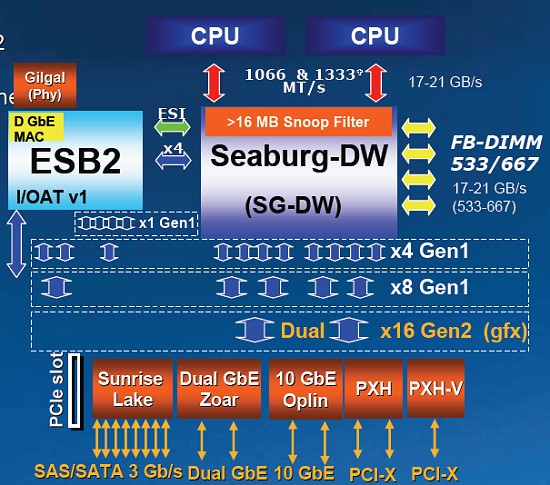 It seems that the 1600 MHz FSB Xeons and the Seaburg chipset are targeted mostly towards HPC and workstation use. We would expect the 3.2 GHz Xeons to have a higher TDP (120W) than the typical
Intel quad core server chips
(80W).
Seaburg also supports up to 128GB of RAM, so it is a bit weird to target mostly HPC and workstation application. However, one of the most important improvements compared to Greencreek is the larger, more efficient snoop filter (and more associativity to provide better coverage) in Seaburg. A snoop filter only helps in bandwidth intensive apps as it lowers the amount of bandwidth that cache coherency traffic needs, thus freeing more bandwidth for bandwidth intensive apps. So basically a snoop filter helps in FP and I/O intensive applications.
With a 1333 MHz DIB and 2.66 GHz quad core Xeon x5355, Seaburg is about 5% faster in SpecFP 2000 (base), and about 4% faster in LS Dyna and Fluent. This snoop filter is not available in Blackford, so it shows that Seaburg not only has a faster DIB but also a more efficient one. Another indication that Seaburg is targeted towards the workstation world is that Seaburg supports up to 44 PCIe lanes.
So the newly announced 3 GHz quad core Xeon is a server chip intended to make the life of AMD's Barcelona a bit harder, but the 3.2 GHz Xeons with 1600 MHz DIB will probably be mostly HPC/workstation CPUs. As Intel has decided to increase the DIB speed of their HPC/Workstation chipset and CPUs to 1600 MHz, we may assume that Intel feels that AMD's Barcelona will be a bigger threat as an HPC CPU than as a server CPU.