NVIDIA introduced the 680i chipset back in early November with eager anticipation from users looking to try something different within the Intel processor world. There was a lot of hype, fanfare, and a great deal of media coverage that surrounded the launch of the NVIDIA 600i family of chipsets. We reviewed the
680i chipset
in-depth at launch and came away very impressed with the capabilities for the upper-end enthusiast. Since the launch, most of the focus surrounding the 680i chipset changed from its impressive performance and flexibility to problems that seemed to plague the reference board designs from the launch partners such as EVGA and BFG and later on with in-house designs from ASUS and abit. These problems centered on audio issues when using SLI, as well as data corruption or severe performance loss when utilizing SATA drives on the reference boards. The audio issues were solved with a quick BIOS update, although we found in our testing that loading the latest Microsoft DX9 updates helped tremendously. The data corruption on drives was an entirely different issue that seemed to be centered on users with RAID arrays but also spread to single drive users under varying circumstances.
Several BIOS releases later and it seems as if the majority of data corruption issues with the reference boards have been cured. Lucky for us, this was an issue we did not witness in our testing of the ASUS or abit 680i motherboards or with two of our own EVGA motherboards. While NVIDIA attributes these problems to signal timings on the motherboard, we still do not completely understand why the issue occurs on one board and not the other. NVIDIA has commented that statistical variations in the electrical paths between each board can vary, resulting in some boards being affected and others not. We know from the board manufacturers that this chipset is very sensitive to electrical noise and is one of the main reasons why a specific set of voltages is required to reach the upper overclock limits of the board. This specific set of voltage settings seem to differ from board to board and in our initial opinion is based upon having a very "tolerant" MCP. We are almost finished with our testing of several 680i/650i boards and will have a roundup ready in the near future but at this time we commend NVIDIA for their continued persistence in trying to solve these problems.
While it appears the early problems have been solved somewhat, there are still numerous users who are having issues with everything from USB keyboard compatibility to one of our main concerns at this time, quad core overclocking. While overclocking is never guaranteed, paying over $250 for a 680i board that is usually advertised as being designed for the gamer and serious enthusiast with extreme overclocking in mind would lead one to think overclocking would not be a problem. The problems with quad core overclocking on the 680i chipset have been well documented and it appears these problems will be solved shortly, or at least we hope they will be. Enough history; let's discuss the board we are previewing today.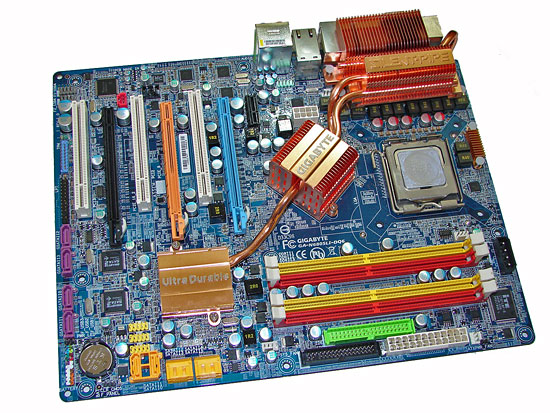 Gigabyte
has launched the GA-N680SLI-DQ6 motherboard as of this week. We first discussed this motherboard in early November and then saw a working sample in early December. It has taken Gigabyte some time to get the board launched as they designed it in-house instead of simply reselling the reference board design from NVIDIA. This can be both a positive and a negative depending on how you look at it. One negative is that Gigabyte is late to market, but hopefully the positive is that they learned from the problems surrounding the reference board launch and have something extra to offer the potential buyer looking at a 680i chipset equipped board.
We can definitely say that Gigabyte has something extra to offer on their 680i board. If we were to hold a Pimp my Board contest today, Gigabyte would win without breaking a sweat. This is not meant as a knock against Gigabyte; quite the contrary, they have added just about every feature you possibly can on a motherboard and it all works together. It really works. Their marketing group has been working overtime on figuring every potential way to use the word Quad in front of a feature on the board. We have Quad-Core Optimized, Quad SLI Ready, Quad Gigabit LAN, Quad-Triple Phase, Quad BIOS, and Quad e-SATA features being discussed on the website and product packaging. What really matters in the end is if the board performs well, is stable, has high quality components, and is well supported. We think Gigabyte has met those basic criteria.
This leads us into today's performance preview of the Gigabyte GA-N680SLI-DQ6. In our article today we will briefly go over the board layout and features, provide a few important performance results, and discuss our issues with the board. We will provide a further review of this product and additional performance results in our upcoming roundup. With that said, let's take a look at this board now.