Our recent look at the
abit AB9 QuadGT
motherboard revealed several surprises; most of these were pleasant but a few were not. We found abit had released an impressive follow up to the much maligned AB9 Pro but the shipping BIOS still required a great deal of maturity before we could fully recommend the board. We have been testing several beta BIOS releases since our initial review and have come to some interesting conclusions about this board and abit.
We will say up front that this motherboard has become one of our favorites in the P965 category even with the few remaining warts. We really like the layout, feature set, BIOS design, and most importantly the stability provided by the board. It manages all this while generating excellent performance numbers. Abit has worked diligently at addressing the issues we found in testing and those of users who have reported additional issues. Our update today will address these issues, fixes, and also provide a couple of performance updates.
Our first noticeable problem with the board and one that caused the loss of equipment is the memory voltage issue with the shipping version of µGuru. We basically fried two 1GB modules of Corsair's finest PC2-6400C3 after increasing the voltage from 2.350V to 2.400V in µGuru which ended up being an actual BIOS setting of 2.7V. Needless to say, our normal eight hour Orthos testing session ended early. Abit quickly diagnosed the problem and updated µGuru to version 3.038 that fixed this problem. The latest version of µGuru is
3.101 and can be downloaded here.
We highly suggest updating to the latest version of µGuru if you have not done so already. Unfortunately, abit has not updated the AB9 QuadGT product information page so follow the link above.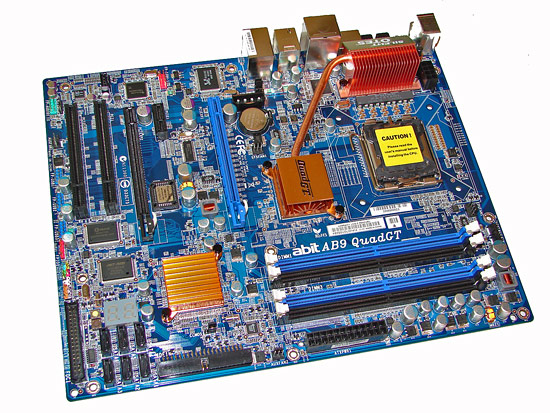 Our second issue with the board revolved around USB port problems. If the BIOS was changed from USB keyboard or mouse support via OS to BIOS then Windows XP would refuse to load if it was installed, nor could we complete a new installation from our CD drive. Additional USB testing revealed that any USB drive attached that was not a bootable device would result in the same behavior with the operating system refusing to load. Once again, abit engineering quickly diagnosed the issue and released beta
BIOS version 1.1 B02
that solved the USB problems. In our follow up testing, we have not had any further problems when switching USB control from OS to BIOS except with one pesky Microsoft Comfort Curve 2000 keyboard that refuses to play nice. However, this keyboard has also given us issues on other boards at times.
Our third major problem centered on the storage controllers and the inability of the Intel ICH8R and JMicron JM363 chipsets to work together in certain situations. In essence, if the user enabled RAID on the ICH8R chipset then any use of the JMicron JMB363 for IDE drives (storage or optical) was prohibited. This issue was solved with the version
BIOS version 1.1 B06
beta BIOS. Unfortunately, the use of a SATA optical drive on the Intel ICH8R chipset with RAID enabled is also a problem and this continues to be an issue that abit is working on addressing.
Other minor annoyances include optical drives on the JMB363 controller not being recognized or operating only in PIO mode unless the JMicron IDE drivers are loaded. We found during testing with numerous optical IDE drives that changing the JMB363 controller to RAID in the BIOS and loading the latest
JMicron RAID
driver improved compatibility tremendously with our IDE drives. Normally, we would not suggest doing this but it seems to work well with the current BIOS. We also had a problem with our QX6700 processor and not being able to load Vista 64-bit. This problem was also solved with the B06 BIOS release.
There have been user reports of the Realtek RTL8810SC LAN controller not being recognized properly, not at all, and in some cases having intermittent operation. We have only been able to replicate one particular issue with this chipset not being recognized while running MemTest but after a shutdown and restart the LAN controller always worked perfectly for us. A few other issues ranging from the board not posting to slow recognition of RAID arrays at boot time have been mentioned on the forums but once again we have not been able to fully replicate these issues.
Problems and fixes aside, let's see if performance has changed with the latest beta BIOS release and answer a couple of reader questions about this board.