Battlefield 2 Performance
Our Battlefield 2 test is run using the 1.3 version of the game and is based on frame data generated by a timedemo feature. We use a subset of the output in order to avoid problems benchmarking load screens. Our benchmark is a recording of a game played in the Daqing Oil Fields and if fairly stressful as far as BF2 action goes. First up we will look at performance at high quality with no AA enabled.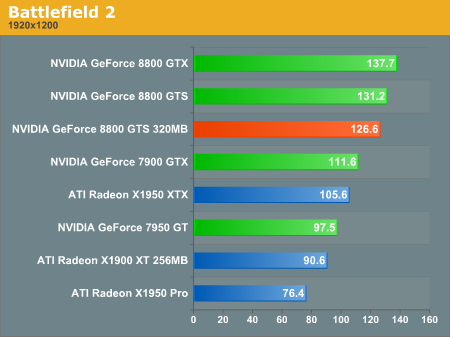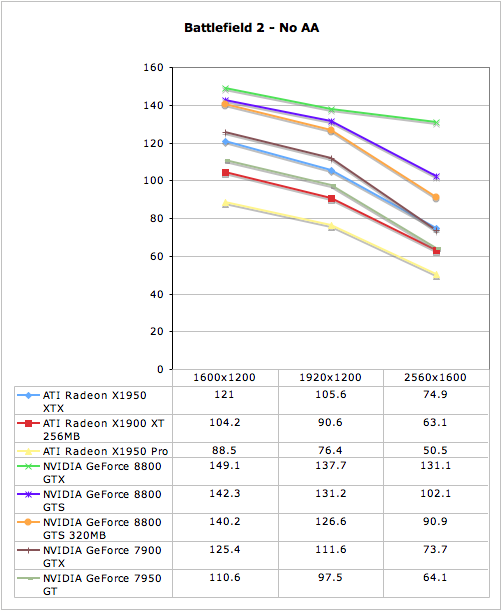 Our first tests show that the GeForce 8800 GTS 320MB is very capable of keeping up with the 640MB version in certain scenarios. We see identical performance at 16x12, which is nearly CPU limited, with the gap between the cards slowly widening to about 12 percent at 2560x1600. As far as BF2 players are concerned, 90fps is plenty: EA/DICE cap performance during gameplay at 100fps. For gaming without AA, the GeForce 8800 GTS 320MB knocks it out of the park here.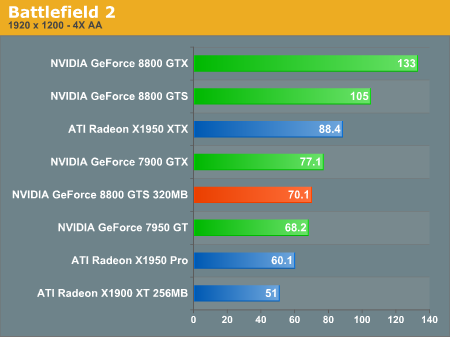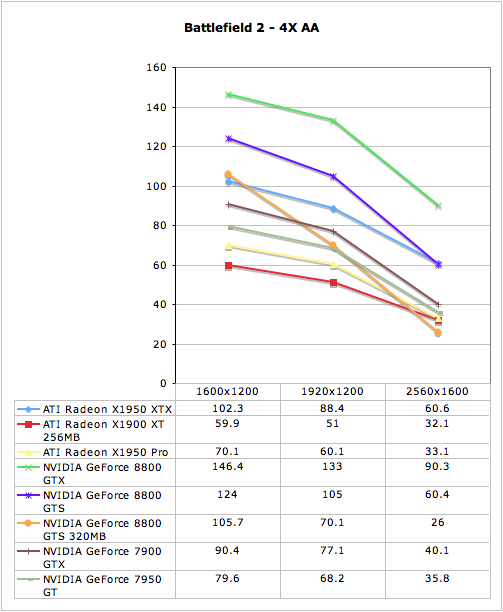 With 4xAA enabled, the story takes a dramatic turn. Scaling of the 320MB 8800 GTS is simply atrocious, moving from third out of eight at 16x12 to dead last at 2560x1600. The game becomes unplayable at our highest resolution test, and the impact of less memory in this situation is incredibly clear.
It is quite interesting to note that both the X1900 256MB and the X1950 Pro both have 64MB less than the 8800 GTS 320MB. Battlefield 2 with 4xAA isn't specifically limited by memory size, but the 8800 GTS itself has trouble running the game at these settings with less memory. This means that the impact of memory size comes in to play with the hardware itself or NVIDIA's driver while running Battlefield 2 at high resolutions with 4xAA. We will certainly be digging into this issue more in the future.