Does Size Matter?
To answer our question: it depends. Different games seem to be impacted in dramatically different ways, and resolution does play a large role in how much memory size matters. In order to understand the differences, we have taken all our 8800 GTS and 8800 GTS 320MB numbers and looked at how much faster the 640MB part performs via percent increase.
The graphs below are organized by resolution. Unfortunately, the scale between each graph couldn't be kept the same as the variation on the data was much too high. We should also remember that each of our tests can have a bit of variance. We try to keep this to 3%, but that means these numbers could have a little higher deviance. First up is 1600x1200.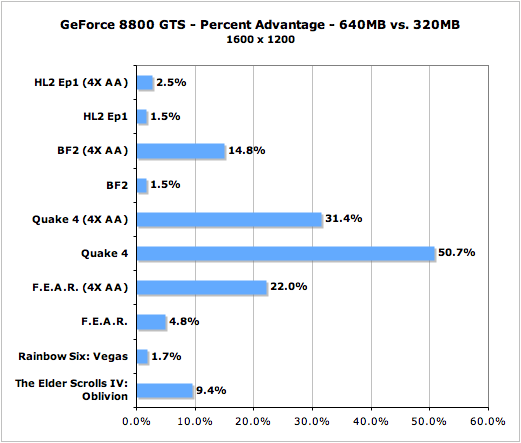 Quake 4 jumps out as being a huge beneficiary of more memory. We do test with Ultra Mode, which means uncompressed textures and uncompressed normal maps. This seems to have a huge impact on performance, affording the 640MB card a 50% performance advantage over its new little brother.
In most of the other cases where size matters, the big performance hit comes along with enabling 4xAA. The memory requirement for enabling AA can be quite high, but the exception here is Quake 4. Memory size seems to have less of an impact with AA enabled, but keep in mind that the performance of both cards is much lower with 4xAA enabled.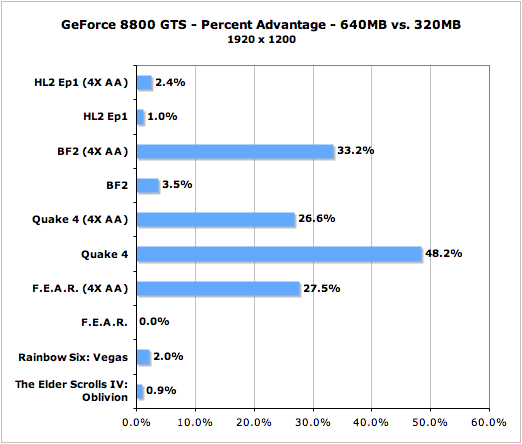 Looking at 1920x1200, most of the numbers are very similar to what we saw with 1600x1200. This isn't surprising, as the number of pixels being rendered at each of these resolutions is similar. This time around, the odd man out is Battlefield 2. There is a much larger impact on performance under BF2 with 4xAA enabled at 19x12 when running the 320MB 8800 GTS as opposed to the 640MB part.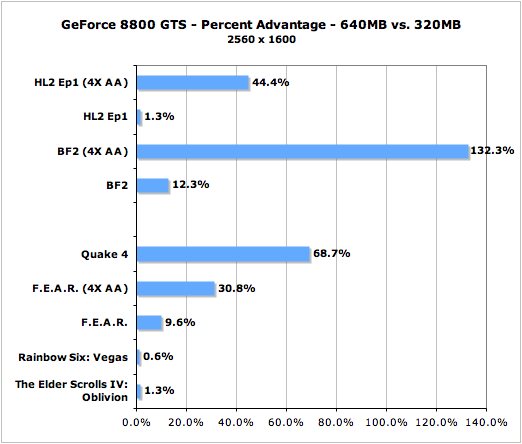 The trend continues here with BF2 jumping way up in performance difference at 2560x1600. F.E.A.R. and Battlefield 2 both see a larger performance drop at this resolution even with AA disabled. Also of interest is the fact that this resolution shows an impact on Half-Life 2: Episode One with 4xAA whereas others did not.
It is very important to note that Oblivion and Rainbow Six: Vegas don't see much of a performance loss with the decreased memory size. Of course, we can't test these applications with AA enabled, but it is still interesting that there remains so little difference between these numbers. This is especially compelling; as Oblivion and Vegas are the two best looking games in our test suite. Rainbow Six even uses the Unreal Engine 3 from Epic which is capable of producing some incredible visuals.
Does that mean size won't matter in the future or with other UE3 titles? We can't say that with any real certainty, as developers can always find ways to push memory usage. But that does mean that right now, gamers who play a lot of Oblivion and Rainbow Six: Vegas will find a better value in the 8800 GTS 320MB than the 640MB version.
When looking at other titles, especially with AA enabled at high resolutions, the 640MB card does offer much more than the 320MB part. But is it compelling enough to warrant spending an extra $100? Let's take a look at the individual performance numbers and find out.