abit
was the top manufacturer of enthusiast level boards a few short years ago, but after they expanded into areas where they didn't have the manufacturing expertise or cost advantages to compete with the larger tier one manufacturers they fell on hard times. As a result, abit lost market share as well as mind share. Fortunately, abit entered into a long-term partnership with USI about a year ago that ensures their financial health for the near future, and they also had a minor name change. Universal abit is the successor to the Abit motherboard brand name and represents a partnership with USI for their manufacturing and engineering expertise. Along with the name change comes a grassroots movement to return the company to the forefront of the computer enthusiast, extreme overclocker, and high performance markets.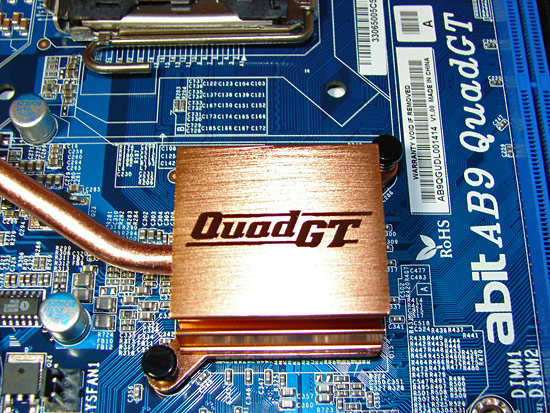 The first wave of products last summer from Universal abit was interesting to say the least. In some cases like the
abit AW9D-MAX
they released a top performer that reminded us of the old Abit; in other areas, however, we found boards like the
AB9 Pro
represented a crossroads in abit's new product launch. Would this series of motherboards continue the downward spiral of being late to market with average performing products like the previous product launches, or would the new Universal abit have products that would capture the minds and hearts of the enthusiast community once again?
The AB9 Pro held great promise in our early looks, but it quickly turned into disappointment at launch and finally redeemed itself near the end of its product cycle with the 1.6 BIOS. abit took tremendous criticism for the AB9's poor layout and early BIOS issues when the product launched. The layout and hardware component issues could not be addressed after product release but after several BIOS releases most of the initial performance and compatibility issues were solved. While the board layout and pink BIOS setup screen did nothing for us (or probably anyone else for that matter), the fact that abit engineering took the time to properly address performance and compatibility issues impressed us. They also promised to correct the mistakes of the past with the next P965 product release.
The $64,000 question once again is: Did they learn from history and thus avoid repeat condemnation?" The answer is yes and no. The
abit AB9 QuadGT's
layout, choice of components, feature set, and BIOS options appear to have been developed in an alternate universe when compared to the AB9 Pro. Sadly, the BIOS engineering and quality assurance groups appear to have taken two steps backwards and remain firmly stationed in the current universe. We will discuss these issues shortly but for now let's take a first look at the board's feature set and initial performance results.