Power Consumption
We looked at power consumption of our two testbeds, however AMD is at a bit of a disadvantage here. While our Intel testbed uses the P965 chipset, the AMD testbed uses NVIDIA's nForce 590 SLI, a far more power hungry platform. The results below are thus better for comparing within platforms and not necessarily useful for drawing AMD vs. Intel comparisons. Note that we did use AMD's latest 65nm Brisbane core for all of our tests.
At idle we can see that the E4300 system already uses less power than the E6300, and definitely less power than the Pentium D 945.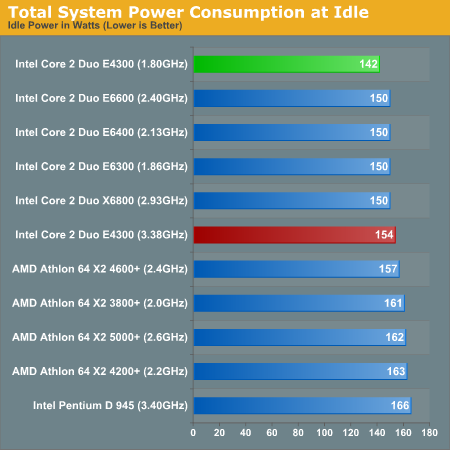 Under load, power consumption is once again reasonable - lower than the E6300. Overclocked, the E6300 uses a bit more power than the X6800 but that's to be expected.