Conclusion
The aggressive pricing puts the expensive quad socket systems with the Xeon MP and Opteron 8xx(x) under fire. Some customers will still prefer the slightly better RAS features of the latter, but let's be honest: a large part of the market will be quite happy with the more than decent RAS features of the dual socket Intel platform. The S5000PSL for example supports memory sparing and mirroring aside from the obligatory ECC RAM.
The introduction of the new Xeon quad core should still have a big impact, and it is only the beginning. In Q2 2005, we saw the introduction of the Opteron 2005, and less than two years later the number of cores on one socket has doubled again. The increase in multi-core power is outpacing the natural growing demands of software. The introduction of the new "Barcelona" quad core and Intel's "Tigerton" will make the current high-end systems (8-32 socket) retreat to an ever shrinking market niche.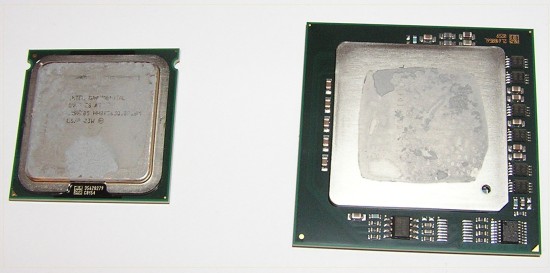 The Dual core Xeon MP "Tulsa" looks pretty "fat" compared to the quad core Xeon E5345
To the financial analysts, CRM, ERP and Java server people, the new quad core Xeon E53xx is close to irresistible. You can get four cores for the price of two, or up to eight (!) cores in a relatively cheap dual socket server. We observed at least a 40% performance increase compared to probably the best dual core CPU of today: the Xeon 5160.
For the people looking for a 3D rendering workstation, your usage model will determine whether the Xeon 5160 or the Xeon E5345 is the best solution. You get better animation and 3D manipulation performance (mostly single threaded) and better rendering performance at resolutions lower than High Definition with the Xeon 5160. 3D render servers are better off with the Quad Xeon E53xx but only if they have to render at 720p or full HD (1080p) resolutions.
The past 6 months have been excellent for Intel: after regaining the performance crown in the dual socket server market, there is also now a very viable and lowly priced alternative for the more expensive quad Opteron based systems. However, it is not all bad news for AMD. The current quad core might be good for Intel's yields, time to market, and production costs, but it does have a weakness. The quad core Xeon scaling is very mediocre, and this despite a high performance chipset. The current 5000p chipset has a large 16MB snoop filter, reads speculatively to decrease memory latency, and has a whole other bag of clever tricks to get more performance out of the platform. Despite all this and a 2x4MB L2 cache setup, the quad core Xeon scales worse than the relatively old quad Opteron platform.
Let us summarize:
AMD Quad Opteron Platform
Advantages:

Still the best performing FP platform: highest rendering performance
Scales better than comparable Intel platform

Cons:

Expensive 8xx(x) CPUs and expensive platform (motherboard)
(Slightly) lower integer performance than E5345
Lower performance/Watt than Xeon E5345
Intel Quad Xeon MP Platform
Advantages:

Better RAS than other platforms
Good integer performance thanks to huge L3 cache

Cons:

Expensive MP CPUs, especially compared to Xeon E5345, and very expensive platform (motherboard, memory boards.)
Pretty bad FP/rendering performance
Very high latency memory subsystem, L3 cache. (bad HPC performance)
Bad Performance/Watt, compared to Xeon E53xx and Opteron
Intel Dual Xeon Platform / Clovertown
Advantages:

Quad socket performance...
...For very low dual socket price in CRM, SAP, Financial analyses and Java server
Excellent rendering performance at high resolutions (>=720p)
In some cases, a simple upgrade for Xeon 51xx.

Cons:

Mediocre scaling in many applications
Slightly higher power consumption but little or no performance gain compared to Xeon 5160 in flow modeling, 3D rendering (lower resolutions), structural simulation, MySQL and TPC.
A look into the future
Quite some time ago,
Pat Gelsinger of Intel showed a CPU
that was called "Clovertown MP". Clovertown MP does not exist (anymore) according to all Intel representatives we talked to. So is Tigerton the new Clovertown MP? It does seem to have two dual core dies just like Clovertown and runs at the same maximum clock speed as Clovertown (2.66GHz), so it is very likely that Tigerton is very similar to or even a rebadged Clovertown MP. Another indication is the Clarksboro chipset, which has four DIBs, a gigantic 64MB snoop filter, and other features designed to tackle the scaling problems that we noticed. We are not sure that it will be enough.
It is quite possible, assuming that AMD executes well, that AMD will keep the advantage in the four socket server market with its new Barcelona core in 2007. Its current platform already scales well, and AMD has made a lot of improvements that help scaling. The upcoming Barcelona core has one L3 cache per four cores (less cache coherency traffic), faster and more HT ports, and so on. There are certainly interesting times ahead... But a bird in the hand is worth two in the bush, so until AMD's quad core Opteron actually ships, Intel has the most attractive dual socket platform.