OCZ Technology
We have already discussed most of OCZ's new product introductions in our first article but noticed an interesting item on display in their booth.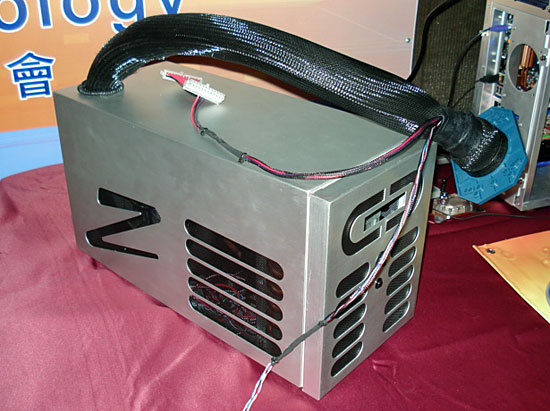 OCZ will be introducing several high performance water cooling blocks over the next few months. However, it was their prototype Phase cooling system that caught our eye. Although this unit has been discussed for the past year, OCZ assures us the unit is now in the final stages of design work and will be introduced early next year at a street price of around $400.
DFI
As one of the premier performance oriented motherboard companies, DFI has been introducing some of the best overclocking motherboards around for the past few years. Their upcoming product releases will include motherboards based on the AMD RD600 and NVIDIA 680i SLI chipsets along with a revised 975X Infinity that is probably one of the best value to performance 975X motherboards on the market today.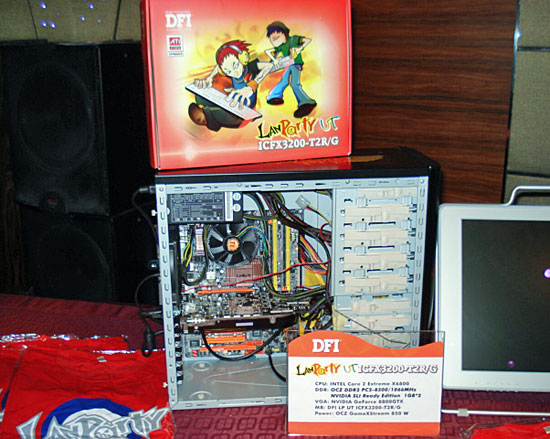 DFI publicly demonstrated their new LanParty UT ICFX3200-T2R/G motherboard based on the RD600 chipset. The board features dual PCI Express based Gigabit controllers from Marvell that can be teamed together, Karajan audio module featuring the Realtek ALC885 HD audio codec, IEEE 1394 support, four 3Gb/s SATA ports via the SB600 Southbridge, four 3Gb/s SATA port via the PCI based Promise PDC40719 (TX4300) chipset, three PCI Express x16 slots (1 x16 electrical or 2 x8 electrical, along with 1 x2 electrical), three PCI slots, and one Ultra133 IDE port via the SB600. The board is designed for mid to upper range overclocking, low power consumption, and true asynchronous memory speed capability. While initial testing shows this board will not break any SuperPI records, it is one of the top performing motherboards in applications and 3D gaming available today. The BIOS offers an incredible amount of tweaking options for those looking to extract the last ounce of performance out of their board and other components.
ASUS and Shuttle
As mentioned in our previous article, Shuttle, OCZ, and ASUS are working on a system that is designed around the ASUS Striker Extreme motherboard, Shuttle's custom case that will be the smallest ATX tower design case designed to run NVIDIA GeForce 8800 series cards in SLI, and memory/power options from OCZ. We will report on the final design and have internal pictures available during CES 2007.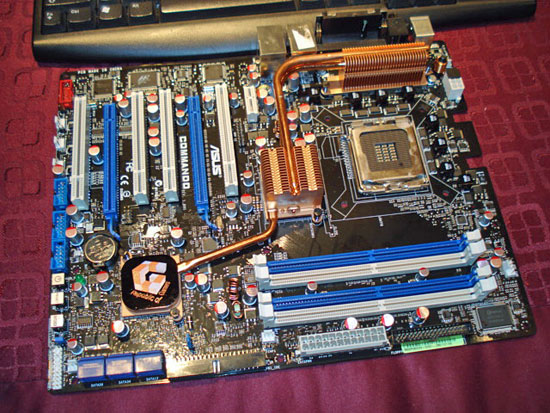 In the meantime we had an opportunity to play with the new ASUS P965 Commando board that is designed for serious overclocking. We were able to reach a benchmark stable overclocked of up to 550FSB with 4GB of OCZ Flex XLC memory at DDR2-1100 (5-5-5-12) on 2.15V with a Intel X6800 processor. This motherboard series should launch in early January and we will have additional specifications available shortly.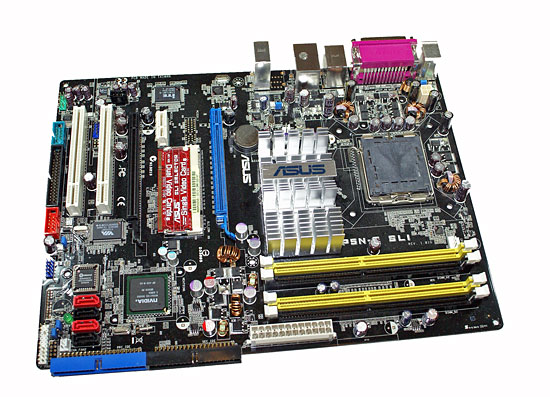 ASUS also showed off their new P5N-E SLI motherboard based on the NVIDIA 650i SLI chipset. We are expecting a retail sample shortly and will put this motherboard through its paces to see how it compares to the Intel P965 chipset.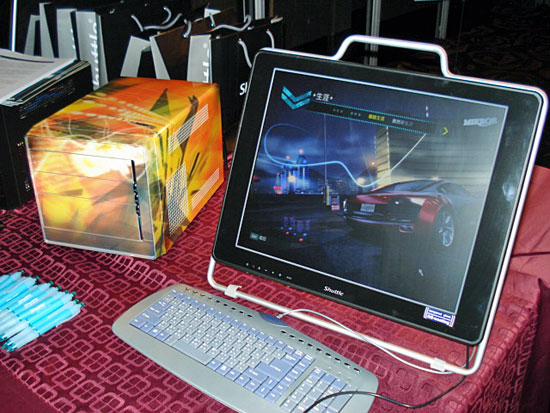 We already reported on the new Shuttle Supertuned XPC chassis/motherboard offering but we were able to play with it during a gaming session. The unit included a GeForce 8800GTX and ran just as cool as a small ATX tower case with a similar setup. We believe Shuttle with OCZ's assistance will have a winner on its hands with this unit. We are expecting a retail sample in the near future and look forward to testing it.